Matt Hart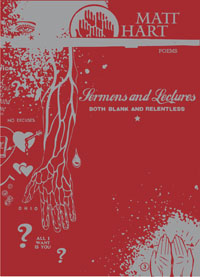 Sermons and Lectures Both Blank and Relentless
by Matt Hart
Typecast Publishing, 2012
102 pages / $16.95  Buy from Typecast or Amazon
Many have experienced poetic punk rock fall out, but few have written it as a bomb in and of itself. In Sermons and Lectures Both Blank and Relentless, Matt Hart's got an unabashed grandiose vision, a hard low end, a slew of unlikely ancestors to consume from white holes in the backs of hands, and Rimbaud's Ethiopia in his acid-washed jeans pockets. He rewrites Ohio snowscapes, leaving a trail of teeth lost on tours, and calls them constellations. This is important cartography. A legacy the lot of us aging counterculture intellectuals need, since we burnt most of our maps and can't read the stars for the chem trails. How do we live the moments after the X-Ray Spex and between Coleridge, Corso, and taking the dog for a walk after dinner? How are words our revolution now? If Hart's right and "A universe is born every second when you scream it," what do we scream back and how do we get there? The answer in Sermons and Lectures is so perplexing it must be honest: "Always do the opposite of anything I tell you/I'll do it too      Whatever you say." This is a line that you can smash and it still says the same damn thing. Physicists and mystics have been trying to convince us that this is the only truth.
As Hart wails, "I want as much as possible for the carnival of what is," we can hear him stomp into the white space in Greil Marcus's Lipstick Traces, spitting some hair from his daughter's head into Johnny Rotten's mouth. Whether Hart wants to own it or not, Sermons and Lectures falls keenly into the bruise and shriek glory of the great lineage of Marcus's heretic avant-garde saints that took up the right to name, smash, and invent new tongues after burning their old ones back at the beginning of the end of the world in 1917 Zurich, Switzerland. Someone did and did not name it DADA Someone boiled it down to Situationist International slogans in '68. Someone screamed "Let's go!" filling it with dollars and power chords in the 1980s. That's when most of us caught it on the tips of our tongues when the itch of there's something not quite right here, why do I want to shout until my ears bleed hit us in adolescence.

In the first post in this series, I outlined Viktor Shklovsky's fundamental concepts of device (priem) and defamiliarization (ostranenie) as presented in the first chapter of Theory of Prose, "Art as Device." This time around, I'd like to look at the start of Chapter 2 and try applying it to contemporary writing (specifically to the New Sincerity). As before, I'm proposing that one can actually use the principles of Russian Formalism to become a better writer and a better critic.
What is memoir in poetry? We read prose memoirs and see how lives are stretched taut around themes: a chronology of water, a debilitating illness, a drug addiction, a nomadic childhood, a strange religion, insomnia-driven thinking. Themes become umbrella girding; living, the fabric that fills it out. But where does poetry fit into memoir? We could think about the confessional in poetry and say, yes this is the place where poetry and memoir meet. Plath on suicide attempts: "I have done it again. / One year in every ten / I manage it–" or Lowell, "My mind's not right…I myself am hell." Depression and mania are easily encapsulated states of being, but all poets write their lives, confessional or not. When Simic writes, "My mother was a braid of black smoke," we assume he's not writing fact-truth. Maybe he's writing dream truth or metaphor truth. Maybe he's just writing, and I'm extrapolating.
I started thinking about this when a poem of mine called "Man Builds a Guitar" went up online recently. It's basically a persona poem in Jack White's voice. I wrote it after watching the documentary It Might Get Loud and not being able to shake Jack White's weird tinkering and instrument making from my head. So, it's a persona poem, but it embodies themes and emotions I was thinking about at that particular moment in time. When I say, "I heard everything disappearing" what I meant was that my marriage was over and life as I knew it was evaporating in front of my eyes. I'm using the imagery of my childhood in the South and the sounds that take me back there to get at the particulars of silence-after-a-storm. This is a memoir poem even though it's a persona poem. I mean, I don't know Jack White, but I know me.
Matt Hart has a poem called "Sailing the Gut Boat," that begins, "I made you a thing with no tongue / and gallons of new-fangled fog. I made you / a thing with nothing and nobody—not even / a surrealist screaming into an atlas…." Hart reminds us that you can fashion people and events into whatever you want (a nothing, even) on the page, but the truth of them still remains behind that fashioning.
Or take a short couplet poem, "Future," by Emily Kendal Frey:
The first Monday in May. A strange and beautiful day. Here are three things to peruse at work today besides the news of dead terrorists and decimated towns:
Matt Hart @ Coldfront. His Poets off Poetry essay, "By Any Means Necessary," features the poetry, Sex Pistols, and anarchy (of course).
The new Sixth Finch, Spring 2011
At The Offending Adam, writers from or with connections to Alabama.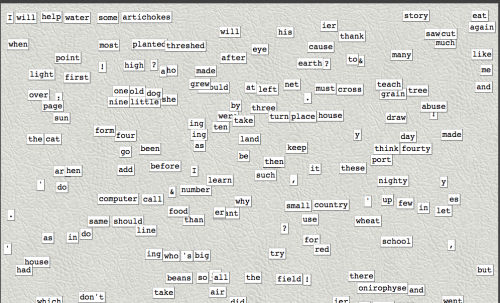 1. Now you can screw around with magnetic poetry wherever you are.
2. Matt Hart's new chapbook, The Hours, from Cinematheque Press is sure to be fucking fantastic. No, I haven't read it yet, but if his other books are any indication…. And look at all their other good stuff.
3. I know Justin posted about Sommer Browning recently. But I want to reiterate: her tweets have been making me laugh for months. Her comic has been killing me since AWP.