Philip K. Dick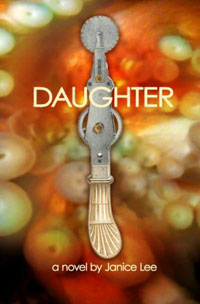 Philip K. Dick: Remembering Firebright
by Tessa B. Dick
CreateSpace, March, 2009 & 2010
228 pages / $15.77  Buy from Amazon
&
Daughter
by Janice Lee
Jaded Ibis Press, 2011
144 pages / Color Ed. $39  Buy from Amazon or Jaded Ibis
B/W Ed. forthcoming Summer 2012
The last thing Philip K. Dick's work needs is another philosopher's commentary. After Fredric Jameson's "synoptic" reading of Dick's corpus and Laurence A. Rickels' 400-plus page I Think I Am: Philip K. Dick, it might seem prudent, indeed respectful, to refrain from any further philosophical discussion of PKD. However, after spending some time with Tessa B. Dick's "memoir" and Janice Lee's "novel," I am inclined to discuss a dimension of Dick's that neither Jameson nor Rickels were able to deal with in their commentaries: namely, the particularly contemporary problem of living without myth. Anthropology tells us that peoples of the past actually believed in their myths; a mythological framework provided by the gods presumably told you how to lead your life and what your ultimate place in the universe was. Now that all of our myths have been more or less discredited by the advent of modernity, how might a viable contemporary myth cope with the disintegrating social edifice and the resulting modern subject who minimally experiences the "death of God"?
We'll start with a strident way in – that of Daughter's vision of "the head of a human figure with a terrifying face, full of wrath and threats" appearing to the protagonist "in the sky, on a night when the stars were shining and she stood in prayer and contemplation." These two elements – the terrifying face of the big Other, and the lost subject in search of meaning and the miraculous – are constants in Philip K. Dick's biography. In the late seventies, Dick recalled: "There I went, one day [in 1963], walking down the country road to my shack, looking forward to eight hours of writing, in total isolation from all other humans, and I looked up in the sky and saw a face. . . . and it was not a human face; it was a vast visage of perfect evil."  To the psychological impact of such an encounter, Janice Lee supplies a concrete example: "At the sight of it, she feared that her heart would burst into little pieces. Therefore, overcome with terror, she instantly turned her face away and fell to the ground.  And that was the reason why her face was not terrible to others."
Adam: Last weekend, playing a stray note on my recorder summoned a cyclone that whirled me away to the swamps of Tallahassee. There I impinged on Christopher Higgs and his wife, who lodged me in their spacious Rococo flat (refurbished from a gator-packing warehouse). Over dinner, Chris and I had numerous opportunities to discuss—and to disagree about—the nature of experimental fiction…
A D JAMESON [leaning back from his seventh helping of tiramisu]: At the risk of spoiling such a fine meal, perhaps you and I can finally figure out why we've butted been butting heads regarding the nature of experimental fiction.
CHRISTOPHER HIGGS: OK.
ADJ: Let's start by each defining what we think experimental fiction is!
I was talking with Jeremy M. Davies recently (actually, we were on our way to see Drive), and the topic of genre as art came up. Now, Jeremy and I are both huge into genre, in all media. We're nuts over spy thrillers, sci-fi, and fantasy, for instance—not to mention Batman comics. (Only the good ones, though, natch.)
And of course lots of people in various lit scenes (all over) don't think that genre fiction can be art. They're really wedded to that "high art / low art" divide. (Or the "literary fiction / all else" divide, as it's so commonly called.)
Me and J, we were saying how we don't get it. How can someone read, for instance, Patricia Highsmith's Ripliad and not recognize it as total artistic brilliance? Or Philip K. Dick's VALIS, which is one of the greatest novels of the 20th century, hands down? And of course I'd argue that Frank Miller's Batman: The Dark Knight Returns is one of the finest things published in the 1980s, "despite its being" a comic book. (I didn't spend all that time analyzing it at Big Other because I thought it was merely cute.)
Anyway, I came to a certain conclusion…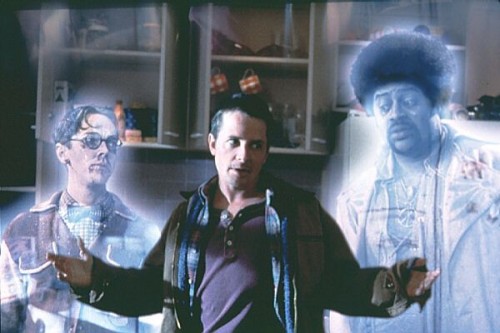 I just finished watching the director's commentary track on the re-issue of The Frighteners, a movie I truly love despite the fact that it's deeply flawed, wildly uneven, and basically a failure. (It's like the Philip K. Dick of horror-comedy crossover movies; though not like a Philip K. Dick movie). Hearing Peter Jackson discuss what he feels went right about the film, what went wrong, and how it all came together–or didn't–was fascinating. I wasn't much of a Peter Jackson fan going in–in fact I didn't realize he had directed this movie until I netflixed it this most recent time–but something about his candidness, coupled with his obviously fan-boyish enthusiasm for cinema in general, really won me over. Plus I learned that he made a FOUR AND A HALF HOUR documentary about the making of this film, which apparently I need to netflix separately. As of this writing, it's already on the queue. Does anybody else have favorite failed work of art, be they literary, musical, or filmic? I'd be interested to hear what, and why.