May 2014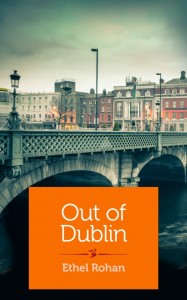 Out of Dublin
by Ethel Rohan
Shebooks, May 2014
Ethel Rohan's Out of Dublin opens with an image I'll not soon forget:
Two-hundred-and-six bones hold the typical adult together. When we first arrive, our skeleton contains three hundred hard, slick parts the color of teeth, and then life takes out some bones. I sometimes feel I have too many bones missing, there not enough skeleton to keep me together.
At the center of this memoir is the story of breaking and healing. It's a personal tale with broad appeal, because, even as it retells one family's many stories, it reminds us of the resilience of human beings and our desire to keep holding on, even in the face of the impossible.
I've been thinking about the personal memoir quite a lot lately: how much to tell, how much to leave out, why we feel compelled to tell our stories in the first place. Rohan carries two missions deep within her: a need to articulate her own story for herself, and a desire to write it down and share it – because what else would an individual of this capacity for feeling and words do?
The memoir contains painful details of life growing up in Dublin and the struggle to leave – and the reader knows from the opening that there will be wreckage along the way. Even at a young age, with five dynamic siblings and two complicated parents, the small version of Ethel has difficulty finding her place. She's a girl searching for her song, trying to be heard. But she's also a girl with unremitting devotion to her family. And this duality permeates the memoir: a desire to understand where she fits in a complex and painful family history, and the dedication of a daughter who loves her parents and family, flawed as they are. The writer is frank about the tough things: violence, abuse, anger, secrets. But a tenderness persists as well, amidst layers of confusion and disorientation. Straightforward language and subtle affection make this a small splendid thing.
At 10,000 words, this memoir is a glimpse at a whole life. In this way it's not unlike flash fiction. And like Rohan's short fictions, this story captures something large in a very small space. It is paced with alternating tempi, like life itself: sometimes the narrative lunges forward at break-neck speed and sometimes it offers up quiet moments that linger long after the reader has passed them by. Near the beginning there is a sequence that races at you, a 440-word sentence that could be an independent piece of flash fiction all its own, recollecting childhood beach trips in a Morris Minor, complete with sandy sandwiches, surfside swimming and ice cream treats – but much more than that because the sandwiches are sandy ("granules cracking between our teeth"), the swimming is competitive and "pretend" and the ice cream treats come with a side of nicotine and hard liquor. There's also a hint of blindness on a bright summer's day, darkness coming fast. Woven into this recollection of a family together is a story speeding to its inexorable doom. The details in this passage are carefully placed yet relentless – necessary and urgent. The memories captured here come in a flood, as if it's important to pour it onto the page, before they are lost, like sand slipping through one's fingers on a hot afternoon at the shore.
On the other hand, that cascading memory is balanced by short moments exhaled sharply. There's a girl briefly dancing, for example,
"… my moves stolen from TV and ballerinas inside music boxes. I was helium. Stardust."
The "I" is alone, already scattered to the universe, willed away from her roots. The "I" is fragmented, as are the sentences. Small breaths of life. And the "I" struggles throughout the story – moving forward and making connections back. The individual frees herself in ways she can, even using geography to her advantage, but the devotion and honour for her parents and home is never broken.
Comments Off

on Finding the light: a review of a very short memoir by Ethel Rohan
May 26th, 2014 / 10:00 am
Everything Will Be Fixed by Love
Everyone woke up hungover
Everyone woke up in the wrong bed
Everyone had the wrong shoe
on the wrong foot in the wrong weather
Everyone was so hungry
then everyone ate too much
Love me everyone said
Love me first everyone said
Fix me everyone said
Fix me first
Bio: Elizabeth Clark Wessel is a founding editor of Argos Books & co-editor of Circumference: Poetry in Translation. Her poems and translations have appeared in DIAGRAM, A Public Space, Guernica, Sixth Finch, Lana Turner Journal, and Boston Review. She is the author of the chapbooks Whither Weather (GreenTower Press, 2012) and Isn't that You Waving at You (Big Lucks Books, forthcoming in 2015).
Comments Off

on Elizabeth Clark Wessel
I haven't read the New York Times in a while now.  Not since the paywall went up.  But yeah, I read that article the other day by Jennifer Medina about college students asking for "trigger warnings" on the books and movies they encounter in class.  It's good that I'm not a professor.  I'd get in trouble somehow.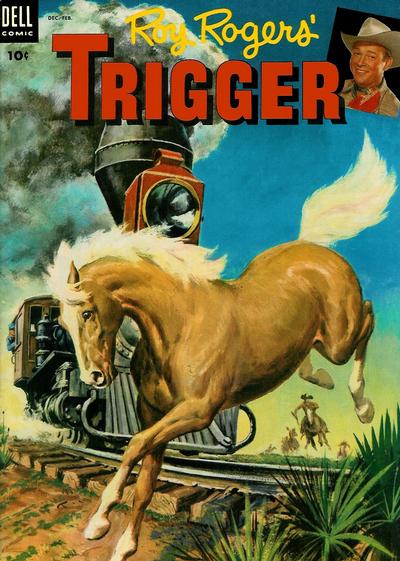 I know about the article because John Landis read it out loud at a PEN Center USA event last Sunday in LA.  The event was Forbidden Fruit, PEN's fundraiser where authors and actors read passages from some of the most banned books of all time.  (Lolita, check.)  Landis was the emcee.  Panio Gianopolous, Maria Bello, Molly Ringwald, Jill Sobule, Frances Fisher, Hill Harper, and others read work from authors like Ken Kesey, Anais Nin, Orwell, Updike, Steinbeck, and Nabokov.  All writers whose books might need a trigger warning, I guess.



I wrote the first 16 lines of Viewer's Guide last November in Mexico after revisiting Ionesco. Flash forward to March 2014: I'm hanging at Manitoba's in NYC and meet Handsome Dick and get myself drunk. I start thinking about those lines again. I start thinking about Cioran and getting laid. All thought fails and soon enough I'm on the train back to NJ, secretly snapping photos of unsuspecting passengers. I awake hours later with my phone in my pants and pull it out and scroll through pics. I focus on one where a beauty is exploited by three brains. My head is an air of gray next so I continue the 4-month-old poem. For another 4 lines my violence prevails. The poem then shifts to scenes that are invisible to every brain I'm aware of. I cut that off prematurely. I smile for a while and see my observations fade into nothing.
. . . . . . . . . . . . . .  .RC Miller lives in Metuchen, NJ. He is creator of Mask With Sausage, Pussy Guerilla Face Banana Fuck Nut & Demon Drawings, all published (or soon to be) by gobbet press. Miller maintains an art blog via WIGFUCKER. . . . . . . . . . . . . . . . . . . . . . . . . . . . . . . . . . . . . . . . . . . . . . DJ Gay Gravy was born into a religious family. Later, he read Richard Rorty and learned to love again. Now, he spends 98% of his free time watching battle rap. More videos here. . . . . . . . . . . . . . . .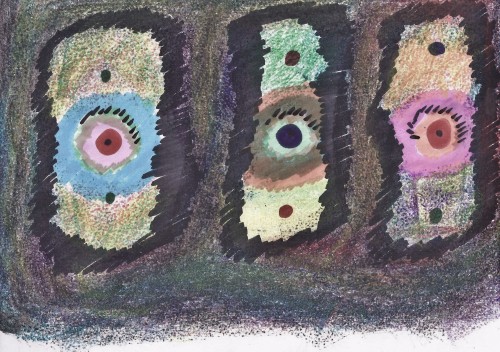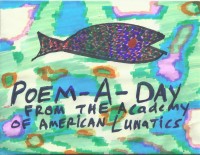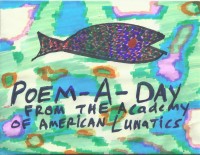 a kind of homage and alternative (a companion series, if you will) to the incredible Academy of American Poets. …(JaJaJaJaJa)…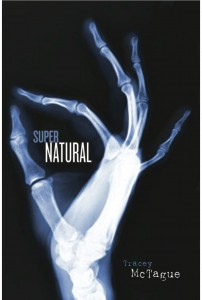 Super Natural
by Tracey McTague
Trembling Pillow Press, Jan 2013
116 pages / $15  Buy from Amazon or SPD
Published last year by New Orleans' small but feisty Trembling Pillow Press, Tracey McTague's Super Natural is a cheeky and tongue-twisting phrasebook for the postmodern alchemist.
Drawing from multiple languages, cultures, and folkloric traditions, McTague casts her poems against a shadowy backdrop of blurring mythologies, and even frequently intersperses her incantatory verse with prose passages detailing various cultural beliefs, mystical doctrines, and superstitions. However, like any true occultist, McTague focuses not on the lofty ideals and abstractions of a discrete "spirit realm," but rather on the reactive mixtures and metamorphoses that enrich the concrete particulars all around us.
In fact, each of the book's three sections can be seen as underscoring the visceral physicality of magic, though through differing folkloric symbols and disciplinary lenses. The first section, "Thirst," centers around the notion of the "evil eye," which McTague explicitly associates with both "female genitalia" and "the social flow of sexual rights"—simultaneously grounding her occult terminology in political reality and imbuing that political reality with new occult significance (15). Yet the poems of this section (like all that appear in the book) are far from dry or humorless in their social commentary: among the jokiest lines concerning sex and gender are "Antigone brand condoms," "palpate your god particles," and "I've killed better men with much smaller guns" (19, 22, 26).
The next section, "Ancestor Midden," turns from politics to ancient history, explaining "midden deposits" as "archeological material including animal bone, shell, botanical material, vermin, and other artifacts and eco-facts associated with past human occupation" (49). Here, McTague explores mystical beliefs and customs surrounding death and veneration—from "bird-heralds" to hallucinations, "transmutations" to shrines built from saints' body parts (54-55, 58, 73). But again, given her subject matter, McTague's language remains remarkably concrete and earthy, insisting in poems like "Tenebrosi" that "divinity" can fuse with "whisky breath," a "miracle" can hide "under…aprons," and even "revelation['s]" "transmission [is] corporeal" (57).
The third and final section, however, is perhaps the most explicit of all about McTague's commitment to "science" over "religion" even in her sonic brand of sorcery. Entitled "Contagion," this section openly defines "magic" in terms of physical "control" over "impersonal forces," to be contrasted with the personal "conciliations" of religion. Citing James Frazer's The Golden Bough to explain the "Law of Contagion," McTague investigates the various "frantic," "smitten," and "vehement" ways in which "things [that] have once been in contact with each other continue to act on each other at a distance," using such grounded biological examples as "dinosaur…/ scales sprout[ing] feathers" and "expired breast milk" (89, 107, 113).
Depending on their attitude toward softer sciences like linguistics and etymology, however, readers may find themselves either enchanted or stumped by Super Natural's swift transitions from English into Latin, French, Italian, or German. Not surprisingly, McTague conjures her witchy middle ground between "science" and "religion" by invoking Modern English's wealth of Latinate terminology on both sides of the divide, using titles like "mors osculi" ("death by kiss") and "melancholia fumosa" ("smoky sadness") to accentuate the ancient kinship between chemist and alchemist (30, 58).
Yet of course, for McTague, who insists so vividly on the rich materiality of magic, this kinship is not only conceptual but also linguistic and gendered—i.e., historically embodied. Spring-boarding from Frazer's description of magic as modern science's "bastard sister," Super Natural targets the "fluid" mutabilities of language and of the female body to demonstrate the grotesque gyrations of its paranormal universe (Russo 8; Bakhtin 339). For example, in "Thirst," McTague parses the idea of the "evil eye" at one point through the Latin etymology of "envy" ("invidere: to see"), at another through its association with "drying out" life's necessary "liquids"—especially breast milk (15, 24, 63). By narrowing in on such linguistic and corporeal metamorphoses throughout her book, McTague points to the secret-making slippages in both words and bodies that ultimately grant them their transformative social power.
Comments Off

on Secrets, Secretions, and Sorcery in Tracey McTague's Super Natural
May 23rd, 2014 / 10:00 am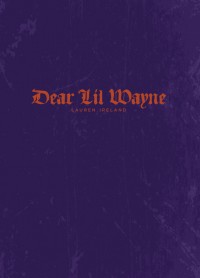 Dear Lil Wayne
by Lauren Ireland
Magic Helicopter Press, 2014
62 pages / $11.00 buy from Magic Helicopter
1. Immediately I am reminded of Joe Wenderoth's Letters to Wendy's. The cover to his book and Dear Lil Wayne even kind of look the same.
2.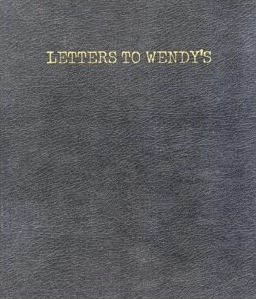 3. The dedication of the book goes to Lil Wayne, but below that another dedication/statement reads: "hip hop, you saved my life." I think this is particularly poignant. Sometimes when bands are interviewed they'll say something like, "We get letters from fans telling us that this song/album helped them through a hard time." The project of this book is proof of the kind of power music can have and I totally relate and understand, as I'm sure many other readers probably can, too.
4. The book has a type of preface in which Ireland gives us some information about Lil Wayne, primarily concerning his incarceration. This preface ends: "I sent these letters to Lil Wayne during and after his incarceration. He never wrote back." There's an almost even split of letters written while Lil Wayne was in jail and after he was released.
5. I wouldn't go so far as to say Dear Lil Wayne is a form of hero worship, but rather an incarnation of the advice, "write about your obsessions."
6. And in this writing through obsession, Ireland weaves together the comic and tragic for very memorable poems.
7. For example, "September 17 2010":
Dear Lil Wayne,
Jason and Furst say they get fear boners. Do you? Probably not. Jason says there's like a Nicaraguan death squad after his dick. Does this mean boys are just as scared as girls? All this time I was sure it was a joke when a boy liked me. In these cases, I don't get fear boners. I just feel kind of bad.
8. From the first sentence this poem is engaging. The following "Do you?" and "Does this mean boys are just as scared as girls?" maintains a move that appears throughout the book: Ireland is almost always asking Lil Wayne questions in her letters.
9. "September 21 2010" begins, "Do people think you are funny when you are actually really sad?"
10. "November 5 2010" (the day after Lil Wayne's release) begins, "Do you feel different yet?"
Comments Off

on 25 Points: Dear Lil Wayne
May 22nd, 2014 / 12:00 pm
Williamsburg is a place that memorializes masculinity while at the same time re-coding it. In the 'olden times,' man worked in a factory, provided for a family, controlled everything in a calm and fairly inarticulate manner. This sometimes worked. So I've read.
More often, the industrial society led by men descended into war, violence, chaos.
In 2006-2014 Williamsburg there is a bar called "Bar-cade" that is about a late 20c nerd's revenge on the New York Nightlife. It's post-industrial. It's information society.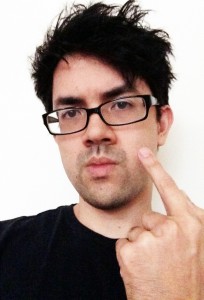 Summer reading recommendations from Michael Seidlinger as part of this year's Summer Reads.
***
Young God by Katherine Faw Morris (May 7th)
I'll start with one that really caught me off-guard. This was one of the books that I read front to back in one sitting; it's not impossible given how the majority of it consists of taut, stripped down, really gritty and dark prose. Quite a few chapters are a single page long; for a few, they're a paragraph, a single sentence on the page. The most interesting aspect of the book is how different it is, how much it reads like something you'd expect from an indie publisher. This is a good thing—it's off-putting, dark, and completely alien compared to the other titles sharing the same shelf space at the nearby bookstore chain. Young God is prepped to leave a mark, and I really hope it does. It surely did for me.
Backup Singers by Sommer Browning (June 3rd)
Sommer Browning's latest book of poetry has quickly risen to the top of my must-read pile. Via her twitter presence as well as the various poems/excerpts I've read online, Browning's proved to be one of the funniest, most clever and honest poets rocking the indie scene right now. This is a book you'll want to read while lounging with some liquor on a lazy Saturday afternoon.
The Silent History by Matthew Derby, Eli Horowitz, and Kevin Moffett (June 10th)
I still remember when this came out on smartphones as a sort of alternate-reality storytelling experience. The basic gist is about an epidemic spreading among children wherein they do not speak and do not respond to language. It's similar to Ben Marcus's The Flame Alphabet yet different enough to be its own memorable piece. I didn't have a smartphone at the time and I wasn't living in a city participating in the experience (something about using your smartphone in flagged areas to receive storytelling fragments) so I felt left out. I hoped that it would be compiled into a book. Sure enough: Boom, it's happening this June.
Nobody is Ever Missing by Catherine Lacey (July 8th)
Give me a book that delves into existential crisis any day. I don't know why I'm so enamored by writing that doesn't stray away from the big questions but I believe it's because it's stuff that we think about a lot. Questions like—what might have been? What am I doing with my life? And is it too late to adjust/change things? Lacey's novel looks to be an important work that serves a unique take on the crises that ultimately outline adulthood.
Forest of Fortune by Jim Ruland (July 31st)
The characters in Jim Ruland's latest consist of an alcoholic, an epileptic, and a gambling addict haunting and being haunted by their activities in the rundown, decrepit Thunderclap Casino. There's something otherworldly about the book that has me intrigued and I'm a sucker for a well-written book about strife, especially gambling. Based on what I've read so far, this is going to be one that you won't want to miss.
Colorless Tsukuru Tazaki and His Years of Pilgrimage by Haruki Murakami (August 12th)
New Haruki Murakami in time for the end of the summer. Yup. I'll take it with whiskey on the rocks and a cigar, thank you.