HTMLGIANT / Search results for drops on the water.
Janice Lee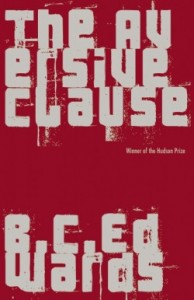 The Aversive Clause
by B.C. Edwards
Black Lawrence Press, Feb 2013
176 pages / $16  Buy from Amazon or Black Lawrence Press
He lost me at:
St. Louis is a city entirely suburban, constructed and unnatural. Almost foreign after so many years in New York, and yet unmistakeably American. St. Louis is like watching a commercial for fast food.
I lived in St. Louis for four years, and it's not that what B.C. Edwards is saying is not true. The city is made up of a bunch of sprawling residential pockets, peppered with soul-killing national chains and all the political tightness and hatred we've come to associate with middle America. It's the way Edwards says it that makes me sad: as if St. Louis doesn't even deserve a second look. As if he's content to see it as a foreign planet, a place to visit for a while, and learn, and then return to New York City.
Of course, it's the character talking here. Eli, from Brooklyn, whose entire growth cycle in "Bigger Than All These Buildings" relies on this dismissiveness. He flies to STL for his boyfriend David's family reunion and for the length of it he is on the outside looking in, spiking the Kool-Aid and staying an arm's length away from David's aunts and their crucifixes. But a cathartic fight between brothers occurs, and in the end Eli suggests a visit to the St. Louis arch, the mythical and defunct Gateway to the West. "And they're right," he says. "All of them. It's really something."
The line is a satisfying ending to the story, on one level: not only does he cave in to the sightseeing all his boyfriend's folks have recommended to him, but he also praises it with the kind of down-home phraseage that they'd probably described it with in the first place. It feels good. It feels indicative of emotional change. But on another level—and that's in light of the rest of the story—the line feels a little patronizing to me. David's family is still more or less nuts up to the end of the story, and salvation comes only after he's left the thick of them. It's almost too good, the ending, and maybe that's because in a couple days Eli is going home.
It's the same tone I sensed in much of the first part of The Aversive Clause. In the world of "Aggie with the Hat On," "the streets rolled by, strip malls, neighborhoods, fast food, and the same again." Aggie descends into a pathetic, drug-addled mid-American lifestyle until he encounters a surreal doppelganger. Milo in "Goldfish" drifts in and out of consciousness at a party after sexually assaulting his ex-girlfriend. Mattie and Zachs leave New York to rehab and turn over an old house and are forced to take on their own existential dilemmas when they find a giant iron statue of a cherry tree in the basement, left by the lonesome former resident.
Reviews
/
1 Comment
July 15th, 2013 / 11:00 am
Janice Lee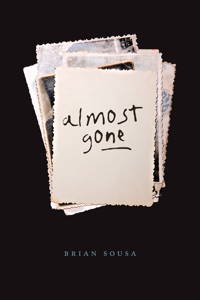 Almost Gone
by Brian Sousa
Tagus Press at UMass Dartmouth, February 2013
192 pages / $19.95  Buy from Tagus Press or Amazon

Brian Sousa's debut is a novel-in-stories about the life and tragedies of three generations of a Portuguese-American family living in Rhode Island. Their lives are punctuated with a series of desperate escapes abroad, beginning with Scott on the beaches of Brazil mourning the death of his young daughter, re-enacting her drowning in several senses of the word. He doesn't know that it was a similar flight of desperation that brought his grandmother and grandfather to America from Lagos, Portugal many years ago.
The characters may occasionally run, but they cannot hide from their literary fate. Each character's private pain explored in turn; each timely revelation increases the stakes. Helena emigrates from Lagos with her husband Nuno, and finds her life in America barren and cruel in comparison. Nuno cannot muster any grief for his wife's death, and instead nurses his obsession with Catarina, the beautiful Portuguese woman who lives in the guest cottage behind his house. Nuno's son Paulo listens to his teenage son Scott having sex, while his own marriage is rapidly deteriorating around him. Ten years later, Scott's marriage is no better: he loses his child and abandons his wife. The unwitting observer to all of this family drama is Catarina, who can never seem to escape her fate as the object of every man's desire. She too leaves her husband, fleeing into the streets of Granada.
These are stories of loss, infidelity, alienation…all the persistent demons of modern suburban life. And for that matter, of suburban literature since the dawn of Cheever.  But Almost Gone glimmers when Sousa manages to step outside conventional grief, and twist the knife ever so slightly. The best example of this is a deeply awkward scene where Nuno arrives at the cottage to woo Catarina, after his son Paulo has just tried the same and left, rejected. Nuno falls, and pleads with her from the ground:
"I'll do everything—anything for you. I've—I've always wanted to talk to you. You're so beautiful. I used to tell my wife. She loved you. And I have this picture to show you, and I can help you. I can. Deixe-me ajudar. Let me help." (p. 47)
Reviews
/
2 Comments
May 17th, 2013 / 11:00 am
Guest Posts
The Sounding Machine
by Patty Paine
Accents Publishing, 2012
71 pages / $12.00 buy from Accents Publishing
1. "Still" is a poem about a girl, in her stepfather's bedroom, holding the "unspooled" film of frames showing "Linda Lovelace's bottomless / throat" against "curtained light."
2. The girl's ears are "cocked / for gravel beneath tires."
3. She is afraid that her stepfather will return, angry.
4. "Still" is a poem about abuse, and how the memory of that abuse is wrapped and "swallowed" like the "first flash of desire"; that "chasm / of silence, her mouth."
5. "Still" is not the first poem of The Sounding Machine, but the one I returned to the most. Paine's collection accumulates, but "Still" is the best pivot.
6. The Sounding Machine hurts.
7. This is a book about grief, focused on the loss of a mother. So Nyo Kim. A woman who married an American soldier during the Korean War. The narrator of many poems in this collection–apparently So Nyo's daughter–is nearly peeling with this grief.
8. "Sometimes I stop looking/ in mirrors." "Sometimes I feel / like a child with holes / in my pockets, every day losing / some small stone of myself."
9. The Sounding Machine made me feel, but Paine was also able to control me, to wire me shut with words. "Ars Poetica" warns that "there are days / when language is heavy furniture you push around / a house made of nothing / but hallways." The narrator admits "sometimes a poem can lie."
10. But I want to believe her lies. READ MORE >
Reviews
/
No Comments
March 12th, 2013 / 1:30 pm
Impossible Mike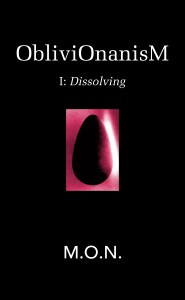 ObliviOnanisM, I: Dissolving
by M.O.N.
gnOme Books, 2012
85 pages, $9.99
Buy from Amazon
Sometimes I dont' trust copy. I feel like, if I read a book and then encounter copy written for it, most of the time I scowl to myself and think things like "holy shit that is so incredibly reductive." However, in the case of ObliviOnanisM, the copy rings remarkably true:
A profanely mystical work of hyperpurple theory-porn, ObliviOnanisM is an auto-erotic intellectual fiction envisioning the phantastical unending odysses of a young woman, Gemma, whom you will never know.
It might only be a sentence long & it promises a lot, but really there's nothing false about this description, drawn from the book's back cover.
To get it out of the way, I'll approach a plot description; Chapter 1:Gemma finds a semi-ovoid object and sticks it into her ass. Chapter 2-4: Gemma experiences immense pleasure from the object, from refusing to physically interact from her own body, and from her immense mental acrobatics that circle around not touching her own body. Chapter 5: Gemma doubles into another non( )being and within this phantasmatic double achieves infinitely echoed orgasms into oblivion. So, yes, the entire novella, in terms of literal action, consists of nothing beyond Gemma getting off. There are no characters other than Gemma, the action takes place in no physical location other than Gemma's bedroom. There is no dialog. There is no character development. Arguably, this is just an 85 page masturbation scene.
So does it work? Surprisingly, yes. The "hyperpurple" prose recalls the anonymous French erotica that was so ripe to pop up in the 50s, 60s, and 70s, approaching metaphysical plateaus of the phantastique that I personally am more than prone to enjoying. The idea of "theory-porn" pitched on the back has less to do with a direct exigesis into theory & rather adapts the syntactical structure of theory and applies it to porn-writing, occasionally referencing those beacons of theory in their BwOs, their infinite becomings, their Irigaray-ian loops, their object-ness, their speculative solutions. From a subjective perspective there's really no erotic stake I share in female-onanism (being a queer male), but there's an interesting insistance taking place.
The phallic structure is entirely absent. The semi-ovoid (egg) shape that violates Gemma violates her ass, but not in a phallocentric plugging, there is none of the old "in-out" here, only a girl and an object and, later, her own hands, fingues, tongue. This body has organs but they dissolve into a gushy pool of sweat, spit, and come, but this doesn't form an abject pile of abasement, rather it launches Gemma into the ethereal fluidity of the float.
Thus, to conclude, I offer a fragment taken from page 50 of the book. Your response to this excerpt is likely to determine your response to the entire book, so away we go:
The thought-spheres refractively projected illimitable prismatic images from all directions into her imagination, images her heart tirellessly distilled into licorous milky drops that were imbibed by every cell of her clean body. The self-penetrating pneumophantasmological cascade of meta-sexual soul-dew was overwhelming. And the flow, however slowed by the universal waterfall of ontic translation, was still too much.
Reviews
/
4 Comments
January 11th, 2013 / 2:52 am
Janice Lee
on reviewing Gaddis's The Recognitions1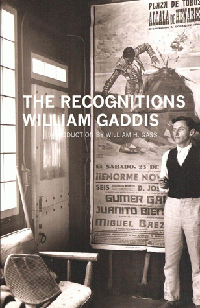 The Recognitions
by William Gaddis
Reissued by Dalkey Archive, 2012
976 pages / $18.95  Buy from Dalkey Archive or Amazon
(Download PDF Version of Review)
"Of course I like music, but not just to listen to."
– The Recognitions (940)

There is, it seems to us,
At best, only a limited value
In the knowledge derived from experience.
The knowledge imposes a pattern, and falsifies,
For the pattern is new in every moment
And every moment is a new and shocking
Valuation of all we have been.
– T.S. Eliot, "Four Quartets"

"On the surface! But how much deeper do people go?"
–The Recognitions  (464)

[1]

Throughout this review I will be using quotes from the novel in footnotes to support notes I make.
The occasion for this review of The Recognitions, a classic American novel first printed in 1955, is its recent reissue from Dalkey Archive, with an introduction by William Gass. If I were to write a brief synopsis of the plot and major themes of the novel it would be as follows.

[2]

Now that we have synopsis in hand, let me speak of how that only begins to explain the more substantial elements of The Recognitions, the ones that stick: that it is concerned with originality, reality, and perfection and that these things are often interchangeable; that its characters are all involved in some type of forgery;

[3]

that we are just layers and accumulations and fragments within the whole, tottering in the field between familiarity and recognition; that art and religion have similar strands and weights of guilt, combatant with truth; and so on. Because of the novel's size—956 pages—I will stick with the aforementioned elements, with the belief that they get us readers thinking and moving the most; additionally, I will leave Gaddis out of this review— READ MORE >
Reviews
/
5 Comments
December 10th, 2012 / 12:00 pm
Guest Posts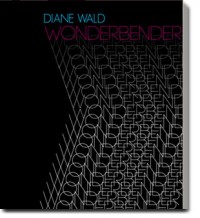 Wonderbender
by Diane Wald
1913 Press, 2011
84 pages / $11.00 buy from 1913 Press
1. My friend, N, told me about this book. Sometimes I feel like I don't know who is living out there. It's a crushing thing that hovers around me. I want more voices to hunt me. N and I trade pictures of wonder using smart phones. I felt very demanding when I put my request for this book into the Inter Library Loan's mouth.
2. A t-shirt that said, "Wonderbender" is a t-shirt that I would wear everyday. It would be my fun coat. A wonderbender is what I nods towards everyday. This is a title that jumps out of a cake with Diane Wald's gray cat in its arms.
3. "odd how you wait for me to speak/odd how i do it." My friend, J, told me about a letter that has no sound to it. It is a guttural letter. It is pregnant breath. (The mom)ent before and possibility with its posse raging. Lip blubber flying everywhere. Wide load signs. In all shapes the I wonders to all shapes of wonder. Why do this? Why not do it in heaves? Why not bring in overwhelming hauls?
4. Wild gestures. Something beyond facial expressions is what that voice is making you feel uncomfortable at. "when my poetical delineator is out of order…amen." Michael Taussig parades a thing I am in love with in The Magic of the State. "And because I feel that I am more known by this than knowing…" I think Wonderbender nods along.
5. "First, that is not the name of the bird. The name of the bird is Jen." I want to name the cat Doug. The other cat will be Linda. Names don't automatically build a person on a page or build a page a person. Names might just be an empty house flapping curtain teeth. A brush with a body, with a ghostly glow. I read a poem that threw a Jen in at the last minute. The I of the poem called Jen about hearing God farts. Most of the readers I read that poem with had questions about the kind of milkshakes Jen likes, why she was drinking them there, what she might slurp next. I thought about this for days after. Can't Jen just be hitching a ride in back of the poem? Can't she just shake there?
6. "It's got more turquoise in it than that and even/ turquoise / is wrong by a long shot." Our best avocado say you can be all the bad cover band you want.
7. "You scream. Literally you say hello politely, but I know you scream." What a good bike ride through a horror movie this line is. Below us, the neighbors do not like us. They say we are loud, screaming with the help of our furniture. We slip a note under the door that says, "We're sorry. We're just talking. We're just waking up. We're just writing."
8. "please do not hurt me oh i am absurd."
9. When is this not a package deal? When is there not a nest at the bottom with cut out broncos in it and film negatives and a scrap of important color leaking? When am I not packaging? When are the women not walking along a slow part of the desert, looking for little bones? "i think i will send you a package." Something big and spilling.
10. "or i have little information" READ MORE >
Reviews
/
2 Comments
November 15th, 2012 / 10:53 am
Jimmy Chen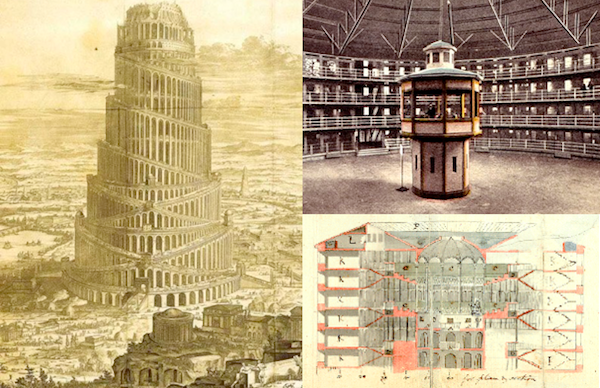 "Go to, let us go down, and there confound their language, that they may not understand one another's speech," says the ticked off voice from above in the Book of Genesis (11:7) — though modern versions prefer confuse to confound, retroactively auspicious, since Babel sounds like the revised "confuse" (bālal) in Hebrew — thereby scattering our tongues into various, um, babbles, from the harshest Cantonese, bluntest Ebonics, to the always DTF-French. Regarding the etymology of babble, "no direct connection with Babel can be traced; though association with that may have affected the senses," attests the Oxford English Dictionary. Near bizarrely, the original English word for babble was babeln (c. mid-13th century), that helpful -n a kiss away from Babylon, just for funnies, where this all supposedly took place, meaning "gateway to God." Early 19th century philosopher Jeremy Bentham conceives the Panopticon, an institutional building (usually prison, though also applicable to hospitals, daycare, etc.) in which authorities at an omniscient center have a 360° view of the entire perimeter. Mr. metaphor Foucault (in Discipline and Punishment, 1975) is moved by the idea of "permanent visibility," a form of power whose construct was more imperative than its actually being possible: the prison guards, while having access to the sweeping perimeter could only look at one area at a time, their backs turned to everything else. The habitual possibility of being watched was just as effective as actually being watched. Hence, religion as security cam.
Random
/
4 Comments
September 30th, 2012 / 1:10 am
Sean Lovelace
Rose Metal Press makes a wonderful chapbook. Shampoo Horns, for example. It feels like hair, if the hair was made of Pop-Tarts or red sun and waterfalls of beer. It was printed on a Vandercook letterpress, with care. It smells like dandelion broth. The entire book-making process is fascinating and you can see it here:
This book has 19 short stories, linked. This would be a good book to examine while considering the nuances/decisions/contemplations of a linked collection. You could ask the author, "What kind of things did you think about when ordering the collection?" You could get Winesburg, Ohio and stack it upright on the dirty kitchen floor and then take three paces and place Shampoo Horns on the disgusting floor (pasta sauce and dream stains, etc.) and then you could fill in the space between the two with other linked books, like stack them into bones or whatnot, and you would have yourself a self-education session. (If you aren't going to autodidact, you are doomed.)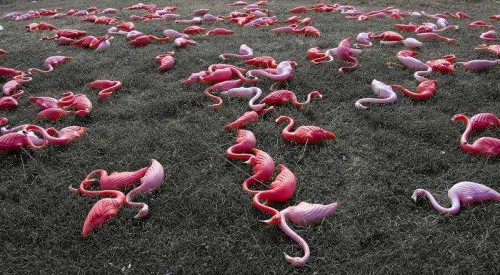 This book contains red plastic cups, you know the cups, so simple yet they connote so much (even their name–solo). I bet you've held a red, plastic cup. Cradled it. Sucked from. There are also "pink flamingos with missing heads" and "stray huskies" and a "overgrown toddler without a shirt" and a "trash bag flapping" and "bologna sandwiches" and "MTV" and "wood panel walls" and a mobile home full of angels and "Texas drawl" and "shit-filled Underoos" and a dildo in a swimming pool and "RV's" and "a busted La-Z-Boy" and a "greasy ball cap" and a "plastic vodka bottle" and a lot of other THINGS. Agglomeration. Interesting method of delivering the world from a child/boy's POV. Most don't do it well. But Teel does, by creating a tornado-like effect of THINGS spinning by, the narrator watching the world blur. Puzzlement and understanding are the milieu of a boy, an aging boy. Your parents are no longer some minor gods. Pain enters life (this world can hurt). And, of course, sex—this strange, persistent force—is in the air. Possibly this is a trailer park Bildungsroman.
Author News
&
Random
/
1 Comment
August 30th, 2012 / 10:05 am
Reynard Seifert
I like to think there is no substitute for space but I kind of don't know how true anything is. If you don't have space, you don't have a place to unpack your shit. I can't remember what I've read unless I look up and see the spine on its shelf.
This sentence: a painting of Alfred Korzybski reading Hamlet in the shower, as he drops the soap. We either do or do not look away. I'm taking care of my neighbor's chickens. They are famous. Mostly in the gay community. A couple want their butts shaken. After this is done now and then they strut away, content. And you can't really help but gawk at these dinosaurs as they till millions of years into the soil with an awkward scratch, arching their skinny necks, ruffling dirty feathers. If the soil is watered, or tilled, they gaze into the brown as if it were the very very meaning of life.
Random
/
23 Comments
July 28th, 2012 / 4:59 pm
Janice Lee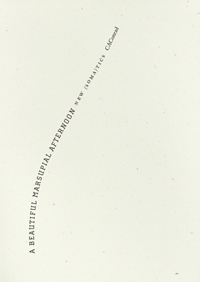 A Beautiful Marsupial Afternoon – New (Soma)tics
by CA Conrad
Wave Books, April 2012
240 pages / $18  Buy from Wave Books or SPD
From The Right To Manifest Manifesto:
"The most idle-looking pebble will suddenly match any hunger, any rage. Suddenly, and will be realized at no other speed than suddenly."
Suddenly is a speed – in as much as it awakens us to see a constancy we've stepped out from. This is in large part what I suppose we all look for in literature or art of any sort.  Conrad's book is something sudden – however not in the sense of a sudden rush of fear or panic or power or adrenaline or lust. It's more of the suddenness we feel in finding wind – or sensing even ourselves as sudden, to a tree or some thing. The subtlety of this sort of suddenness is residual and it goes along with you and for things. I like to think the book gives a newness to that which one has assumed to be known, or figured.
Conrad's book is sinuous too. Each Somatic exercise is on a black page with white font, each poem, having been written in response to an exercise, is on a white page in black font. The modality is soothing, but keeps you thinking for polarities – in negations/negatives, as that of a photograph.
Reviews
/
No Comments
June 18th, 2012 / 12:00 pm