HTMLGIANT / Search results for drops on the water.
Janice Lee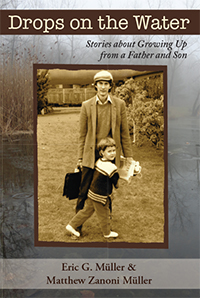 Drops on the Water
by Eric G. Müller and Matthew Zanoni Müller
Apprentice House, 2014
274 pages / $16.95  Buy from Apprentice House or Amazon
Vladimir Nabokov once said "…literature was born on the day a boy came crying wolf, wolf and there was no wolf behind him…Between the wolf in the tall grass and the wolf in the tall story there is a shimmering go-between. That go-between, that prism, is the art of literature."
In their debut memoir, Drops on the Water (Apprentice House 2014), co-authors Eric G. Müller and Matthew Zanoni Müller conjure those dark, shimmering tales of childhood.
A collection billed as "stories about growing up from a father and son," the book's structure appears deceptively simple: a chronological staging of moments from each of these writers' young lives. This, however, is where any pretense of simplicity ends. Not only do father and son appear as children in their own tales, they materialize in each other's stories as shadowy influences hovering in the background, or at times, stepping forward and playing the roles of antagonist, shape-shifter, babe in the woods, savior. It is as though they have positioned themselves in a funhouse hall of mirrors, so that we get to see multiple sides of them, even as they––as narrators––attempt to contain our attention to the story at hand. This strategy allows the Müllers to take full advantage of the inherently unreliable nature of their first-person narratives and help the reader recognize the wolfish, the prismatic, aspects of their tales.
Eric Müller, the father, begins his story in rural Switzerland, where he rides crimson gondolas and tramps through wintry forests, before moving to South Africa where he encounters a phantom horse that forces him to consider his own mortality, hunts pheasants in Zululand, and befriends a thuggish young classmate whose mother feeds him a rich, oily soup that turns out to be swimming with chicken hearts. Yet despite the sly, fairytale quality of Müller's prose, a ribbon of grim realism persists throughout. In one of the book's most unsettling stories, he watches as two schoolmates torture squirrel-like dassies on the savannah by stabbing them and yanking the slick ropes of their intestines out and gleefully waving them in the air. Afraid of being shamed by his peers, the child pretends he isn't troubled by this brutality, which we recognize as his own version of crying wolf. Even so, the wolf sinks its teeth in our narrator's hide. "Two more suffered the same fate before we returned to the farmhouse. I felt guilty and sickened by the hunt…one thing I knew for sure, it would be a long time before wars would be eradicated on this earth."
Reviews
/
No Comments
August 8th, 2014 / 10:00 am
Reynard Seifert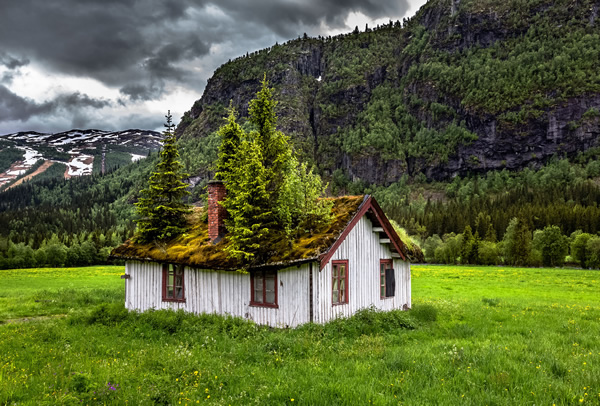 Fire may be the only cure for a deformed protein zombifying deer all over the country. Liquid crystal film charged by ultraviolet light can wave without wind. Apparently, Uranus opens and closes every day to bathe in hot particle beams. Alpha male mountain gorillas care deeply for young gorillas in their group, regardless of kinship. Somewhere in Washington, DC, thirteen white men tried to cut healthcare to millions of working class and poor Americans that voted them into office. It is becoming more and more plausible that someone could fabricate an event. "It could be there is a there there after all," said a woman to her son in their hallway — as pale mid-morning light crept into the picture frames, a haze cast over their eyes like gauze and neither knew what to do with her hands.
Harassment from males reduced fecundity in one of three morphs of female polymorphic damselfly. It turns out there are three kinds of snow leopard and some may be less endangered than others. Unfrozen bioregions of Antarctica are expected to increase by 25% over the next 80 years. A retired woman watching MSNBC on her smartphone at an Amazon processing facility in Arizona spent three unauthorized hours producing a thousand greeting cards to accompany her day's shipments. The cards said, "It's always spring somewhere…" and they were covered in crude drawings of flowers she thought she remembered. It was 118 degrees outside and the facility gleamed like the sun.
As many as 17 million Americans think chocolate milk comes from brown cows. Urban ecologists want to spend a lot of money studying rats, which cost the world's economy billions of dollars, and are apparently not well understood. A philosopher in Tennessee concluded that since it is difficult to establish how much of a person people in vegetative states are "we should go ahead and treat these patients as if they are persons." The New York Times devoted some of its Arts Section to explain the origin of the Milkshake Duck. A child in Nebraska noticed water drops in a row of corn sprouts — when she realized they did that on purpose, everything seemed to get a little wider, like there were eyes all over and she could see out the corners of them. And when she asked her daddy where the rain comes from he said, "I don't know."
Word Spaces
/
6 Comments
August 2nd, 2017 / 10:31 am
Sean Lovelace
-Black "Neff" beanie
-Black umbrella
-Black/red polka dot umbrella
-Navy speckled umbrella
-Digital camera with case (must fully describe to claim)
-Silver earring
-"Association of Objectification of Women School Broadcasters" certificates
-Elimae
-Black/gray running shoes
-Black "Mike Young" tennis shoes
-"Mockingjay" book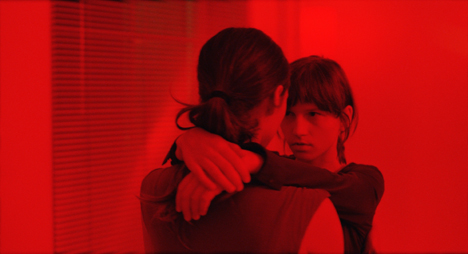 -Orange "Sky Zone" sock
-Black sunglasses (2)
-Black sunglasses with silver frames
-Leopard print sunglasses
-Racist Cell phone car charger
-Headphones with remote controls
-Black "ACE" bandage
-Sweater with red/pink hearts
-Gray "Adam Robinson" sweatshirt
-Black brassiere
-Prescription glasses with gold frames
-"No Colony" art posters
-"Kathleen Rooney" headlamp
-Blue bag with drinking glass and plate
-Clear drinking glass with "Sigma Chi" ink pen
-"Molly Gaudry" bowling ball
-White folder with class notes
-"Mary Miller" Bungee cord
-"Kentucky Chen" water bottle
-"Memorex" CD ("#8")
Random
/
9 Comments
October 7th, 2014 / 10:44 am
Guest Posts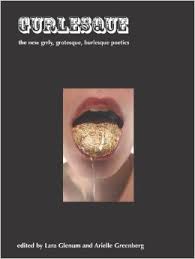 The second e-version of Gurlesque, an anthology of "the new grrly, grotesque, burlesque poetics," is coming out soon with an expanded number of amazing female writers, including Jennifer Tamayo, Marisa Crawford, K. Lorraine Graham, Kate Durbin, Kate Degentesh, among others— along with the original contributors, one of whom is Stacy Doris.
When I read Doris' funny, edgy, cerebral, and (dis)sensual Paramour in college, I knew I needed to go to San Francisco State for my MFA so that I could work with her in person. Stacy proved to not only be a phenomenal writer but also a caring mentor. Her passing in 2012 still feels raw today.
After reading an excerpt of Doris' book The Cake Part [1] which was published in the first edition of Gurlesque, I decided to read the full version and then (circuitously) write the following essay, incorporating other writers that used theater the way she did (or did not) in that book.
Only, since I was writing about transformative theater, I figured the traditional essay format wouldn't lend itself as well as a more dramatic format…
***
Scene: In a spaceship in a parallel universe. Android GERALDINE KIM types commands into the complicated lit-up dashboard as her ship is being attacked by a multitudinous tentacled alien race.
GERALDINE KIM: (ignores cosmic blasts while typing furiously.) I tried to write an essay on theatrical writing (not to be confused with the genre but more a leitmotif within other genres of writing—namely poetry) and then I realized that there are actually only a handful of instances of this in contemporary fem writing (that I could find).
GERALDINE KIM's BEST FRIEND WHO WISHES NOT TO BE IDENTIFIED: (enters.) How many instances did you find?
GERALDINE KIM: Four.
Random
/
No Comments
August 15th, 2014 / 10:00 am
Guest Posts
Sorrowtoothpaste Mirrorcream

by Kim Hyesoon, translated by Don Mee Choi

Action Books, 2014
1. I requested a review copy of this book because I loved Don Mee Choi's previous translation of Kim Hyesoon's All the Garbage of the World Unite.
2. I loved it so much that I would read one of her poems at my own poetry readings (not as my own of course, but yeah I wish I'd written them).
3. Secretly, I want to brush my teeth with sorrowtoothpaste. Doesn't seem like it'd be overly minty. And if I used mirrorcream, I'd wonder if I'd see myself as others see me.
4. The first great phrase in this book is "clammed up like a cavity-ridden piano." We are introduced to to characters, Melan and Choly. They are my friends too.
5. I feel these poems the way I feel seaweed in my teeth: uncomfortable but familiar.
6. The poem, "Glasses Say" might be some re-imagining of Adrienne Rich's "Diving into the wreck." I said might:
"…A vacant place. Only fan shells, a hook, an oxygen tube, a pair of goggles.
And a lady behind the goggles.
I shave a large piece of ice to make lenses.
I put the lenses in my mouth.
It's raining in the sea."
7. Umbrellas, ocean, water, ice. Nipples, milk, clouds, spit.
8. As I read, I'm not sure if what I'm seeing is what I'm really seeing, or if what I'm feeling is really feeling what I'm feeling. The sadness doesn't overwhelm me. It sits in my chest like an orb, just sort of just glowing. I remember what this feels like. I have been this sad. I don't think my sad was this beautiful.
9. "…I'm filled with all the screams of the world / that there is nothing else but that…"
Reviews
/
No Comments
August 5th, 2014 / 12:08 pm
Guest Posts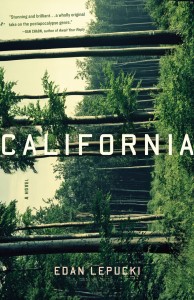 California
by Eden Lepucki
Little, Brown and Company, July 2014
400 pages / $26  Buy from Amazon
Even before picking up Eden Lepucki's 2014 post-apocalyptic-near-future novel California, I've been enthusiastic about the city of Calabasas, or as Nick would say, "obsessed with." Calabasas is at the edge of Los Angeles, where Mulholland Drive ends its twenty-one mile tour through Hollywood's dark heart. Located in a southwest curve of the San Fernando Valley, it is just on the other side of the Santa Monica Mountains from Malibu, but it's as far from a beach paradise as the moon. When I ask my mom what she knows about Calabasas she looks at me and asks, "Isn't that where all the porn is?" Who wouldn't be obsessed?
Nick and I relocated to Los Angeles last summer. Since then I've been preoccupied with William Mulholland and his vision for the city: bringing water and commerce to the desert. Putting a whole bunch of people where really, they don't belong. Werner Herzog, Joan Didion, Mike Davis and countless others have tried to capture the sense of LA being the end: the end of the road, the end of history, the end of the world, without denying it's also a bit of paradise: full of promise, a beginning, the future. It's a place where millions of people go to work every day. Moby claims to have moved to LA explicitly for its "pre-apocalyptic strangeness" and because it was "always seemingly an inch away from some sort of benign collapse." At the city's fringes, that benign collapse is already underway.
On the face of it, Calabasas synthesizes many of the repelling and alluring adjectives attributed to LA: success, consumption, celebrity 'culture' (desirable, self-absorbed, etc.), wealth, exclusivity, naïveté, and so on. It similarly has aspects of the "near future," "pre-apocalypse strangeness," "dystopian," "wasteland," often ascribed to the city of angels. In the never-ending quest to articulate this captivating paradox: Calabasas represents a microcosmic example to study and to look for answers.
In California Lepucki's anonymizes and generalizes the state's geographical space and social concepts into pronouns like "The Land," and communities such as "The Community," or "Walmart." However, she decided not to change the name of one Los Angeles community: Calabasas. The LA Times critic Karolina Waclawiak says of the novel, "In this deeply stratified 'afterlife,' the wealthy still hoard what little resources are left (intermittent electricity, expensive Internet, packaged food) and shelter themselves away in Communities with names like 'Calabasas' and the nearby 'Pines.'" I don't think this is a coincidence. If you're searching for a particular brand of ill-omened California to inspire a portentous novel, Calabasas is a wise choice.
Reviews
/
4 Comments
August 4th, 2014 / 10:00 am
Matthew Simmons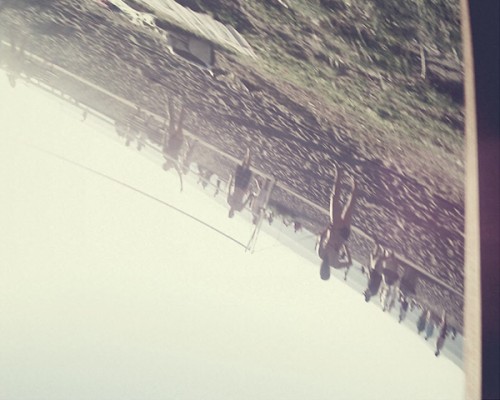 In my last post, I mentioned that I wanted to write a little bit about the actor and singer Marcus "Marky" Kelly, who had minor-but I think significant-career in show business from the late 1950s through the 1960s. The highlight of it all was, of course, his teen idolhood in the early 1960s. I had assumed Kelly was gone for good, and quite possibly dead, until I discovered a movie called Filtered Water (director unknown, writer unknown, producer unknown, actors unknown) in my mailbox a few months ago. The movie featured an old actor who I think might be Kelly.
But let me make it clear: I am not 100% sure that the old actor in Filtered Water is Kelly. There are, however, clues. There is a physiognomic similarity-Kelly had bright blue eyes, and a signature half-smile. The actor in the film has bright blue eyes, and a familiar half-smile. There is the timeline-Kelly was born in 1940, and the actor appears to be in his 70s. (And I know this because my folks are in their 70s, and if I look at an old picture of my Dad and a new one, old pictures of Kelly and a screenshot of the actor look to have an uncannily similar progression. The same wrinkles, the same advancing tenderness to the eyes, the same added colors in the complexion. If its him, he's aged like my dad has aged.) And there is the voice. The actor's voice sounds like what Kelly's voice would sound like if it fell apart and was rebuilt. Like a voice does when we age. READ MORE >
I Like __ A Lot
/
12 Comments
December 6th, 2013 / 1:00 pm
Janice Lee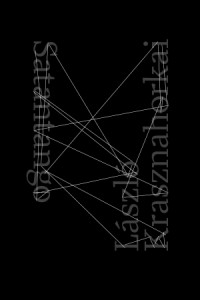 Satantango
by László Krasznahorkai
Translated by George Szirtes
New Directions, 2012
288 pages / $25.95  Buy from New Directions or Amazon
&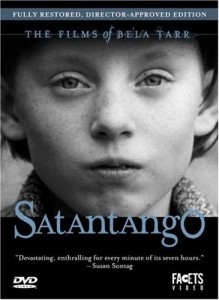 Satantango
Directed by Béla Tarr
Screenplay by Lászlo Krasznahorkai
DVD: Facets Video, 2008
435 minutes / Available on Amazon
Released in Hungarian in 1985, Satantango, László Krasznahorkai's first book, was translated into English only last year. Published by New Directions, the novel displays the melancholy, bleakness, and long sentences that define Krasznahorkai's other books (War & War, The Melancholy of Resistance, etc.).
Krasznahorkai's collaborator and fellow apocalypse maker Béla Tarr adapted the 288-page novel into a seven-hour film in 1994. Because of the duration between the appearance of the film and the publication of the English translation, we (like most) had watched Tarr's adaptation long before reading its antecedent. This reversal of the traditional adaptation-viewing chronology (in addition to Krasznahorkai's role as screenwriter) makes it difficult to think of the novel independent of the film. But despite the convergence of the two forms of Satantango, we do not believe the demands of the long take are the same as those of the long sentence.
What follows is a collection of take-by-take notes on disc one of the film and the corresponding passages of the novel. (Notes on discs two and three are forthcoming.) Our time stamps are based on the Facets Satantango DVD (2008). Throughout the notes, we acknowledge differences between the novel's content and the film's content, as well as translation differences between the novel and the DVD's subtitles.
***
We see a cow emerge from behind the building, nothing in front of him but a vast scene of thick mud with glimmering streaks of wetness that resemble the trails that snails make when they zigzag across dark pavement. One cow becomes many, and they slowly make their way together. No one leads them or chases them but they seem to know their way. They take their time. They have, it seems, all the time in the world. One even pauses to mount another. This scene, though absent from the novel, sets a haunting tone of obliteration for the film. We watch the cows, then continue to watch, continue to watch past the time of watching, past the time of a simple a gaze or witnessing, look at them for so long that when the camera finally moves away from the herd of animals and pans past the dilapidated buildings, the mundane and bleak textures, the strange marks and letters, the utter signs of disintegration and decay become for us a relief. The wind howls and it feels like silence, yet it is not silent. We can hear the cows' feet move through the mud, the mooing; the sounds are almost daunting, eerie. Without music (we keep waiting for it, hoping it will come to shake us out of the strange unreal reality of this scene, random sounds that seem to anticipate some cohesive and introductory soundtrack), the scene is discomforting but mesmerizing. Here, inside the muddy world we have found ourselves in, we learn to wait.
[1:35–9:06 / not in novel]
In voiceover:
"One October morning before the first drops of the long autumn rains, which turn tracks into bog, which cut the town off, which fell on parched soil, Futaki was awakened by the sound of bells." (Satantango, film)

"One morning near the end of October not long before the first drops of the mercilessly long autumn rains began to fall on the cracked and saline soil on the western side of the estate (later the stinking yellow sea of mud would render footpaths impassable and put the town too beyond reach) Futaki woke to hear bells." (Satantango, novel, page 3)
[9:06–9:50 / page 3]
THE NEWS IS THEY ARE COMING / NEWS OF THEIR COMING
We become complicit in anticipating THEM.
[9:50–9:58 / page 3]
There's a window centered at the top of the frame. We can hear a sort of musical drone and subtle bells as the room and window grow brighter. At 11:15, there's off-screen noise—the sound of Futaki removing bed sheets, we surmise. (Note that there's no clock sound yet.) We come to consciousness with Futaki as he stands and limps to the window at 11:40. He's wearing a sleeveless shirt and shorts. The room, a kitchen, is now visible. The sound stops, and Futaki comes back toward the camera. The ringing starts up again and he returns to the window. It stops once more and Futaki comes back to the bed. (In the novel, this scene contains a penetrating intrusion into Futaki's thoughts.) "What is it?" asks Mrs. Schmidt, beginning the film's first dialogue. Futaki tells her to go to sleep, then says he'll "pick up [his] share tonight" or the following day.
[9:58–14:17 / page 4]
The camera has turned 45 degrees to the right, facing a small fridge and another table. Shod with laceless high-tops, Mrs. Schmidt crosses the frame from right to left. She moves almost out of frame to take a rag from the door; then she comes toward the camera, raises her nightdress, and squats over a pan. No face. Her head is on her left knee. She splashes water up at her crotch and then stands to wipe with the towel. She exits at left. A fly comes into frame. In the novel, Mrs. Schmidt is a sour-smelling woman. In the film, we have instead this sour-looking image of her. It's significant that this scene comes so early in the film: an introduction to a quotidian perdition.
[14:17–15:33 / not in novel]
Mrs. Schmidt's back is to the camera. She's sitting at the table/window among a collision of patterns: wallpaper, curtains, table cloth, seat cushions, bureau cloth. Off screen (from bed), Futaki asks her, "You had a bad dream?" At 15:42, the fly appears on the seat cushion, hums.
Her dream: "…he was shouting…couldn't make out what…I had no voice…. Then Mrs. Halics looks in, grinning…she disappeared…. He kept kicking the door… In crashed the door…. Suddenly he was lying under the kitchen table…. Then the ground moved under my feet…."
Futaki's reply: "I was awakened by bells."
Alarmed, Mrs. Schmidt looks over her left shoulder and asks, "Where? Here?"
"They tolled twice," says Futaki.
"We'll go mad in the end."
"No," says Futaki. "I'm sure something's going to happen today." (Our introduction to the anticipation that's central to Satantango.) Does Mrs. Schmidt smile at this?
Like the bells that Futaki hears, Mrs. Schmidt's dream is proleptic: Schmidt comes to the door, and Futaki shuffles off.
[15:33–17:50 / pages 6–7]
Though the density of text in the novel (there are no paragraph breaks) creates a lack of a clear hierarchy of action or language, in the film we follow the camera's cue, the camera's gaze. As Futaki hides in the other room, we stay on his side of the door. A mini-drama unfolds on the other side, but we are prevented from being invested in that. Or at least our distance from the scene doesn't allow for that kind of emotional complacency, at least not yet. We wait with Futaki. Even after Futaki enters the other side to retrieve his cane and exists for a moment in that other space, currently inaccessible to us, the camera chooses to linger here. The indifference of the scene, the door, the camera. Then, with the waiting, the textures of the wallpaper and curtains starts to take on a strange form, as when you stare at a word too long and it begins to morph into something unnatural.
[17:50–20:10 / page 7–8]
There is the strange frantic hurriedness in the novel as Futaki internally exclaims about the temporary intruder (though perhaps it is arguable who is the intruder in any particular situation), "He's going to take a leak!" In the film we are a silent observer of Futaki silently observing Mr. Schmidt taking a leak outside in the now very familiar Beckettian mud.
[20:10–21:34 / page 8]
Film
&
Reviews
/
3 Comments
November 25th, 2013 / 12:24 pm
Janice Lee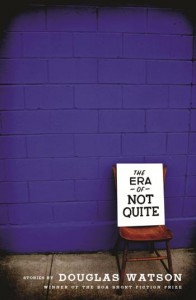 The Era of Not Quite
by Douglas Watson
BOA Editions, May 2013
160 pages / $14  Buy from Amazon or BOA Editions
What's the point of reading a book when, regardless of the book's brilliance, you'll still eventually end up dead? In his award-winning debut collection of twenty-three fabulist fictions, The Era of Not Quite, Douglas Watson takes up this question by knocking off characters left and right. In one story, Watson tosses a luckless schmuck into the void. In another, he flattens a thoughtful library patron with a dump truck while the patron's daughter contemplates wonder. In the penultimate tale, a seven-year-old girl, poor dear, is bucked from a newly invented breed of miniature horse. Deaths stack up, morbidity becoming its own joke as nihilism loops back on itself again and again. The result is absurdity, hilarity, heady contemplation, and killer prose.
Of course, there's nothing like a good literary offing to cleanse the palate, and this book offers deaths galore. But Watson's stories run deeper than clever premises and guillotine giddiness. In this first book, winner of the BOA Short Fiction Prize, Watson adds his unique voice to postmodernism, joining the ranks of Barthelme, Beckett, and Calvino and holding his own. With playful experimentation and linguistic prowess, Watson mocks the conventions of fiction, making us wonder what stories really are for in this post-literate era when the masses can read but literacy fails to deliver us from unexceptional lives. Before you can lose hope, though, Watson shifts away from farce, showering us with moments of linguistic sublimity that remind us why fiction endures.
Watson drops us into folkloric lands of kings, wolves, and dragons as readily as he places us in nondescript contemporary landscapes of billboards, busses and, yes, libraries of all things. Then there are stories where Watson muddles time, inserting props from commercial culture into the sparse world of the fable. Take the story "When the World Broke," where a golden-haired peasant boy living in a remote village on the edge of a forbidding forest fills a water bottle—ubiquitous thing—before slinging a bag of oats over his shoulder and venturing off through valleys lit by thousands of electric lights on a quest to save his beloved ailing mother and the world. It's as though Watson is saying, hey, this is the realm of fiction, an artificial space, no? Fairy tale setting? Depressingly realist small town complete with Unitarian church? What's the difference when neither really exists in a book?
Into these confused and anachronistic settings, Watson focuses his gaze on down-and-out characters, friendless, discouraged, but not without hope. Take Hal Walker from Watson's title story "The Era of Not Quite":
[…] It was a fine day on which to risk everything. / Everything, in Hal's case, was not much. Although he had a bungalow and a great many books, Hal had no friends, family, lovers, admirers, or even detractors. Also, he no longer had the first half of his life. He did, though, have a job with the local telephone company, deleting from the telephone directory the names and phone numbers of people who had died. It was not a very demanding job (25).
Reviews
/
1 Comment
August 30th, 2013 / 11:05 am
Janice Lee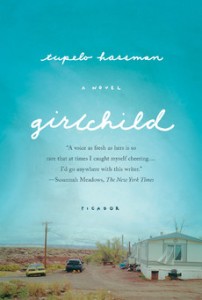 Girlchild
by Tupelo Hassman
Picador, Feb 2013
288 pages / $15  Buy from Amazon
Rory Dawn, the screaming sunrise, is third generation in a line of women who grew up too soon, and grew up to grinding poverty. She lives with her mother in a trailer park outside of Reno called the Calle. The Calle is a dumping ground for all the usual white trash suspects: drinking and gambling and smoking and teen pregnancy. There is also plenty of literal garbage (popsicle sticks, beer cans, homework assignments) swirling around in the Nevada dust.  The kind of place where people regularly have to choose between paying the water bill to keep the toilet running, or buying a tank of propane to keep the heat going.
Rory's mother, Jo, tends bar when she's not sidled up to one.  She lost her teeth young, and Rory's greatest joy in life is seeing her smile wide, without her hand hiding her dentures.  Rory's grandmother lives in the trailer down the way, and spends her time gambling, knitting, and trying to make things grow in the harsh dirt. Both women want nothing more than for Rory Dawn than to grow up and "get out," without making the mistakes they did. Neither has the first idea how to help her achieve this goal.
Growing up is a dangerous journey for Rory. At school, she performs off the charts on standardized tests, and scrawls "I hate Rory Dawn" on the bathroom wall. On the Calle, predators like the Hardware Man won't even wait until a girl like Rory starts to fill out.
In the fairy tales there's only one Big Bad Wolf and the little girl takes only one trip through the Dark Forest and fights only one fight for her life before the story ends in happily and ever after. But life on the Calle is real, not make-believe, and every Calle girl knows that once the My-What-Big-Paws-You-Have fall on her skin, Little Red will carry that scent no matter how hard she scrubs. From that point on, every wolf in every forest of her very real life will recognize her and they'll do their Biggest and Baddest to her into her basket anytime she drops her guard. So be prepared. We're not out of the woods yet. [54]
Girlchild works hard to rid us of any notion that the point of the story is whether or not Rory will "get out." Calle life is a circle, and it's impossible to draw the line where the past meets the future.  They call poverty a vicious cycle, after all. To this end, Girlchild is told in a disjointed, highly metaphorical narrative, jumping around among all the most mundane and most heartbreaking moments of Rory's childhood. Much of the story is in 1-3 page mixed genre vignettes, many of them sad and clever, like the word problems that make no sense and have no real answers.
Reviews
/
1 Comment
August 5th, 2013 / 11:00 am