HTMLGIANT / Barry Hannah
Gene Kwak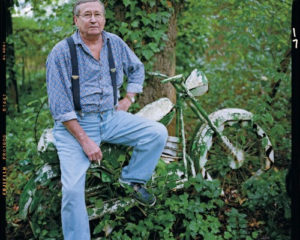 Without saying too much, because you're not here to read about or from me, Barry Hannah has been the biggest writing influence in my life. I don't write about motorcycles or The South or try to foolishly parrot his sentences. The most important thing he taught me was bravery. Be honest. Be brave. Going into 2017, I will try to keep those reminders close.
At the turn of the year, I remembered this beautiful piece written by his son, Barry 'Po' Hannah, shortly after Barry Hannah passed in 2010. It was originally published in the cutting-edge literary journal, Unsaid Magazine. David McLendon (Unsaid's major architect) and Po allowed us to republish it here.
"I don't write under the ghost of Faulkner. I live in the same town and find his life and work inspiring, but that's it. I have a motorcycle and tool along the country lanes. I travel at my own speed." – Barry Hannah
Author Spotlight
&
Massive People
/
No Comments
January 4th, 2017 / 11:47 am
Kyle Minor
Thank you for joiningus for the exclusive HTMLGIANT webcast of the Marathon Reading of Barry Hannah's posthumous Long, Last, Happy: New and Selected Stories. If you were a winner of one of the giveaways from Grove/Atlantic or Square Books, please email your home address to kyle (at) kyleminor.com, to claim your prize.
More information about Barry Hannah at: Wikipedia, Vanity Fair, Boston Phoenix, New York Times, and Mississippi Writers Page.
Order a copy of Long, Last, Happy at: Square Books of Oxford, Mississippi (Barry's hometown bookstore), Powell's, Amazon, B&N, or Grove/Atlantic.
Today's readers were Kyle Minor, author of the short fiction collection In the Devil's Territory, and Nick Bruno, a senior fiction writing undergraduate at the University of Toledo.
This reading is courtesy of Grove/Atlantic and the Estate of Barry Hannah. The webcast was not recorded or archived.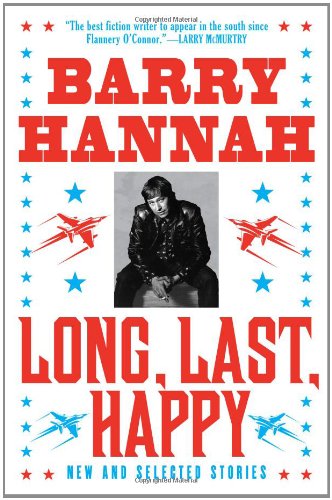 Random
/
57 Comments
December 5th, 2010 / 1:00 am
Kyle Minor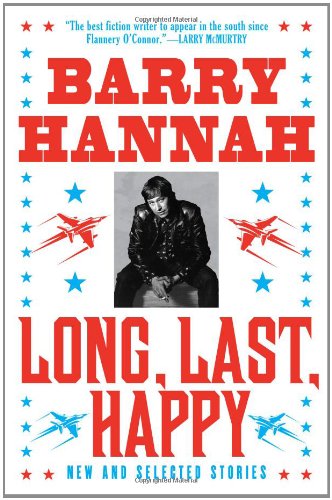 Tonight at Midnight, I'll be reading Long, Last, Happy in its entirety in an exclusive HTMLGIANT webcast. Thanks to the good people at Grove/Atlantic, we'll be giving away copies of the book and exclusive Barry Hannah bookmarks and stickers manufactured by Square Books in Oxford, Mississippi, Barry's hometown bookstore. The estimated duration of the webcast will be 15-25 hours. Stop by, have a listen, leave a comment about your favorite Barry Hannah story.
Live updates (what story I'm reading, how to win a free copy of Long, Last, Happy) starting at midnight on Twitter: follow @kyle_minor
Random
/
29 Comments
November 29th, 2010 / 8:00 am
Justin Taylor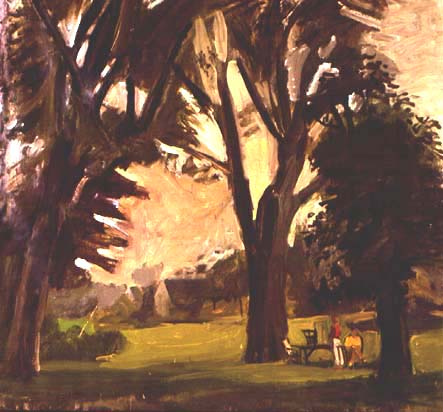 I enjoyed David Lehman's Signs of the Times: Deconstruction and the Fall of Paul de Man so much when I read it in April that I decided to try my luck with another of his several works of nonfiction. I almost picked up Perfect Murder: A Study in Detection, but I've been in a gung-ho poetry mood lately, so instead I opted for The Last Avant-Garde: The Making of the New York School of Poets, a group biography of Frank O'Hara,  James Schuyler, Kenneth Koch and John Ashbery. I encountered this Ashbery quip earlier today in the book, and was going to share it as a power quote, but that's not really in the spirit of Ashbery, besides which now I want to talk about something else, too. Anyway the quote goes like this:
Recklessness is what makes experimental art beautiful, just as religions are beautiful because of the strong possibility that they are founded on nothing. We would all believe in God if we knew He existed, but would this be much fun? (p. 39)
Roundup
/
75 Comments
May 11th, 2010 / 2:59 pm
Justin Taylor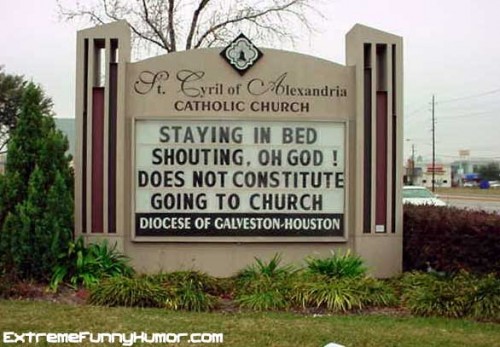 In December 2005, my friend Adam got obsessed with Jenny Lewis and bought every magazine at the Borders with her face on the cover, which was a LOT of them. Among the plenitude of mostly miserable and intellect-proof "music magazines," which I soon found myself flipping through in mild amusement/dismay, one thing caught my eye: an essay on Beckett and Christianity by Barry Hannah in a magazine called Paste, which I had never heard of before. I was so enraptured with this essay that I made it my business to track their books editor down, and indeed my gmail records reflect that by 01/05/06 I was bugging Charles McNair, author of the novel Land O' Goshen and editor of the Paste books page, for attention and work. Charles has been a good friend and occasional employer of mine ever since, and it all stems from our shared love of Barry Hannah. As it turns out, Charles studied with Hannah at the MFA program in Tuscaloosa, back when–but let me not tell his story for him. He has a very fine remembrance of his old teacher up at the Paste site, which you should go read. And also, Paste has gone ahead and made available Hannah's essay, "The Maddening Protagonist."
I've studied the mystic poet William Blake a good long while. Blake's prophetic books—driven by a man who saw angels in trees and advocated naked free love—I can't read except as inspired lunacy, which would also hold true for other denominational texts discounted by every theological archaeologist without rabid wolves running around his head. But where do you stop the discounting? We're only cursing the darkness from the position of our own predilections when it comes to religion and, even more difficult, faith.

For simple truthful laymen, the Holy Bible is inconsistent to an almost sickening degree, and we mainly just let it pass. Faulkner once commented about one of his male characters who, "like most men, never thought about God one way or another." Through the ages there seems a redundancy of the outright mad clutching Bibles to their chests and spouting scripture incoherently as they proceed from one asylum to the next.
Author Spotlight
/
20 Comments
March 12th, 2010 / 3:03 pm
Blake Butler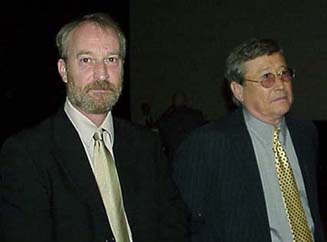 Again for those who missed it, or would like to hear again, an audio conversation between Barry Hannah and Larry Brown, available for download thanks to the quite kind Michael Bible. The outpouring of remembrances and love for this man in the past few days has been really powerful and great, I am thankful.
Author Spotlight
/
11 Comments
March 4th, 2010 / 2:59 pm