dodie bellamy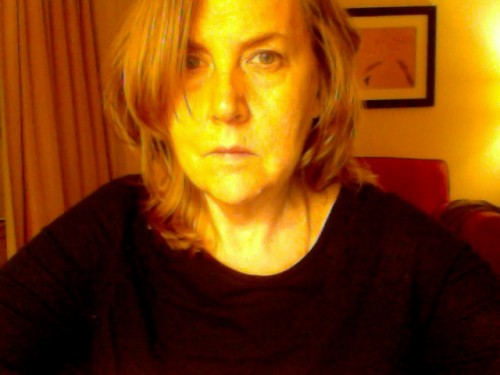 Anticipated Summer Reads from Dodie Bellamy!
***
Devil in a Blue Dress, Walter Mosley. New York: Norton, 1990.
Devil in a Blue Dress is the first of a dozen books featuring Easy Rawlins, an amateur detective who frequently finds himself on the wrong side of the law, where the LAPD are worse thugs than the criminals. As a series, the books track the position of blacks in America from WW II through the Vietnam era. Life is brutal for these characters, and Mosley articulates tenderness towards them that is never simple or saccharine. The women are amazing—horribly oppressed but brimming with sexual agency. Easy loves these women for their power, even though he does not always win with them. I've read the first four books in the series, and I'm addicted.
Theory, A Sunday. Louky Bersianik, Nicole Brossard, France Théoret, Gail Scott, Louise Cotnoir, Louise Dupré. Belladonna, 2013.
In US in the 1980s, feminism and the avant garde rarely collided, so for women with both proclivities the avant-garde Québécoise feminists were mythic, providing us with models of rigor, collectivity, and how to exist politically and creatively in the world. Originally published in French 25 years ago, this volume collects the writing of six Montréal women writers who met on Sundays to discuss language, feminism, and aesthetics. Each woman contributes both a theoretical text and a short piece of fiction, and it's fascinating to observe the play between these two modes of expression. Theory A Sunday does not read like a stodgy historical document. On the contrary, the work is still fresh and exciting—and important.
Thunderbird. Dorothea Lasky. Wave Books, 2012.
In preparation for the September release of Lasky's fourth book of poetry, Rome, it's time to take another languorous look at the multilayered, polyvocalic Thunderbird. Lasky has stated that her title references "the Native American Thunderbird spirit, but then also how that divine force gets infused in American culture, like within the streets and hotels named after it, the car, the liquor, even the search engine. It also comes from the idea of air travel and what it means to control seemingly uncontrollable forces, like air and wind." With enough narrative beats to keep the poetry-phobe engaged, Lasky reinvents the first person. Her insanely imaginative narrators are libidinal, yet somehow stylized, emitting a vulnerability that sets off fireworks.
Tweaky Village. Kevin Killian. Wonder, 2014.
Okay, I admit it, Kevin is my husband, but he's also a genius of a writer. The poems in Tweaky Village ping pong back and forth between two lines of action, one of them the ongoing crystal meth "problem" in San Francisco (the subject also of Killian's most recent novel, Spreadeagle). From there the poems take on the larger subject of the catastrophic gentrification of the city, speed hyped up to the outer limits of capital. Not for nothing is this book dedicated to the social critic Rebecca Solnit. More than any other poet I know, Killian decimates the divide between high and low culture, between politics and desire. His poems make you laugh and cry and pull your hair out.
The Undercommons: Fugitive Planning & Black Study. Stefano Harney and Fred Moten. Minor Compositions, 2013
If you've ever asked yourself, "How do I evade the colonizing totality of Capitalism?" this is your manual. Wonderfully incendiary and subversive, Harney and Moten offer strategies of refusal that gesture to, as Jack Halberstram says in his introduction, "a wild place that continuously produces its own unregulated wildness." With its validation of the marginal—the fugitive, criminal, queer, unprofessional, visa-expired—The Undercommons is the theoretical equivalent of a Genet novel. Perfect for clearing your head of the drudgery of systems of social control.
***
Dodie Bellamy's latest books are The TV Sutras (Ugly Duckling) and Cunt Norton (Les Figues). Her chapbook Barf Manifesto was named best book of 2009 under 30 pages by Time Out New York. Her reflections on the Occupy Oakland movement, "The Beating of Our Hearts," was published by Semiotext(e) in conjunction with the 2014 Whitney Biennial.
Comments Off

on Dodie Bellamy's SUMMER READS
May 28th, 2014 / 10:00 am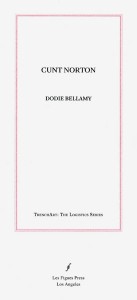 Cunt Norton
by Dodie Bellamy
Les Figues Press, November 2013
75 pages / $15  Buy from Les Figues Press or SPD
In Cunt Norton, Bellamy slices the canonical texts, lifts the raw skin, and slides all kinds of exciting things into the wound. Then she sews it back up. The result is a bulging, infested boil of sex and gender. The result is dirty love poems secreting out the orifices of our favorite fathers. (And one mother: Dickinson.)
Playing off of William S. Burroughs' "cut-up" technique, Bellamy published Cunt Ups in 2001. Now she's back at it, "cu(n)ting" up the 1975 Norton Anthology of Poetry. She selected thirty-three poets from the anthology and has re-imagined their texts: cutting and interspersing their words with hypersexual language. Poets ranging from Shakespeare to Ashberry still sound remarkably like themselves. They are recognizable—only sloppy with desire. Dripping wet.
The multi-gendered speakers in Cunt Norton end up sounding at turns psychotic, absurd, and boring—which comes pretty close to the actuality of sexual encounters and the language we use for desire. When the speaker in "Cunt Auden" says, "You be a good girl—I'll take care of you—lay here in my hands with their many fingers. I've never ever given anybody help who didn't come" (57), I want to barf at the sad, true, cliché of it. I feel the same with "Cunt Yeats," which begins: "Gloom is in my mind, and I have to fuck you so bad. Good girl. Good girl" (40). "Cunt Blake" finishes with a hearty, "I poke out and in thee in so many places, the Air shreds to Rags and the Heavens tear" (21) and "Cunt Tennyson" promises to "fuck thy portal until mouths, foreheads, eyelids lose all boundaries" (35), both of which are equally hilarious and scary. I am reminded of all my worst sexual experiences.
Other pieces are full of rollicking, gender-bending, free-for-alls. Take, for example, "Cunt Frost:" "My clit stands still and dances—it looks huge, the outer lips filling the abyss' void with emptiness. It cries out for you. […] My cock is normal size, ready to throw back without regret into your cunt or your large intestine" (43). The Great Men from the Norton Anthology are marionettes in Bellamy's hands. Their reputations are at her disposal: their genitalia grow and morph, their gigantic desires never satisfied.
But Bellamy's book is as much a political act as it is a book of poetry.
Let me offer an example why. Recently, after I participated in a reading, a fellow (male) poet asked me why I write about the same thing (sex) all the time. And why do I use such vulgar (cock, cunt, etc.) language? He suggested that I would get more publications if I varied my subject matter and cleaned up my language a bit.
Dodie Bellamy's Cunt Norton exists as an answer to these kinds of questions. What I mean is: Dodie Bellamy is a woman who writes about sex. Who writes with verve and risk and imagination. Who isn't afraid of language, or of dead white men, or the reverence we are supposed to have for them. Dodie Bellamy will not be silenced or ashamed. When Ariana Reines writes in the book's introduction that this "could be the most joyful book on Earth" and it "made me feel so good I laughed so hard I cried," what she may be articulating is how powerful it feels to witness a woman writing exactly how she wants to write, refusing to be silenced (by the canon, the patriarchy, any other poet's aesthetic or ethical impulse).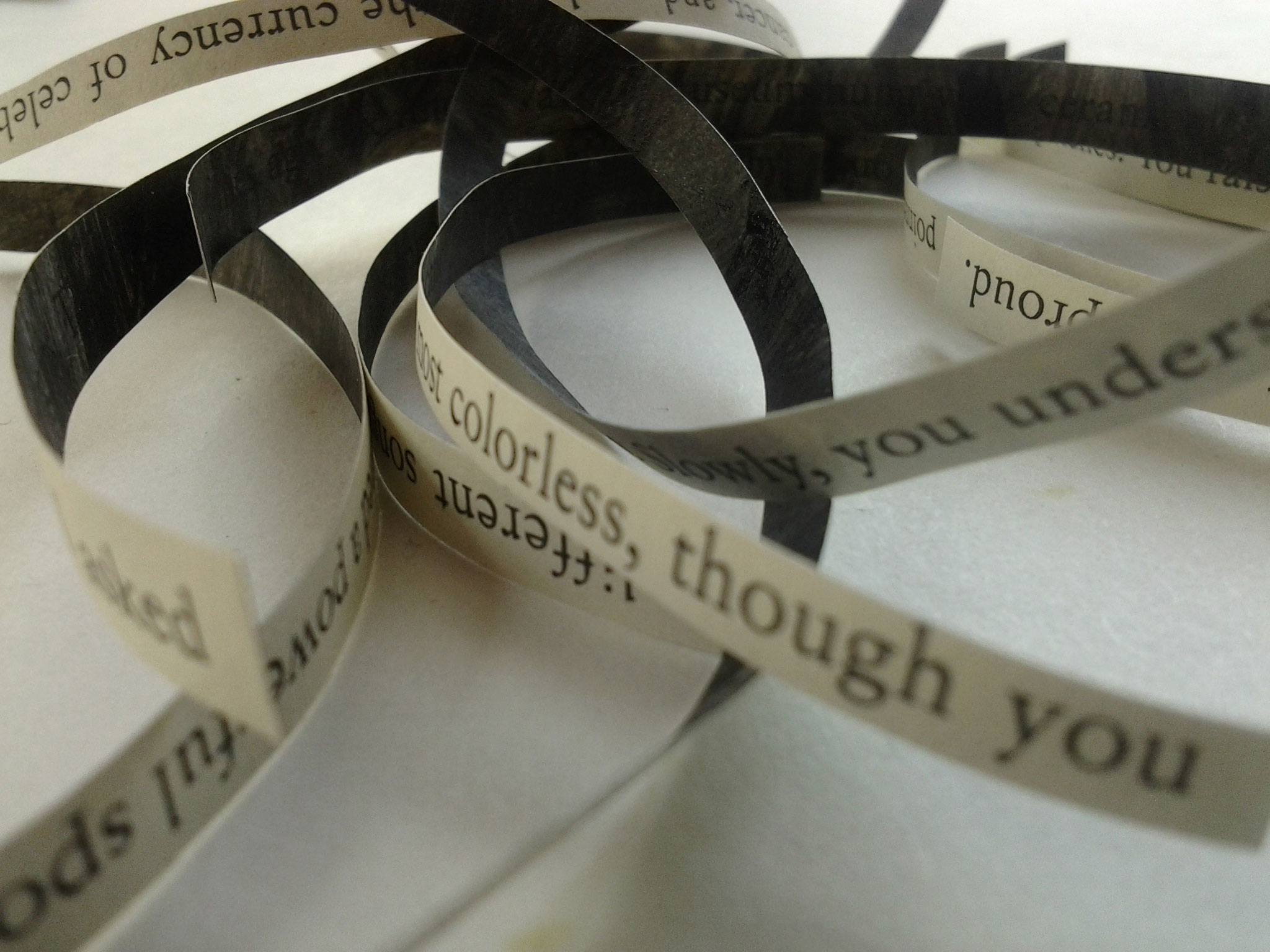 A while back, I ran a little series, "Another way to generate text." The first one proved fairly popular, and I've been meaning to make more of them, but generative techniques haven't been on my mind. However, my post last week, "Experimental fiction as principle and as genre," generated a lot of text (haha), in the form of comments. Some people who chimed in questioned whether the Cut-Up Technique that Brion Gysin and William S. Burroughs developed and used in the 1950s was ever all that experimental. Specifically, PedestrianX wrote:
I find it hard to accept this argument when its main example, the Cut-up, didn't start when you're claiming it did. I'm sure you know Tzara was doing it in the 20s, and Burroughs himself has pointed to predecessors like "The Waste Land." Eliot may not have been literally cutting and pasting, but Tzara was.
This comment got me thinking about the role influence plays in experimentation; more about that next week. Today I want to address the point PedestrianX is making, as it strikes me as pretty interesting. Were Gysin and Burroughs merely repeating Tzara? Or were they doing something substantially different?
To figure that out, I decided to run through the respective techniques, documenting what happened along the way. Because if I've learned anything in my studies of experimental art, it's that thinking about the techniques is usually no substitute for sitting down and getting one's hands dirty.
If you want to get dirty, too, then kindly join me after the jump . . .

A few years ago at Big Other I wrote a post entitled "Experimental Art as Genre and as Principle." That distinction has been on my mind as of late, so I thought I'd revisit the argument. My basic argument then and now was that I see two different ways in which experimental art is commonly defined.
By principle I mean that the artist is committed to making art that's different from what other artists are making—so much so that others often don't even believe that it is art. As contemporary examples I'm fond of citing Tao Lin and Kenneth Goldsmith because I still hear people complaining that those two men aren't real artists—that they're somehow pulling a fast one on all their fans. (Someday I'll explore this idea. How exactly does one perform a con via art? Perhaps it really is possible. Until then, I'll propose that one indication of experimental art is that others disregard it as a hoax.) Tao visited my school one month ago, and after his presentation some folks there expressed concern, their brows deeply furrowed, that he was a Legitimate Artist—so this does still happen. (For evidence of Goldsmith's supposed fakery, keep reading.)
Eventually, I bet, the doubts regarding Lin and Goldsmith will fall by the wayside. Things change. And it's precisely because things change that the principle of experimentation must keep moving. The avant-garde, if there is one, must stay avant.
That's only one way of looking at it, however. Experimental art becomes genre when particular experimental techniques become canonical and widely disseminated and practiced. The experimental filmmaker Stan Brakhage, during the 1960s, affixed blades of grass and moth wings to film emulsion, and scratched the emulsion, and painted on it, then printed and projected the results. Here is one example and here is another example. And here is a third; his films are beautiful and I love them. (The image atop left hails from Mothlight.) Today, countless film students also love Brakhage's work, and use the methods he popularized to make projects that they send off to experimental film festivals. (Or at least they did this during the 90s, when I attended such festivals; I may be out of touch.)
Those films, I'd argue, while potentially beautiful and interesting, are not necessarily experimental films. As far as the principle of experimentation goes, those students had might as well be imitating Hitchcock.
The MAK Center Schindler House, Los Angeles
13 June 2012
Context Note: In April, May, and June of this year, Les Figues Press hosted a short series of long conversations on queer art and literature. Titled Q.E.D., in honor of Gertrude Stein's novel by the same name (and one of the earliest coming-out stories), each Q.E.D. event explored the constructions of speech, art, literature, materiality, and sex.  The conversations were  moderated by Vanessa Place at the historic MAK-Schindler House, L.A.'s original nod to green architecture.
Q.E.D. Part Three  featured Dodie Bellamy, Julie Bamber, and Terry Castle.

***
An evening of Authentic Objects: Julie Bamber, Dodie Bellamy and Terry Castle in conversation.
In the third installment of Les Figues Press' Q.E.D. Series, moderated by Vanessa Place, the initial questions were, "Does an object need a form?  Does an objection? Does anything speak for itself?" Artist Julie Bamber, writer Dodie Bellamy and critic (and writer and artist) Terry Castle assembled in the MAK Schindler House in West Hollywood to discuss questions of object-hood before an excited audience.
Patrons gathered, drank Pellegrino and looked at programs. Grapes and cookies sat on a table on the lawn. The copper of the fireplace was bright, next to the concrete walls of the house, with low beams suspended with small lights. A sliding door opened the wall. Afternoon light slanted across the concrete floor, grey.
Adam: Last weekend, playing a stray note on my recorder summoned a cyclone that whirled me away to the swamps of Tallahassee. There I impinged on Christopher Higgs and his wife, who lodged me in their spacious Rococo flat (refurbished from a gator-packing warehouse). Over dinner, Chris and I had numerous opportunities to discuss—and to disagree about—the nature of experimental fiction…
A D JAMESON [leaning back from his seventh helping of tiramisu]: At the risk of spoiling such a fine meal, perhaps you and I can finally figure out why we've butted been butting heads regarding the nature of experimental fiction.
CHRISTOPHER HIGGS: OK.
ADJ: Let's start by each defining what we think experimental fiction is!
I heard Dodie Bellamy use the terms "emotional porn" and "operatic suffering" recently on her blog and I love that. I recently wrote on my blog about "emotional excess" in relation to the films of Andrzej Żuławski, and I've just been thinking–I love things that are flamboyantly and unapologetically emotional. It makes me think of teenagers. Since crossing over into my 20s, I look at teenagers and feel kind of embarrassed for them. They lack emotional filters. They're so direct about their suffering. They're making themselves look pathetic. But really–I kind of envy them, their lack of restraint. It must be really freeing to be that open without feeling the urge to censor yourself.
When I was in high school, I used to call a certain type of girl a "Plath Girl." For me, the Plath Girl was white, upper-middle class, educated, a perfectionist, melodramatic, mean, and incapable of feeling joy. I guess I still used this term in college…isn't that fucked up? This is my therapeutic admission of my fucked-upness. Yes, now I remember. There was a girl I thought was cute and I asked her on a date. She always wore black eyeliner and had a Virginia Woolf tattoo. I thought we could go to the airport and watch the planes take off but she was like, why don't you just come to my room? When I went to her room, she did lines of coke off her desk while ranting about how much she hated everyone, how depressed she was at school, and before I knew it, she had left me so she could hang with other people. When my friends asked me about the date, I think I just said, "turns out she's quite the Plath Girl." (But was this an incorrect categorization? Did the tattoo mean she was actually a Woolf Girl?) Really, I think the Plath Girl is kind of sexy. She has direct access to her emotions and isn't ashamed to show her bitterness or depression. (I am also involuntarily turned on by emotionally volatile people that can sometimes be cold to me. Perhaps it is a masochistic impulse.) There is certainly a performative element that pervades this kind of outward display of emotion, but that doesn't mean it's just some stupid act.