HTMLGIANT / Ellen Kennedy
Seth Oelbaum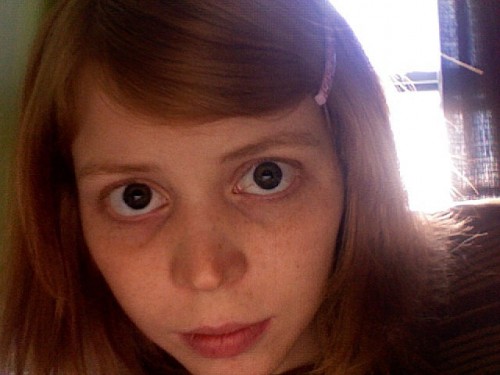 Ellen Kennedy is a girl, and her book of poems, Sometimes My Heart Pushes My Ribs, was published by Muu Muu House — an elegant appellation for a press that, according to me, refers to Miuccia Prada's saccharine fashion label Miu Miu, helpless cows murdered by tasteless American whities, and kitties.
I'm not quite sure how to pronounce the title of the three-part story poem, Eoody Mobby, in Ellen's collection, but that doesn't bother me all that much. I like the way it looks. The two "o's" in Eoody almost mirror the two "b's" in Mobby, and symmetry and identical-ness are really enchanting, as they suggest all types of things, including systems, which can be severe, as the one implemented by the boys who ruled Germany 1933-45 obviously was. E, too, is a fine letter to start a word. With those three prongs sticking out from it, "E" is a strong and pointed letter. Also an admirable letter to begin a word is "M" — you can't spell "murder" or "McDonald's" (which concocts yummy ice cream) without it.
The stars of Ellen's narrative prose poem are Woody Allen and Ned Vizzini. Since these Woody and Ned are boyfriend and boyfriend in the poem, they most likely can't be the commonly known Woody and Ned, since the commonly known Woody doesn't like boys, as nearly all of his movies showcase and adore very pretty girls, like Mariel Hemingway and Mia Farrow. As for Ned — an author of YA books, (one of which touches on the loony bin), he may very well like boys, but probably not.
So… why did Ellen choose to use the names of Woody Allen and Ned Vizzini? Perhaps it's because she was taken with the way the names sounded or the way the names were spelled or the way the names looked when written. For instance, I'm quite intrigued with the way the name "Reinhard Heydrich" looks and sounds, and I may very well one day make it the name of a boy who likes kitties and McDonald's ice cream, but all of that doesn't necessarily mean that I'm referring to the Reinhard Heydrich famous for coming up with the idea that, years later, would lead to numerous memoirs and Hollywood films.
(PS… Adolf nicknamed Reinhard "the man with the iron heart"… umph…)
In the poem, Woody and Ned, being boyfriend and boyfriend, spend a lot of time together. Their activities include licking each other's teeth (though, really, Ned just does this to Woody), showering (an atrocious activity), sipping soy milk ice coffee, and eating toasted sea vegetables. I myself have not tried this edible, but I want to, since it seems like something everyone who lives under the sea in The Little Mermaid would like.
Overall, Woody appears to be much more sadder, discontent, and macabre than Ned. According to Ellen, Woody "often daydreams about being buried alive and being exposed to other dangerous and tragic situations." He also steals Nicorette patches (though he doesn't smoke), and subjects himself to one of the most vulgar environments of modern culture — the gym.
Obviously, Woody's weary and restless doings are justifiable. I mean, Mark Zuckerberg, Mayor Bloomberg, the gay and lesbian community…  the average-ness is just awful! Woody's sullen sentiments saturate "Eoody Mobby," which, says me, makes it a continually curious and commendable poem.
I Like __ A Lot
/
9 Comments
June 26th, 2013 / 4:15 pm
A D Jameson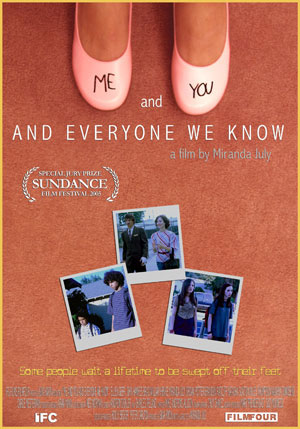 If the New Sincerity is anything real or coherent (and I wrote that post last Monday because I, like others, am trying to figure out whether that's so, or will be so), then we should be able to identify the devices or moves that define it—that arguably make a piece read as being "New Sincere." The "New" implies they produce that sincere effect right now, in the current literary landscape; whether the techniques or devices are entirely new doesn't matter (they could be older techniques, fallen out of prominence, now returned). Similarly, it's irrelevant whether the author using them is "really" being sincere. What matters instead is that
Those devices exist;
People think they "feel sincere" (as opposed to other devices, which don't);
"Being sincere" has some value at the present moment.
Why sincerity? What is its present value? My broad and still developing belief is that "sincere" writing is one means of breaking with the aesthetics of postmodernism and self-referentiality: invocation of Continental Theory, metatextuality, excessive cleverness, hyper-allusion, &c. What makes writing "sincerely" even more delicious when perceived against postmodernism 1960–2000 is that it proposes to offer precisely what pomo said didn't matter or couldn't exist: direct communion with another coherent, expressive self, even truth by means of language. (Don't tell Chris Higgs!)
One of my first impressions of the NS came when I started noticing artists and authors using longer titles—in particular, long rambly ones with strong emotional resonances. My thought then and I think now was that both the length and the ramble, as well as the emotive quality, signaled non-mediation: a desire to appear uncensored, unrevised. Those titles stood out (defamiliarized the title) because they failed to comply with what a "proper," "edited," "thoughtful" title should be.
Is this a sensible thing to argue? Have I had too many G&Ts? Let's pursue …
Craft Notes
/
38 Comments
June 7th, 2012 / 8:01 am
Justin Taylor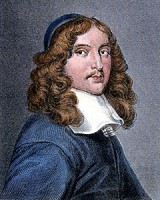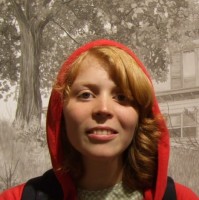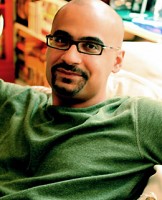 For Thursday (9/10) we read "My Dog is a Little Obese" by Ellen Kennedy, "How to Date a Browngirl, Blackgirl, Whitegirl or Halfie" by Junot Diaz, and "To His Coy Mistress" by Andrew Marvell. The theme was DIRECT ADDRESS and INSTRUCTION. As on Tuesday, we spent most of the time on the fiction piece. I think this is because fiction feels "easier" to talk about than poetry, like you're not going to screw up the technical terms or something. And I think that having a teacher who is primarily a fiction writer contributes to this atmosphere, so I'm going to work harder in the future to check myself. But I think there's a second reason as well, which is that a relatively straight prose narrative like the Diaz story (or Hemingway last week) yields itself to a kind of knee-jerk cultural studies reading, where the text is really just a pre-text for the themes and politics it evinces or brings to light. Especially with a piece like this one by Diaz, where the narrator is giving "you" instructions on how to re-arrange your apartment so you don't look as poor as you are, and then impress the various girls you might have invited over, with particular race-based instructions for each one. I hate this way of reading.
Behind the Scenes
&
Craft Notes
/
57 Comments
September 14th, 2009 / 12:59 pm
Justin Taylor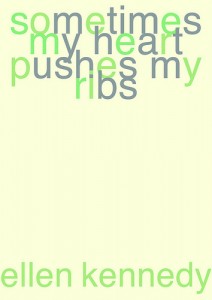 After the epic fail that was Matt Soucy's lazy, mean-spirited review in Coldfront–a rare blunder for one of the best poetry sites out there–it brings me enormous pleasure to direct your attention to Chris Tonelli's excellent microreview of sometimes my heart pushes my ribs, newly online at Open Letters Monthly.
In personal or private moments, like the one above, Kennedy's speakers relentlessly exhibit a kind of binary—ones and zeros—type honesty. They actually have the kinds of conversations we only have in our heads. For this reason, at least under Kennedy's spell, Sometimes My Heart Pushes My Ribs feels like one of the purest examples of how to be good to one another, a contemporary collection of first-person parables.
Author Spotlight
/
92 Comments
September 8th, 2009 / 12:41 pm
Justin Taylor
[NOTE: The launch party for SOMETIMES MY HEART PUSHES MY RIBS is at 7 p.m. tonight at Cafe Orwell in Brooklyn. – JT]
My Dog is a Little Obese 

 

put the clif bar in your pocket from a florida gas station and walk away

 put the entire box of clif bars from a duane reade in penn station in your bag and walk away  

 put two clif bars from price chopper into your pocket and walk away

 this is CVS, there are no clif bars here

 buy 4 clif bars from albertson's and feel bad

 there is 50mg of caffeine in your clif bar

 cut the clif bar in half with scissors and eat one half and put the other half in a bowl

 hide the scissors in the closet

 there isn't any caffeine in the lemon poppyseed clif bar

 put organic green tea extract on your tongue and put your tongue in my mouth

 there is 50mg of caffeine in my brain  
Buy Sometimes My Heart Pushes My Ribs from Muumuu House.
Ellen Kennedy's blog.
Author Spotlight
&
Excerpts
/
12 Comments
April 25th, 2009 / 10:47 am
Justin Taylor
Green Toothbrush 

 

the train leaves in 50 minutes

two people having sex to a lonely and frustrated person singing "I'll probably never see your face again"

two people taking turns standing under the water in a shower

the hair is black and smells like lemons

two people using one green toothbrush

the train leaves in 20 minutes

one person standing, ironing a red dress

the train is leaving in 15 minutes

the slip is too long and sticking out of the red dress

the boots are loud and slow

two people on a train taking turns laying down on one  person's lap

the hair looks more brown than red when short

yelling "soccer" in secaucus station

waiting for the new york train

the new york train arrives in 3 minutes

two people buying two large organic coffees

caffeine making four eyes bigger and two brains faster

one person feeding a lemon to one pigeon

one pigeon walking away uninterested

two people sitting on a subway train with two coffees   floating above

two people lying very close on a one-person mattress
Buy Sometimes My Heart Pushes My Ribs from Muumuu House.
Ellen Kennedy's blog.
Author Spotlight
&
Excerpts
/
10 Comments
April 24th, 2009 / 8:45 am
Justin Taylor
I Like Every Time We Have Sex 
"I want to have sex with you." 
"Thank you. I want to have sex with you also." 
"Really?" 
"Yes." 
"When I say I want to have sex with you I mean really." 
"So do I." 
"I mean really, I don't just say that as a feeling. Do you understand? Did you really mean that you wanted to have sex with me when we were waiting on line at the movie theater before or did you just mean that as a feeling?" 
"I don't know. I'm sorry" 
Author Spotlight
&
Excerpts
/
22 Comments
April 23rd, 2009 / 8:30 am
Justin Taylor
Orange

I wish my life consisted only of
riding my bike with you
down a giant hill that never stopped
while listening to music
with no one else around
in the middle of nothing,
except a few shiny and relaxing lights above in the sky
like stars but a little brighter
and more orange
Buy Sometimes My Heart Pushes My Ribs from Muumuu House.
Ellen Kennedy's blog.
Author Spotlight
&
Excerpts
/
46 Comments
April 22nd, 2009 / 12:48 pm
Justin Taylor
Brighter and Clearer 

 

After I have an orgasm my body feels like a sombrero-shaped galaxy slowly expanding in the eyepiece of a 4th grader's telescope 


After I watch a family of lions tear apart the body of a large deer on the Discovery Channel I feel a calming sense of inferiority 


After I watch a horror movie I can't go to the bathroom without you holding my hand while I pee  


After I take my vegan dietary supplement my piss is brighter and clearer 


After I kiss your eyelids my lungs squeeze out through my ribs, then through my belly button and slowly fly to your face and push very lightly on your cheeks 


After I forget something I said I would remember my brain becomes a roll of vegetable futomaki that an obese chinchilla is trying to eat all in one bite 


After I make you cry one of my organs melts into a runny paste that trickles down the inside of my body and collects at the bottom of my feet 


After I make you feel indifferent towards me my heart turns into a small desert hamster running very quickly on an exercise wheel and then tripping and then spinning around in distress until the wheel stops and the hamster can get up and try running again, but in a more conscious and concerned way 
Buy Sometimes My Heart Pushes My Ribs from Muumuu House.
Ellen Kennedy's blog.
Author Spotlight
&
Excerpts
/
18 Comments
April 21st, 2009 / 1:03 pm
Justin Taylor
Florida

i had a dream last night about your parents and you

in your house in florida

your parents were dancing in the garage

and your mom was singing

and then the radio stopped for no reason

and she screamed 'no'

and then walked away

your dad was pissed

then you went into your room and your computer had this program that you could make animations with

and you made like 5 videos of your dad

changing from a happy dad

to a pissed dad

then i woke up

your parents were dancing so hard
Author Spotlight
&
Excerpts
/
67 Comments
April 20th, 2009 / 12:17 pm