HTMLGIANT / Jon Leon
Garett Strickland
ON NATHAN'S BIRTHDAY we went up to Olympia to pick up Jason. He'd been traveling. A few months gone I reckon. Nate'd been living in J's room all heart-broken up in the Nad, watching the entirety of Breaking Bad in the course of a couple weeks. I did as much as I could re-watching with him, loving it, deep-reading the world it meant to be there gangsta-style lonely and for real with my best friend all shitty and suffering, digging the vicarious world of criminal pathos to sovereignty .
So on the day he was born: Nate, Tyann, and I drove up from Portland to pick Jason up with some acid. We found Jason who'd been pretty impressed with the novelty in Washington of whiskey in regular stores, who'd walked for miles drinking only whiskey for days, and crashed wherever in the course of not needing anyone at all.
We got him, drank and figured where we'd drop. Ty'd gone to Evergreen so we figured campus would be the best place to do it. We went ahead and did and as we approached the forest a kid straight out of the 90's ("You guys like Alice in Chains?') led us into the woods without a flashlight and we built a fire out of Emo Steve's negative psych assessment he'd left around the shrine in his trapper keeper.
Behind the Scenes
/
11 Comments
January 3rd, 2013 / 9:05 am
Impossible Mike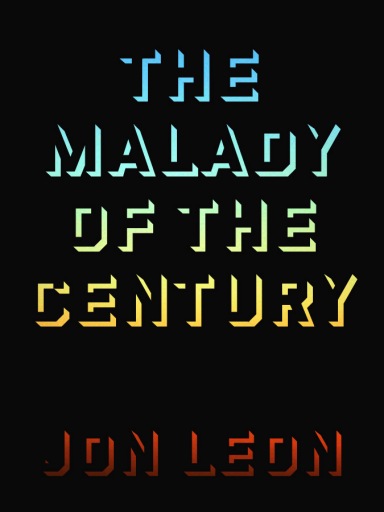 THE MALADY OF THE CENTURY
By Jon Leon
Futurepoem Books, May 2012
88 Pages / $16.00 Buy from SPD
In consideration of the work of Jon Leon, it is necessary to consider Jon Leon, the poet, simultaneously as an apostle and a construction. Anna Kaven (nee Helen Emily Woods) ended up, at a particular point in her career as a novelist, changing her name from that which she was born with to a name she had invented for a character in one her own books—Jon Leon has always simply insisted on living as a character in his work, as the character in his works.
His poetry.
There is a level of both the inter-textual and the extra-textual interaction present throughout his entire oeuvré; something that becomes apparent throughout his career. As Dan Hoy points out in his case-study of Leon, there's a particular overlap of reality with a poetic construction of reality:
"We mixed agitprop, erotic dance, and horror to construct a total environment of focused bliss." Jon Leon, Hit Wave

I'll risk substituting tropes here and suggest the above sentence from Jon Leon's Hit Wave could be taken somewhat literally as a nod to his overall objective (construct a total environment of focused bliss = enable and induce the experience of the impossible) and strategy (mixing agitprop, erotic dance, and horror = forming a triangulation of world, life, and nothingness).
Reviews
/
4 Comments
April 17th, 2012 / 11:17 am
Blake Butler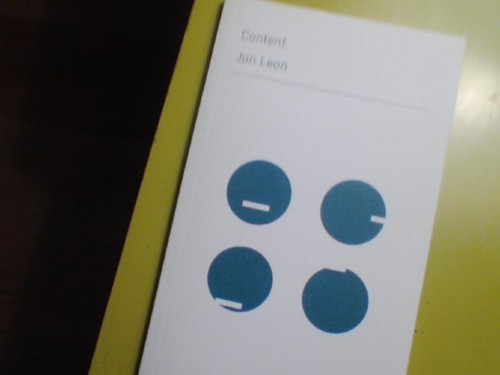 Last month I received a copy of the first issue of a new project by publisher James Copeland called Content, a series that releases uniform length and shape books each filled with "content" from an individual author without restriction. The first issue is by Jon Leon, a piece titled Elizabeth Zoë Lindsay Drink Fanta, which is at its most basic a series of photographs of the three famous women referred to in the title, manipulated and arranged by Leon throughout.
I didn't quite know what to make of the book at first. I think I immediately thought, Why? But the book stayed out on my desk and I found myself continuing to look at it, and to think about the things Leon mentioned in the one page letter that accompanied the volume (reproduced here on Leon's website), which includes the lines, "I wanted to talk about 'the demented power of the lights,' how literature is evil, the end of my 'career,' the end of the artists editions, my conceptual death, my simulation of life, my meltdown in print and on tape, my public facade, my disappearance from Los Angeles, my disappearance from the Atlanta scene, my disappearance from New York in the holiday of 2009. My resolution to 'end this shit' in 2010. To kill off the poems."
Last week I had an email correspondence with Mr. Leon regarding the concept of the book, its assemblage, the context of creation and aging with creation, Lindsay Lohan, modeling, and disintegration in general, among other things.
Author Spotlight
/
15 Comments
August 29th, 2011 / 12:59 pm
Andrew Weatherhead
TONIGHT: Eileen Myles / Jon Leon / (our own) Nathaniel Otting
8PM — 390 Seneca Ave. (Entry on Stanhope), Brooklyn, NY
httpv://www.youtube.com/watch?v=94J_oSwggFI
THURSDAY, APRIL 28TH: Brian Kalkbrenner / Dan Hoy / Amy Lawless / Maggie Wells
6:30PM — The Strand, Union Square
best video:
httpv://www.youtube.com/watch?v=RbVx52tKulg
Web Hype
/
19 Comments
April 23rd, 2011 / 6:04 pm
Impossible Mike
httpv://www.youtube.com/watch?v=lQ3SVpE9LTQ
On Friday night I read Dan Hoy's post over at Montevidayo entitled THE PIN-UP STAKES: Poetry & The Marketing of Poetry. Approximately 2 hours later I was wasted in a bar across the street from my apartment, yelling at my roommate (who doesn't really read poetry) that it was the best thing ever, insisting that she read it on her smart phone. About two hours after that I tweeted the phrase "If you take the lyrics to pop musick seriously they become the map of utopian society" (the "k" at the end of "musick" is my own superfluous nomenclature that surfaces mostly while "under the influence," tying music to "magick" of course).
What was in my head, still, other than Hoy's essay itself, was the video above, and more particularly, the song within the video.
httpv://www.youtube.com/watch?v=bw2o_Go4QWI
Craft Notes
/
28 Comments
January 19th, 2011 / 6:24 pm
Impossible Mike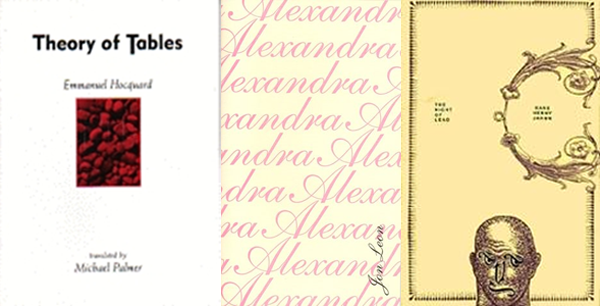 [Another not-mean post for mean-week. Sorry. I had part of this done before I realized it was mean week (duh) & wanna write about these books while they're fresh in my head. Also, I might do this regularly because I am a major proponent of out of print books, who knows.]
I end up reading a lot of books that are out of print. Part of me feels like I do this to compensate for the fact that I no longer dedicate an excessive amount of energy to digging up & talking about lost films. Another part of me just always insists that the best shit is found by digging as deep as possible. I like looking for things, reading about lost things, and finding things that there's not an abundance of discussion about. It makes me feel like I'm solving a mystery, and I get a major rush out of it.
I spend a lot of time combing through World Cat listings & requesting books & articles from inter-library loan networks. I also obsess over used-book meta-search engines. I also feel like, perhaps, that a lot of marginalized Other's books end up out of print, so I sometimes tell myself that I can feel slightly empowered. This may or may not be ridiculous. Regardless, I'd like to talk about three out of print books that I recently read and enjoyed.
I Like __ A Lot
/
16 Comments
October 26th, 2010 / 5:44 pm
Impossible Mike
Wrath of Dynasty is a boutique imprint of fine art objects that was established by Jon Leon halfway through 2010. If you're not familiar with Leon, the best thing to do is check out his poetry, some of which is available online here. If you want to check out any of his many chapbooks, well, you're pretty much out of luck, because they're all out of print. In three days the final title from this season of Wrath of Dynasty, formerly Legacy Pictures, will also be out of print. In fact, in three days, everything Wrath of Dynasty has ever released will be out of print, at least until the next season starts and a new series of unique print objects are brought to light. I have been consistently impressed with Wrath of Dynasty, which has brought to light a lot of exciting and unique work that would undoubtedly be inappropriate for other venues, so I thought I'd send Jon an email and ask him more about it. Check out the interview behind the cut.
Presses
/
5 Comments
October 19th, 2010 / 2:21 pm
Blake Butler
—
1. Dan Hoy and Jon Leon in conversation at Fanzine.
2. Gisele Vienne's Portraits at DC's.
3. These brackets are wild.
Justin Taylor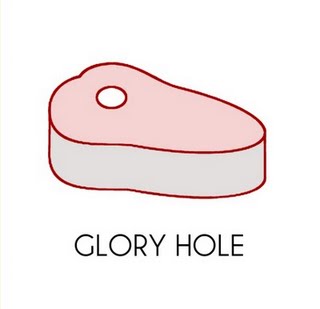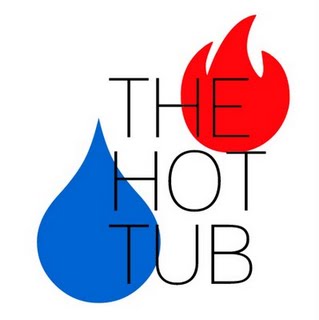 Since the reaction to yesterday's Hoy-Leon extravaganza, I figured the best–perhaps the only–thing we could do is double down. Here, then, are some more selections from The Hot Tub (Leon) and Glory Hole (Hoy), the new split poetry collection out from Mal-o-Mar Editions.
THE UNIVERSE IS A PIECE OF SOMETHING EVEN WORSE (Hoy)

I feel at home when I forget

life. I phone it in because

this shit is real. My world

is made of systems and worlds. I give up

nothing and make no mistakes.

I try to be awesome because I can.
Author Spotlight
/
14 Comments
November 11th, 2009 / 1:06 pm
Justin Taylor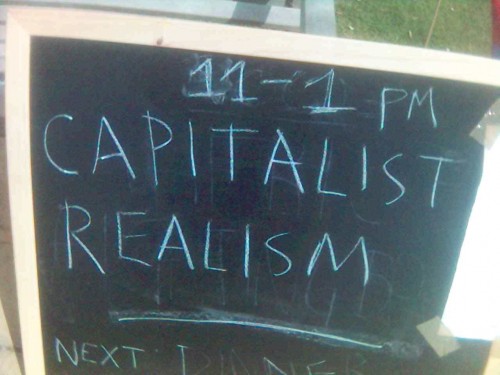 Did you follow that headline? New from Mal-o-Mar Editions is a poetry split– Jon Leon's The Hot Tub and Dan Hoy's Glory Hole, together in one spine. You might remember Jon from Hit Wave, the wonderful chapbook he did for Kitchen Press, and Dan Hoy is of course the co-editor of Soft Targets, the journal that did one (two?) legendary issue(s) before apparently winking out of existence, though it, like Jesus, may yet one day return. Anyway, to celebrate the Leon-Hoy Pact (it's like the Glass-Steagall act, kind of) I thought it would be nice to pair some of their poems together, in little flights. We were doing this the other night at my house–me and some friends, getting slowly loaded on asscheap bourbon and reading these proudly defiant poems of obscene opulence and opulent obscenity aloud to one another. Fun starts after you click the button.
Author Spotlight
&
Excerpts
&
Presses
/
13 Comments
November 10th, 2009 / 11:42 am