Music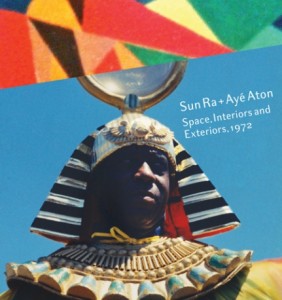 Sun Ra + Ayé Aton: Space, Interiors and Exteriors, 1972
By John Corbett
PictureBox Inc, April 2013
112 Pages, $27.50 | Buy from PictureBox
Opening with several candid shots of Sun Ra donning full afro-futurist regalia in Oakland, filming the quintessential Space is the Place, Space, Interiors and Exteriors, 1972 finds Sun Ra himself in the foreground. An interesting choice, really, due to the fact that a large majority of the book focuses on Ayé Aton's murals, painted primarily on the walls of Chicago's south-side in the early 70s. But this choice makes sense, as the brief essay included in the book lets us know, as it was the overpowering figure of Sun Ra that brought a focus to Aton's work.
Aton, who became a correspondent of Sun Ra in the early 60s (shortly after Ra moved to New York City), eventually joined the Arkestra, touring and recording with Ra during the Ra's most significant span of recording, the years 1972-1974, when his most well-known album records was recorded, Space is the Place. Aton & Ra's correspondence, in the beginning, was a mentorship. Aton's curiosity towards many afrocentric esotericisms finding, if not answers, at least a response in Sun Ra (to see the breadth of the information that Ra poured into his philosophy, take note of this syllabus from a class Ra taught at UC Berkeley in the early 70s [as an aside: the environment of Berkeley where Sun Ra could teach a class like this is so far distanced from the current reality of UC Berkeley that it's astounding], as recounted "by Arkestra drummer, Samurai Celestial, and others."
Two brief essays in the book present this biographical (this mythical) information before treating the reader to a gallery of Aton's murals, photographed, often obliquely, on Polaroid film in Instant film has never been the most archival film available; in these Polaroids it's clear that colors have faded, that the precision of the film's chemical reactions, etc, is far from precise. The material degradation adds a level of entropy to the aura the images create. While the introduction asks us to imagine rooms where entire walls are painted with fluorescent paint, the Polaroids reveal rough gestures in muted colors. With time everything fades.
But the suggestion, the consideration, is a fascinating one. As another essay points out, none of the photographs of Aton's murals depict people in front of them, they are isolated in space, often even destabilized away from their position on walls, embedded in the flatness of the picture plane. In the late 1950s Sun Ra started calling his music "space music" because " the music allowed him to translate his experience of the void of space into a language people could enjoy and understand" (Wikipedia). With these photos, the viewer is floating in a void of colors long faded. The dream is dead, and I wouldn't be surprised to find most of these murals either painted over or felled with buildings during destruction.
My favorite mural, documented by a square Polaroid stamped with the month of "January" but bearing no year, finds a ram's head above four staggering lines of grey, set within a large silver/white star-burst, across a field of pinks and oranges with black accents carrying through the field. The nothingness of the image plane is violated by a minor intrusion: that of a golden chandelier, hanging from a white ceiling. The reality of the murals becomes uncanny. This is a step towards a necessary mysticism, used by Ra and others to strive towards freedom, borrowing Egyptian symbols and steeping them in Biblical revisionism, a reality that allows the oppressed a sense of revolution. Space is the place, space is the place. The field turns into colors and every man and woman is wearing a costume that disorients. It's after the end of the world–don't you know that yet?
In 1968, Kenneth Anger visited the great pyramids of Egypt with a cavalcade of junkies, musicians, artists, and magicians. Costumes were brought. Anger's greatest film, Lucifer Rising was filmed. Problems followed. The film eventually was released and has been recognized for its brilliance. Sun Ra, on the other hand, refuses to just make his film. The costumes were part of life. Life was revolutionary and within this revolt there was a refined aesthetic insistence. Aton's murals carry this aesthetic insistence further, into the banalized reality of those who don't have the freedom to live in Sun Ra's world permanently. The murals serve as a reminded.
Comments Off

on Space, Interiors and Exteriors, 1972
June 11th, 2013 / 11:27 am
"I am essentially not an instrument builder, but a composer. I am a philosophic music man who long ago was seduced into musical carpentry. As a composer and a musical philosopher I make my living by selling records of my music. I am both the manufacturer and the retailer. And I distribute the records very largely by mail." — Harry Partch, 1958
httpv://www.youtube.com/watch?v=pbPUkLrmzUA
Abner Jay reinverts the age-old 'looking for a virgin' myth in "Don't Mess With Me Baby."
httpv://www.youtube.com/watch?v=vpjy0MOMn3Y
Anthony Braxton called Abner Jay an American master.
Random
/
Comments Off

on "…philosophy is music, music is philosophy, and the other way round." – Thomas Bernhard
December 11th, 2010 / 3:01 am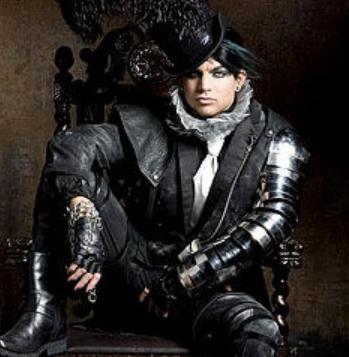 It's Saturday morning. I have missed capoeira practice because of last night's asinine behavior.  I'm sitting in front of the tv watching the VH1 Top 20 Countdown. Adam Lambert is doing his Mad Hatter / Mad Max / wood nymph thing.
My friend says to me, "Is this the video that makes us suspect that music itself might have dementia?" Then he says something about the structuralist utterance out of the void. Fuck, this music really is bad. It's not just that I'm getting old, is it?
This same house guest, I just discovered, was responsible for this bathroom poetics when it originally read "SUCK IT."
1. Here at Stereogum, a bunch of musicians phone in their tributes to the record Meat is Murder, and then Drew Daniel from Matmos schools the rest of them with a really fascinating, considered, kind of beautiful tribute to the record Meat is Murder.
2. Blake's favorite band, Wavves, have a new record, and it's not as fucked up and distorted as the last one. So someone fucked up and distorted the first single:
httpv://www.youtube.com/watch?v=qKJkE1l5pH0&feature=player_embedded
Mini editing prompt: take something you just wrote, compare it to one of your first published pieces, and then try to rewrite the new thing as if you were still the writer you were when you first started writing in earnest.
3. Last night, Aaron Burch drunkenly decided to have a summer West Coast tour. I propose we all send him mixed tapes. Or mixed CDs. Or whatever the hell kids do these days.
Hey, so this year is the tenth anniversary of The Lioness, a seminal album by countryish indie-rockers Songs: Ohia, whose frontman is the estimable Jason Molina (who also fronts Magnolia Electric Co.). Molina's best, I think, are elliptical, sinister love songs, with which he stuffed The Lioness from front to back. His songs are heavily symbolic, studded with violent images, etc.–just listen to the songs I'm posting below (but don't watch the videos–they're just still images of the band), won't you?
httpv://www.youtube.com/watch?v=DXsFkRBsAF8
Ken Baumann
—
Anyone mess with LaLa.com? Seems incredible: buy a song for 10¢ and you can listen to it online, from anywhere. 89¢ total and you can have an mp3 too. Hmm. Any experiences?
Michael Schaub
—
Mark Feeney starts off this piece on Thomas Pynchon and music with this sentence: "Music hasn't really mattered much in American fiction." Is that even remotely true? I suspect it's not, but you guys are all smart well-read rock stars. Is Feeney right? Do I just wish music mattered more in American fiction? Will anyone come to the debut show of my band, The Very Special Episodes? Even though my band doesn't technically exist?
Last night I saw Kristian Matsson, a.k.a. The Tallest Man on Earth, at the Troubadour here in Los Angeles.  Now, the Troubadour is a small venue, maybe able to fit 200 people; I sat on the balcony, front row, with a perfect view of Kristian's performance.  He was phenomenal.
I've been a fan of his work since I downloaded his album Shallow Grave, which I did immediately after seeing this performance. Everything beautiful in that movement — his energy, his nuanced mastery of the guitar, his apparent charisma, i.e. his heart — all of that was present and amplified last night.  He was one of the best live musicians I've seen.  And not only was his performance powerful, fun, surprising, intelligently structured — subtle variations and waves of change in tempo and amplitude that he utilized brilliantly, making each song seem to sing out in power that much more — not only was it all that, but he was also really nice to the audience, and highly alert, and gracious.
So if you haven't already, read up on Kristian (a native of Sweden) and listen to his music and see him live.