rachel b glaser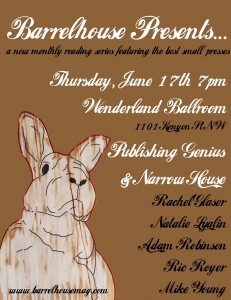 East of the Mississippi? You won't want to miss the Glaser/Lyalin/Young tour that's ravaging the right side of the map.
6/16 – Philly
6/17 – DC
6/18 – Richmond
6/21 – Atlanta
6/22 – Durham
6/24 – Baltimore

Get all the dates and links and stuff from Mike's blog.
That DC reading is an exciting one – it will be the first in the new series from Barrelhouse. The concept is to feature presses/journals, not just individual writers. That is a sensible way to create a good reading; if the publisher has a good aesthetic, the reading will showcase their authors and the event will make good flow. Future presses with Barrelhouse readings coming up include Dzanc, Rose Metal, and Artifice. This one on June 17 (this Thursday) features Publishing Genius and, now in their 7th year, Narrow House (click for a SICK 7th year special offer — 7 things for the price of 1).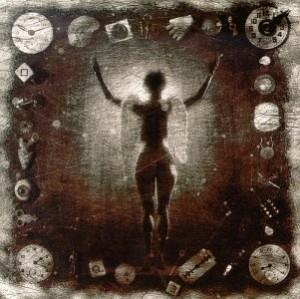 New NOÖ for 09, ladies n gentz. Get at it:
Welcome to 2009. To celebrate, NOÖ [9] is now out: noojournal.com. New features: Ryan Call as Associate Editor, handkerchiefs, reviews, a blog (noojournal.blogspot.com), and sleep sounds.

The new issue features prose, poems, art, and otherwise from: Nick Antosca, Deborah Blakely, Vic Cavalli, John Casey, Jimmy Chen, Christopher Cheney, Tanya Chernov, Jack Christian, Bryan Coffelt, Brooklyn Copeland, Michael DeForge, Gabe Durham, Rachel B. Glaser, Evelyn Hampton, Kyle Hemmings, Michael Hsiung Grace Jamison, Mike Jauchen, Greg Lytle, Erika Mikkalo,, Patricia Parkinson, Adam Peterson, Ashley Reaks, Bradley Sands, Peter Jay Shippy, Randy Thurman, Jono Tosch, and Rebecca Volinsky.

Thanks for reading. Print copies coming in ~3 weeks. Let us know if there's any good spot near you to distribute free literature.

Also be sure to check out Magic Helicopter Press (http://www.magichelicopterpress.com). There are chapbooks from Mary Miller and Benjamin Buchholz available.

We're going to be sharing a table at AWP Chicago in February with Publishing Genius and Lamination Colony. We'll have an RC helicopter. Literature of shenanigans. Maybe we'll see you there.
Uncategorized /
2 Comments
January 2nd, 2009 / 2:06 am