stephanie barber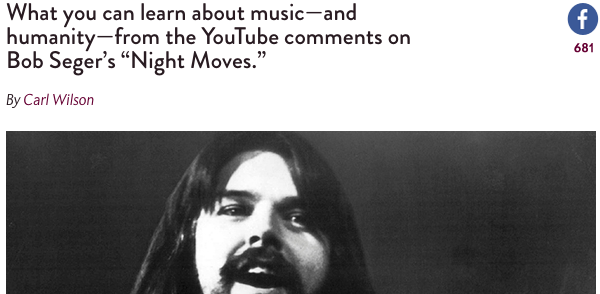 At Slate, Carl Wilson wrote brilliantly about Youtube comments and Stephanie Barber's book, Night Moves, a transcription of the Youtube comments to Bob Seger's song "Night Moves." Here are the comments from that article:
Youtube aside, Bob Segar is truly one of the greats. Soulful, rockin' and a great songwriter. One of the few who is equally believable as an all out rocker and as a tender, wistful balladeer. One of the greatest singers ever. He deserves to be mentioned in the same breath with Sam Cooke, Sinatra, Ella, Elvis and Aretha.
Coincidentally, Bob Segar was my very first real rock concert. I was 15 and I was blown away.
Side point to address the old vs new music conversation downthread: It is true that I will never experience music like I did with my 15 year old heart and all my musical memories are filtered through that 15 year old head that I lived in.
But now, I can listen to music with a knowledge and an understanding that I didn't have then.
And I love that old stuff, but there is great new stuff too!
The Shins, Blind Pilot, Death Cab, Bob Schneider, Uncle Lucius, Black Keys, fun. and lots of others. Some will say that some of these are too derivative, but all music is derivative.
Sinatra, Thelonius Monk, Abba, Segar there are many, many more great musicians, singers, producers and songwriters in every generation.
To dismiss the current or the old as crap is the mark of a philistine who doesn't really love music. They only love what music represents to them. Their youth,
And that applies equally to the fogies and the kids.
***

See, I always heard this on the radio as night NEWS.  I knew what the song was about. I just figured he was banging the girl working on the school newspaper with him.
***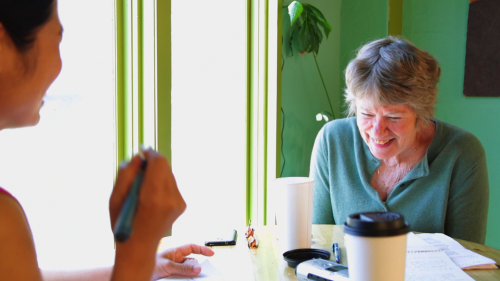 Stephanie Barber's movie DAREDEVILS (2013, premiering at the NY Film Festival next Thursday) is—among the many things that it is—a feature length narrative, and in itself an act of daredevilry. It is not an experimental film—that is, it doesn't have much in common with the "traditional experimental film"—and it is a "movie" in the sense that it contains character development, relationships, dialogue, recognizable images, movement, music, and storytelling. The traditional three-act structure, however, is rearranged, subverted, and therefore not present to comfort you, and what's more, the story demands your participation—and a rather rigorous participation. Like all stories, this one is a mystery, and you might say the involvement of the viewer in this story is similar to the mystery in which the audience sets out to solve the mystery. If reading the clues presented here will lessen your enjoyment of the movie, you know who you are and should stop reading now. Otherwise, read on. READ MORE >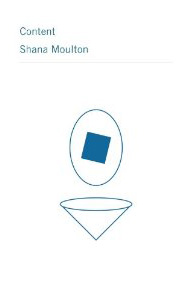 The Blazing Fireplace of Guardianship
by Shana Moulton
Content, Winter 2012
80 pages / $10  Buy from Content or SPD
Shana Moulton's collection of found and altered images, The Blazing Fireplace of Guardianship, is the Winter 2012 edition of the Content series (which Blake wrote about here). This is a tender and enigmatic assemblage almost entirely devoid of words, which reads like a challenging and hysterical existential essay, an empathic exploration of modern spiritualism, a cynical contextual analysis of the marketing of the new age, a personal memoir, a mockery of a certain trend towards neo-mysticism in modern art or a map through "the decadent maze of spiritual liberation."
This Saturday at 10am EASTERN we're going to try a Re-Do of the Mairéad Byrne Live Giants Reading. Drink coffee. Present at the reading, all in the same Rhode Island house (so no speakerphone), will be Mairéad, Stephanie Barber (cover designer) and me (publisher). We'll read from the book and discuss our roles as author, designer, publisher. RSVP on the Facebook event thing. And the new New Pages is out with a review of Mairéad's book by Gina Myers.
Events
/
Comments Off

on Live Giants 7 Re-Do
September 2nd, 2010 / 7:48 am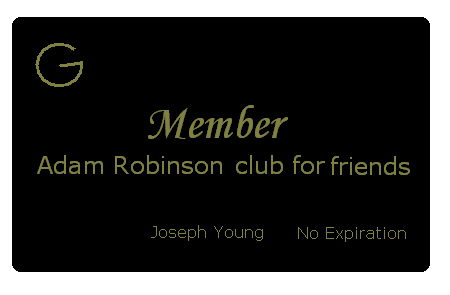 I forgot that when I get really tired and I'm at work it's good to write a long blog post that doesn't make any sense and doesn't really say anything. READ MORE >