July 2010
1. @ AV Club, an interview with China Miéville.
2. @ Word Riot, an interview with Steve Erickson.
3. LIT's new issue looks rad and has some Giants in it: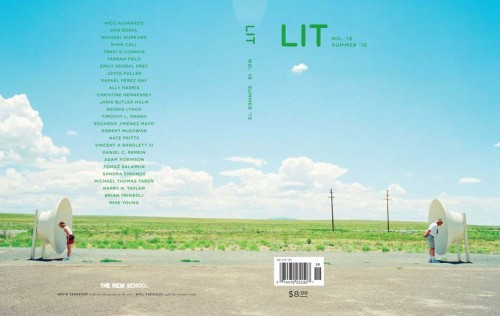 4. New issue of The Collagist is live.
5. @ The Quarterly Conversation, a tribute to Joseph McElroy.
Adam Robinson
—
OK, if no one else is going to say it, I will:
Blake's book.
4/5/11. I can't think of a way to say how much I'm looking forward to this. I sincerely hope to hear a lot about it over the coming 9 months.
Adam Robinson
—
Have you checked in with The Laughing Yeti lately? Shome Dasgupta's archive of thoughts on reading is becoming epic, and if the Internet lasts after the aliens come and go, it will certainly prove to be a worthwhile resource for the future historians.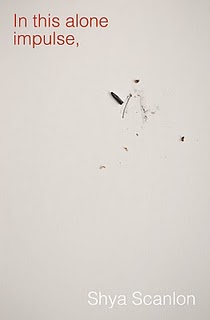 Released earlier this year from the magnificent Noemi Press, Shya Scanlon's full length print debut In This Alone Impulse, is truly of thing of many things. Using 7 line blocks of language to evoke a sublimely confounding string of styles, voices, jokes, murmurs, machines, Scanlon has truly forged from a seemingly simple set of building blocks a highly tuned and deceptively challenging machine of language and idea.
For a taste, check out Shya's YouTube feed, which features short videos of a wide range of folks reading sections from the book. Here's a rather rad one by A.D. Jameson, performing, 'Hansom':
Over the past few weeks Shya and I talked some about the construction of the book, its influence, becoming, tone, approach, as well as some of his other forthcoming works.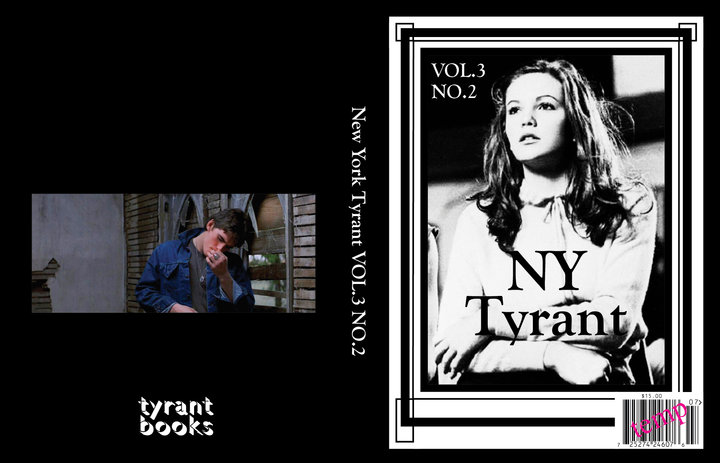 A note on the brand new issue of NYT from editor Giancarlo Ditrapano:
New York Tyrant 8 (Vol.3, No.2) is available for preorder. The book went to press today and will be back and ready to ship in two weeks. Not to blow my own horn (and I can do that, you know), but this is a pretty solid issue. Sam Lipsyte, Ken Sparling, Noy Holland, Breece D'J Pancake, an interview with Padgett Powell, Daryl Scroggins, two beautiful pieces by Brandon Hobson, Andy Devine, Ken Baumann, Sean Kilpatrick, Michael Kimball, more drawings (one sampled below) from Atticus Lish, and a shit ton of other great writers. The theme of this issue turned out, unintentionally, to be knives. Lots of knives in these stories. I swear I don't do this shit on purpose.

A couple issues ago, we made the Tyrant 300 pages long. We are now back to a better length, less than 200 pages. I hate when journals get all bulky and are just too intimidating to even get through half of the stories. We'll be having a launch party within the next couple of weeks so I'll keep you updated on that. But until then, please go get your copy of the new Tyrant. Buy a subscription. Okay, here's a deal. If you buy a 4 issue subscription or the larger 8 issue, we will throw in a copy of Brian Evenson's novella Baby Leg. And if you buy a copy of the new Tyrant in the next 5 days, we will include a copy of Tyrant Books' latest release, Firework by Eugene Marten. I've never done this discount/sale thing before but it feels good and right. No it doesn't. It sucks and it hurts.
1) Wear a mask. We all do. There is nothing to hide but hide itself.
John Jodzio has sent us three copies of his collection If You Lived Here You'd Already Be Home for a quick giveaway contest. If you'd like to be eligible for the giveaway, tell us about the weirdest thing you or someone you know has swallowed. John will select from the comments section his favorite three later this week.