HTMLGIANT / Author Spotlight
Blake Butler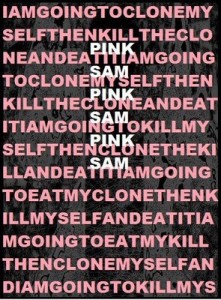 I don't think it's unethical to say some words about Sam Pink's forthcoming first book on here, even though Sam writes for the site. I have been salivating for someone to release a Sam Pink book for a while now, and finally the newly fashioned and surely balls out Paper Hero Press, run by Barry Graham and Peter Schwartz.
I mention it now because they just put up a preorder link for the book. It is $12 worth spending. I would say more about what I think of Sam's writing but my blurb on the book I think says it all:
"Sam Pink exists in all things. Sam Pink's tremor is threaded through the dark sections of scenes in the first Back to the Future, the sections we generally think of as 'night.' Sam Pink gored his way to the center of the child Russell Edson and ate all the beautiful / smart / wicked / fucked / riotous / smarmy / unconditional parts about him, then went to incubate and redouble. Sam Pink absorbed the passing souls of Andy Kaufman, Anton LaVey, Klaus Kinski and Shel Silverstein and fried them in his mother's blood. When Sam Pink emerged he wasn't crying, but everyone in the hospital was, tears of whiskey, liquid gold and smegma, and within seconds of his first breath, all our Bibles were ripped in half, prefiguring this book here, this tumor, this thing that should not have a name. It is no exaggeration to say now, with a mouth full of blood, that Sam Pink is dire, is hilarious, is chewing up our future."
Do yourself a favor and go prebuy the book. You will enjoy. If you know Sam's writing, you already know this. If you don't know Sam's writing, go to his blog and find out.
The cover itself is worth jacking off on. As is the title of the book: I AM GOING TO CLONE MYSELF THEN KILL THE CLONE AND EAT IT.
He is also a bastard, don't you like bastards?
Author Spotlight
&
Presses
/
4 Comments
October 2nd, 2008 / 12:58 am
Shane Jones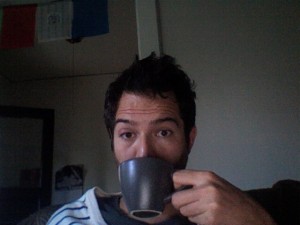 Shane Jones wrote an amazing story this week, telling himself "this is so amazing" over and over again, breathing like a convicted sex offender, and climaxing several times before submitting the story to over ten small press journals who swiftly responded with "go fuck yourself."
Jones had been working on the piece for several days in which his comments to himself went from "this sucks balls," to "this will at least get accepted by Typo because I'm not black" to "i can probably send this piece of shit to Six Sentences because they take any piece of shit" to the eventual sexually gratifying "this is so amazing."
From Albany, Jones says to htmlgiant: "It was a rough couple days, but I can finally say my story is amazing.  Fuck you Paris Review!!!"  Jones then floated into mid-air, masturbated once more to the image of Sweet Face Kevin Sampsell, and proceeded to shoot rainbows from his fingertips.
Author Spotlight
/
7 Comments
October 1st, 2008 / 9:53 pm
Mike Young
Rising literary fiction star and sinus headache Cheerios consumer Rachel B Glaser has started a new blog. Currently up are two stories previously published in Columbia and [sic]: "Michael Jordan, in general" and "The Sad Girlfriend." Soon Glaser will be interviewed by all-star Kelly Spitzer. She also has stories recent or forthcoming in New York Tyrant, Barrelhouse, and American Short Fiction.
Asked for a quote, Glaser said: "It smells weird because I just turned on the oven then I turned it off."
Author News
&
Author Spotlight
/
6 Comments
October 1st, 2008 / 5:04 pm
Justin Taylor
Talking Man is now available–like as of yesterday, this is some serious brand-newness–from Small Anchor Press, a Brooklyn-based independent chapbook publisher of poetry and prose. Some of their other titles include Joshua Cohen's "Two Tribal Stories," Joshua Furst's "Close to Home," Mathias Svalina's "The Viral Lease" and Betsy Wheeler's "Start Here."
Talking Man is the second in a series of four thematically linked novellas to be published in 2008 and 2009. The first part, Man Talking (that was released–it's actually the fourth novella in the series; don't ask) is available as a FREE DOWNLOAD from Heppner's website. Talking Man is being released in a gorgeous handmade, highly limited edition of 60. I can't wait to get my hands on one, and you shouldn't either.
The other two novellas–Man and Talking–will be released in December '08 and Sometime '09, respectively. No word on what format(s?) those works will be available in, but why don't you stop worrying about that right now? You're already two novellas down–time to get cracking.
Said publisher Jen Hyde to me in a gchat yesterday: "Mike Heppner is two steps ahead of the publishing world [and] you can quote me as a publisher on that one[.]" Done and done, sister.
Oh, and for those of you in the NYC area, Small Anchor writes: "We hope you will join us Friday, October 3rd at Freebird Books & Goods at 7:30PM for a reading and release party."Directions are available at www.freebirdbooks.com.
Author News
&
Author Spotlight
&
Presses
/
No Comments
October 1st, 2008 / 12:45 am
Jimmy Chen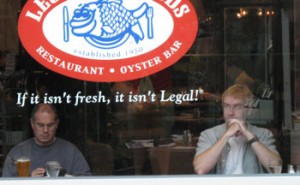 Mark Baumer's everydayyeah chronicles (among author interviews, short fiction, misc.) with a new photo posted every day, inscriptions of the words EVERY DAY YEAH on practically anything imaginable: gumdrops, mattresses, crosswalks, pasta, etc. Part of the thrill is seeing what he comes up with—the sometimes imprudent terrains (i.e. public property, high altitudes, heavy traffic, etc.) on which he writes the words, and the orientation of the words (sometimes they are written in different places and only come together to form the phrase at a certain perspective. It's a hefty commitment, not just of time, but of creative mental energy. Each incident is fresh, peculiar and intuitive.
I always ask myself, "where the hell is he taking these pictures?" (Let's just say the guy gets around.) Many of the photos remind me of Where's Waldo or the hidden bunny on the Playboy covers, as one often needs to search around before finding the phrase. Baumer, who seems highly in control of his own aesthetic, is probably doing this on purpose.
Another Baumer creation is Best Friends: photos of complete strangers (or light acquaintances at best) caught in an unlikely incidence of quasi-romanticism—at least through Baumer's eyes. Of course, the appropriations are sarcastic, yet there's a hint of solemnity—a certain loneliness conveyed, from not just the subjects, but the voyeur Baumer himself. He seems to always be looking, seeking comfort in the awkward spaces between limbs, averted eyes, and pending smiles.
Every day, every day. Yeah, yeah. I wouldn't worry about OCD for Baumer, just server space.
Author Spotlight
/
2 Comments
September 30th, 2008 / 3:31 pm
Blake Butler

Lily Hoang's new novella, PARABOLA, which won the Chiasmus Press Undoing the Novel Contest last year, is finally out and available for consumption. From the looks of it, this thing has got to be incredible. From what I've read of Lily's work (including an ebook I put out by her earlier this year THE WOMAN DOWN THE HALL) she is quite on top of the semi-surrealist mash up of fairy tale and Lynchian narrative, in a way not quite captured by anyone else I've seen.
PARABOLA is definitely worth checking out, and is the first in a slew of novels forthcoming from Lily, you can buy it from the press's site above.
Bonus Lily links:
An awesome short fiction on Alice Blue Review
An interview with Lily about the novella and her writing process.
Author News
&
Author Spotlight
/
2 Comments
September 30th, 2008 / 12:15 pm
Jimmy Chen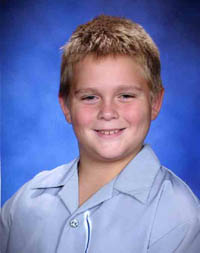 Anyone who has surfed blog comment trails throughout the 'literary online community' will most likely have encountered Ryan Manning's eerily omnipresent comments: 'the asian [insert semi well known cultural figure].' For some, this is infuriating; for others, it's brilliant Avant-garde. I personally fall near the former category, though I will admit I grew a soft spot for him after seeing his beautiful photos on his flickr.
Another odd trait about Mr. Manning is that he changes his blogger profile almost daily, obsessively creating then deleting blogs (hence no links, as I can't find them). His blogs are either cryptic one-post references to Tao Lin (from whom he got his 'the asian blank' shtick), strange videos, or stranger whatevers. One thing is clear: for Ryan Manning, the age of blogging is conceptual terrain for 'rhetorical obscurity' as a form of narcissistic celebrity.
Think of Paris Hilton, Ryan Seacrest, the latter phases of Britney Spears, who are seen everywhere and held in the imaginations of everyone, yet who don't really do anything. Britney goes to Jamba Juice and the world goes wild. Manning goes 'units are moving' and he's got 4000+ profile views. (As of late, he's appropriated another Tao Lin phrase 'units are moving,' which he's successfully beating to death.) I'm not suggesting that our dear Ryan Manning is futile or obsolete, only that the content of his 'celebrity' is empty, wherein most likely lies self-aware rhetoric.
He lives in Virginia, per his blogger profile. I let myself believe there's some truth to him. His polaroids of the sky as seen from a pedestrian demise are indeed lovely. He chooses the palest days, such that the 'image' is mere light. In short, he edits the spectrum of useless days. I highly doubt the absence of content in his images is merely existential. He's probably making some other clever point, I bet.
Author Spotlight
/
7 Comments
September 28th, 2008 / 12:50 pm
Jimmy Chen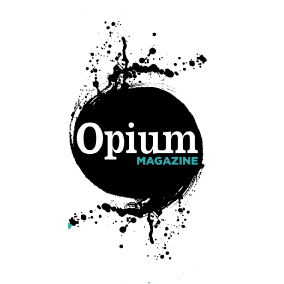 There's a little jewel of a poem by Kathryn Regina at Opium called "I Want to Know You." It's playfully humorous without being sarcastic, earnest without being sentimental—the tone is dead on. Simply put, it makes me smile.
In the poem, Regina speaks endearingly to the second person pronoun, and one is first compelled to think she's addressing you, the reader.
As the poem moves forward, [you] begin to suspect she's referring to something bigger, with Genesis and/or Purgatory light/fire allusions like, "I want to know every fire you have ever lit," and the clever, "Do you have the internet in your pinkie?"
That she is speaking to Jesus is confirmed with "Tell me how much sadness/ there is in your body and where it is located." With a simple line, she conveys more about the Passion than Mel Gibson ever dreamed. And there's this minor epiphany: "You feel like email to me."
The poem works as an e-generation hymn. It's so odd to come across a poem that's so optimistic. She ends it with a surreal kick: absurd, haunting, and beautiful:
I want to know everything about you.
What kinds of trees appear in your dreams
and what whale is beached in your room when you wake.
I don't know if Regina is religious, and I don't think that's the point. Christians ruin Christianity with hypocrisy and hubris (and the constant 'holy wars' aren't helping the PR). This poem may just well redeem this whole Jesus thing, as it reminds us of the simple act of love. Non-sexual, non-platonic. Just love.
Perhaps she's speaking to you after all.
Author Spotlight
/
4 Comments
September 27th, 2008 / 12:47 pm
Jimmy Chen
J. A. Tyler's writing has caught my attention with his fairly (uncommon these days) old school 'modernist' approach. Think of William Faulkner and/or Virginia Woolf's obsessive hermetic space. I call it 'brainy fuzziness.'
He seems focused on timeless narratives—with hardly ever any pop references non-intrinsic to the human condition. This is real dangerous ground to tread, because it's painfully boring when not done well.
I usually respond more to edgy vernacular, with prosaic and almost glib tendencies; but J. A. Tyler really hits some stunning lines, especially with "In Their Palms" published recently in Pequin:
"And he woke to the light of a still white wall and an up-tilted palm holding stains of pills begging water and tears."

"She held her palm to the sky and the ceiling and smiled and slept and pierced him with her lashes. And she smiled. And his sun shifted in its sky."
There's also lyrical play in the 'palm' motif, as he repeats alternate versions of "in their palm/in her palm, etc." Tyler seems cognizant of the spatial implications of words or phrases, almost like e.e. cummings coaxing the eye down the page with words which act as tonal notes. Tyler writes one line paragraphs "And he went," and "And he did," (the 'and' phonetically paired with other one line paragraphs "An invisibility," and "An affair.")
It's refreshing to see such intricately composed writing and restraint from today's ironies in writing, which I'm shamelessly guilty of, but that's neither hear nor they're.
Author Spotlight
/
4 Comments
September 26th, 2008 / 11:38 am