Word Spaces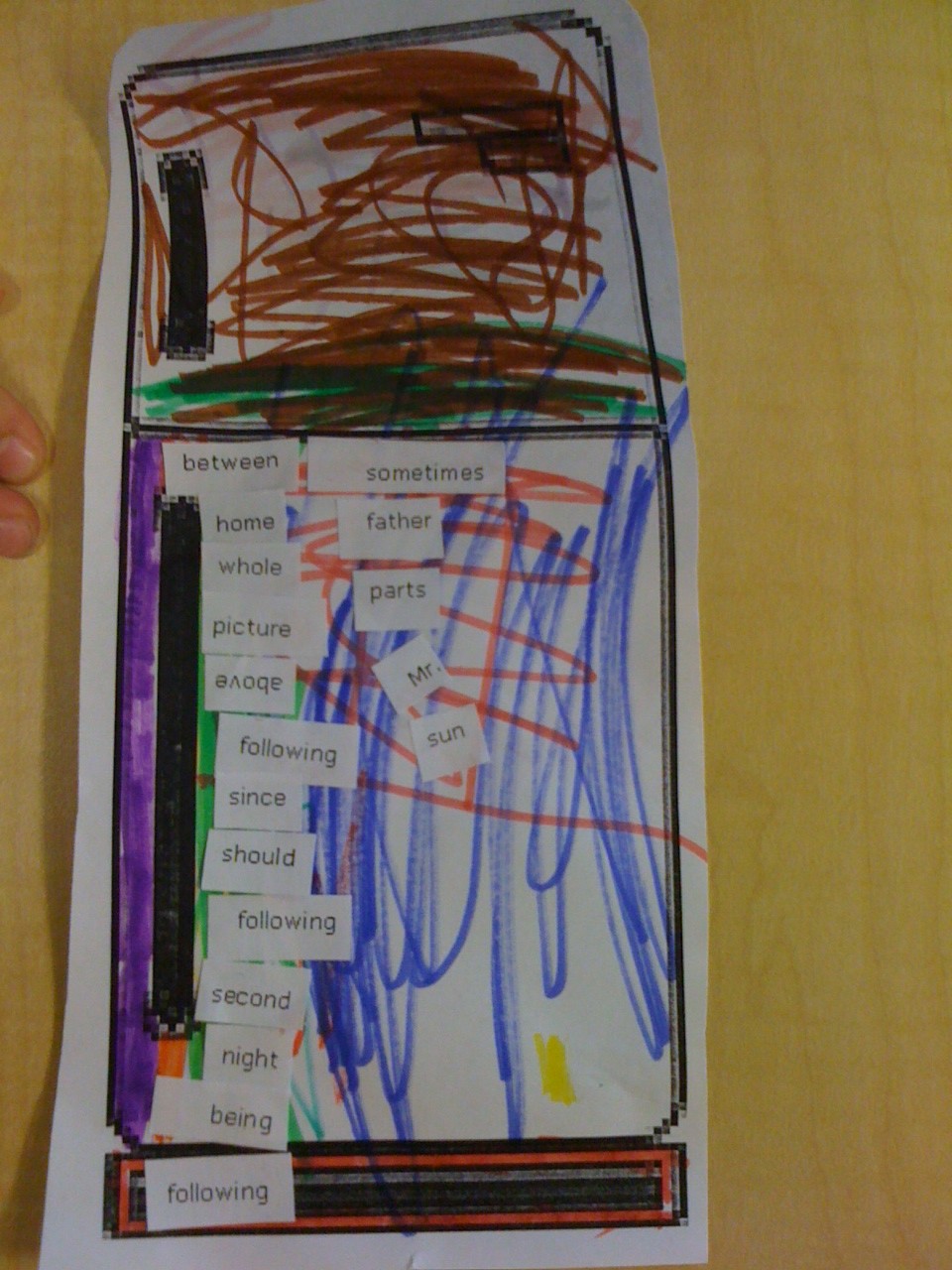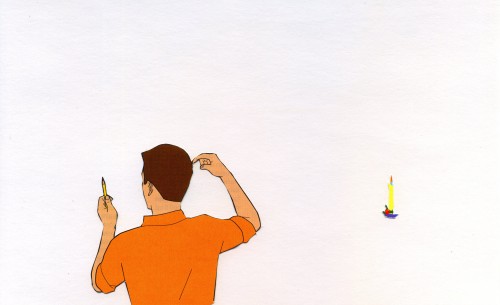 The following post consists of two things:
Collages I've made on 5×8″ index cards over the past year and a half
Paper towels and tissues I've used to stop myself from bleeding, the result of pulling off hangnails while sitting in front of a computer
I view this as an example of literary criticism (feel free to do otherwise).
From the soon-to-be-updated website of my current employer (modified):
BRAND COMMITMENT™

How do you maximize it for your brand?

What does every marketer want?  A consumer who chooses their brand, spends more, and stays loyal. HTML Giant understands this consumer and can help shape their commitment as never before.

That's because we see the purchase as a journey. Our role: to deliver communications that address the consumer's needs and influence them every step of the way. LEARN MORE >
For a while now I've thought that there should be a name for the following phenomenon. You think of something. And then you immediately realize that someone else has to have already thought of that very thing.
For example. A friend asked me what my Halloween costume is going to be. And I jokingly said that I was going to go as the octopus that was deleted from The Goonies. And that alone might be an example of this phenomenon, although it's not the best example. But my next thought was: I said, "No, I'll dress up as a businessperson, but I'll have eight arms, and I'll wear a pin that says, 'OCTOPI WALL STREET.'"
And I knew at once that somebody else has already thought of that (the pun, if not the precise realization). That had to. And…voila!
"We do not like work that says, "Like me; I'm human and unassuming just like you. I ask only a little of your time, a bit of appreciation for my hip intelligence, my sentiments, my (you may be pleased to discover) clever way with words and sounds. I ask for passive acceptance."" — Cal Bedient
It's been said and said, but David Lau and Cal Bedient say it all strikingly in this interview with Sandra Simonds about Lana Turner, one of the best lit spaces going for telling the moment where to go mow itself.
Julie Sokolow on the drug-addled origins of "The Lobster Kaleidoscope" and Chômu Press' Dadaoism anthology.
A year ago, I dispatched my idiosyncrasies overseas.  I had been reading the work of a UK-based publishing house called Chômu Press and felt a kinship with their unabashed promise:  "If you are tired of tepid, humanistic realism on the one hand, and the narrow fixations of genre on the other, Chômu Press may be what you have been waiting for."  There was something devilishly discourteous about it, but I was intrigued by the Steppenwolf-style invitation to Chomu's own Magic Theatre.  Now, seven years since I originally penned the drug-addled artifact that is "The Lobster Kaleidoscope", I find it "trippy" to experience it anew within the context of Chômu's impressive Dadaoism  anthology.
Dos Dazzling Deets re Dadaoism (An Anthology):
1) Metaphysical Portals:  As a devotee of Borges, Kafka, and Beckett, I get kicks out of masterful meta-ness, psychological terror, and gallows humor, all of which Dadaoism's opening piece, "Portrait of a Chair", possesses in levels of toxicity.  In Reggie Oliver's story, a retired antiques dealer, keenly aware of his mortality, attends an auction where he purchases a captivatingly simple portrait of a chair.  The portrait is not just some symmetrical schlock to mount over a mantel, but rather, a metaphysical portal to a dimension in which inanimate objects are paradoxically conscious, and the narrator, having undergone a paralyzing transformation, must fight through telepathic intellect alone to survive. READ MORE >
The story goes like this: Earth is captured by a technocapital singularity as renaissance rationalitization and oceanic navigation lock into commoditization take-off. Logistically accelerating techno-economic interactivity crumbles social order in auto-sophisticating machine runaway. As markets learn to manufacture intelligence, politics modernizes, upgrades paranoia, and tries to get a grip.
The body count climbs through a series of globewars. Emergent Planetary Commercium trashes the Holy Roman Empire, the Napoleonic Continental System, the Second and Third Reich, and the Soviet International, cranking-up world disorder through compressing phases. Deregulation and the state arms-race each other into cyberspace.By the time soft-engineering slithers out of its box into yours, human security is lurching into crisis. Cloning, lateral genodata transfer, transversal replication, and cyberotics, flood in amongst a relapse onto bacterial sex.
Neo-China arrives from the future.
Hypersynthetic drugs click into digital voodoo.
Retro-disease.
Nanospasm.
These are the generations of America.
Sirhan Sirhan shot Robert F. Kennedy. And Ethel M. Kennedy shot Judith Birnbaum. And Judith Birnbaum shot Elizabeth Bochnak. And Elizabeth Bochnak shot Andrew Witwer. And Andrew Witwer shot John Burlingham. And John Burlingham shot Edward R. Darlington. And Edward R. Darlington shot Valerie Gerry. And Valerie Gerry shot Olga Giddy. And Olga Giddy shot Rita Goldstein. And Rita Goldstein shot Bob Monterola. And Bob Monterola shot Barbara H. Nicolosi. And Barbara H. Nicolosi shot Geraldine Carro. And Geraldine Carro shot Jeanne Voltz. And Jeanne Voltz shot Joseph P. Steiner. And Joseph P. Steiner shot Donald Van Dyke. And Donald Van Dyke shot Anne M. Schumacher. And Anne M. Schumacher shot Ralph K. Smith. And Ralph K. Smith shot Laurence J. Whitmore. And Laurence J. Whitmore shot Virginia B. Adams. And Virginia B. Adams shot Lynn Young. And Lynn Young shot Lucille Beachy. And Lucille Beachy shot John J. Concannon. And John J. Concannon shot Ainslie Dinwiddie. And Ainslie Dinwiddie shot Dianne Zimmerman. And Dianne Zimmerman shot Gerson Zelman. And Gerson Zelman shot Paula C. Dubroff. And Paula C. Dubroff shot Ebbe Ebbeson. And Ebbe Ebbeson shot Constance Wiley. And Constance Wiley shot Milton Unger. And Milton Unger shot Kenneth Sarvis. And Kenneth Sarvis shot Ruth Ross. And Ruth Ross shot August Muggenthaler. And August Muggenthaler shot Phyllis Malamud. And Phyllis Malamud shot Josh Eppinger III. And Josh Eppinger III shot Kermit Lanser. And Kermit Lanser shot Lester Bernstein. And Lester Bernstein shot Frank Trippett. And Frank Trippett shot Wade Greene. And Wade Greene shot Kenneth Auchincloss. And Kenneth Auchincloss shot Bruce Porter. And Bruce Porter shot John Lake. And John Lake shot John Mitchell. And John Mitchell shot Kenneth L. Woodward. And Kenneth L. Woodward shot Lee Smith. And Lee Smith shot Arthur Cooper. READ MORE >