HTMLGIANT / Word Spaces
Garett Strickland
HEY I'M DEPTHS. Welcome to rafters.
Hordes & choirs people my nimbus.
I'm the mouth of the Book & the Madness I make does it like this:
I fold your face
I fold your face
I fold your face
end history. WORLD FAIL.
I raise this tundra's plateau
with just a wave of your femur.
It's time to bury the sky.
http://www.youtube.com/watch?v=g5TueQOtrO0
: : : : :
My words an engine prism-breaking
to circumscribe the ring-thing slain
Michael Marduk St. George
Michael Marduk St. George
Michael Marduk St. George
crushed the head of your wyrm & one of fire climbs my staff unto the light fissured out from the hidden room above behind insiding.
I reach into you with all my special arms.
My fingers burgle your nerves of their fortresses.
NO CARAPACE, SARCOPHAGUS
Now comes the Age of the Oprah Nintendo,
we amoeba'd in the House Improvisionary.
: : : : :
You'll not see my tongue except to feel it seguing thru you to cancel your day of its dust, each speck worried between buds and in only a moment arriving at the diamond. I was doing this before anything was born.
In the Night-Desert, sentinel & shepherd.
Mountain
cast
and
valley
cradled.
http://www.youtube.com/watch?v=gxGPPDbclKg
KNOWN SOUND
THAT YOU ARE
MY SON
PERFECT THUNDER
: : : : : : : : : : : : : : : : : : : : : : : : : : : : : : : : : : : : : : : : : : : : : : : : : : : : : : : : : : : : : : : : : : : : : : : : : : : : : : : : : : : : : : : : : : : : : : : : : : : : : : : : : : : : : : : : : : : : : : : : : : : : : : : : : : : : : : : : : : : : : : : : : : : : : : : : : : : : : : : : :
Random
&
Word Spaces
/
3 Comments
June 28th, 2013 / 12:24 am
Garett Strickland
THE ORAL MODE of composition — underused, perhaps kept hidden — where was it we found it first?
I myself am Native Appalachian, and so you figure there's that: the whole history of telling & singing murder ballad news carried over from wherever the fuck the muddy blood sprang over from from Europe, the campfire & the kitchen table, raconteur tall tales, et cetera.
I have, I'm told, a gift as an orator, as a storyteller. People sometimes say to me they say, Garett you should write how you talk. I say, No thanks. Those things are different.
There's a load they tell you in the stone age classes about show-don't-tell, tho telling stories is always the most important aspect stressed by those classes as such, no matter how much the general public appreciates an image.
A story paraphrased or
condensed unwritten divorced
from the page becomes a kind of fable.
Speech, however, has properties wholly apart from poem- or storycraft. Speech possesses aspects of musicality that cannot exist on the page. The musicality of written or typed text is closer to a form of notation toward that musicality, and in its own right holds potential for a variety of readings and tones.
Speech is sound and so primal. We understand vocal detonation, whether it's linguistic or otherwise.
Craft Notes
&
Word Spaces
/
1 Comment
June 5th, 2013 / 2:51 am
Impossible Mike
and how to eclipse the object
http://youtu.be/PzVX0ZnBWmw
retake
like the spatial configuration of what it means to be in love
do you want to learn how to float
Such–such fiasco that folly takes a hand. Such bits and scraps. Seen no matter how and said as seen. Dread of black. Of white. Of void. Let her vanish. And the rest. For good. And the sun. Last rays. And the moon. And Venus. Nothing left by black sky. White earth. Or inversely. No more sky or earth. Finished high and low. Nothing but black and white. Everywhere no matter where. But black. Void. Nothing else. contemplate that. Not another word. Home at last. Gently gently.
[Samuel Beckett // Ill Seen Ill Said // Nohow On]
Word Spaces
/
3 Comments
May 24th, 2013 / 4:16 am
Garett Strickland
I AM THE OCEAN.
I am the tide. I am the rise and fall of a wave on a shrub laid in the earth. There are limits to my destruction, but not many. People, they say, "Where have you been? Ain't seen you in a while?" I am always gone and leaving all the time. This is a mode. I forget what I learned to learn it again, to learn it better than it can.
Do you know what it is to wake from a dream unknowing? You were there and now you are here where do we begin from there. When last you left, it was unexpected and it remains still. I cannot remain still.
The door swings open white cube. There are bodies and objects, differences. Spaces exist between the bodies and objects. Some you can drink and some you can eat. Inside the white cube the cube does a noise. The noise is the bodies and objects coming out of the noise, like cartoons come out of the dark. It's white in this cube. The noise isn't white. The noise has no color but the colors come out of it. Noise makes objects emerge to ear, choppings from the body-objects. The nails that hold the room together turn in their sleep and loosen from the wood of walls' embrace. [ . . . ]
: : : : :
I'm making a report of sorts (explosive sound). Tho certain oaths as it were undone to do so. In an age of new popes certain truths untethered can only be the way, need of the idea of the new. There is no secret no spark that will not in the very eye of night of time not rise as a shifting color from its source to know thru to us as each other. I release an animal day after day recoaxed to form from the wrecked hide & bone rended dissembled by dogs and gathered in a garbage bag, released at our wide edge of woods. Songs unheard unspoken in the sound-film.
The ECCLESIA at the circumference-is-nowhere, we're a bridge. We're chaotic, indigenous to blood, and refracting in every direction. The sublime, the grotesque, the liminal and the devotional are constantly excavated, birthing new edges and boundaries to be explored. It's in this that we, in our research and efforts, render all (other) expression possible.
In armchairs we here in the zenithal crux of the Azonic Lodge map and sigilize with thought the hidden canon, burn up or birth to throw the shapes that find their purchase.
TALL IS MAN
a PALE LIMP CYST
to speak a
TETRIS GRAMMAR TONGUE
AI EIS AI OU PHAR DOU IS EI OU
[ [ [ I have come in great rest in order
that we may give rest to our light in the root ] ] ]
We go down to Chaos to save the whole Light from it,
lighthouses slow rising from the blowholes of great whales
as their mouths no longer sucking lemon open
and the rotating beams as they meet they touch
describe the teeth of the crystalline cogwheels archoniked.
: : : : :
The first exoteric face of the ECCLESIA effloresced in Portland, OR about six years ago. This the only assembly as such going back epochs previous, tho still retaining past methods and likewise those existing on the mirrored fold of our future. In this way members are always emerging, realization actualized in the mystery school,
out of focus / triple-exposed
green room monitored and radioed,
shrinking and expanding of the unground
supporting the Fire in Thought.
Here you sense some other metaphysical machines. These constructed in long-standing cloistral projection, beam hatched of past sun-crust wombing swarm to burst forth each fully formed. In the rafters of what was called sky we take up with the echelons.
Hail fellow. Hello sister.
If you're with it you'll know, ya know ya know.
Whoa now you get it you feelin' me.
Ha ha yeah you got it.
Here is your staff and your tablet.
THE TABLET GIVES RISE TO ITS OWN EFFACEMENT
: brilliance is worthy only in the dark :
: : : : :
So I mean yeah come in have a seat. You want anything to eat or drink? It's only as hard to get comfortable as you make it so they say. But bitterness embarrassment futility doubt regret disappointment is some of the best fuel never talked about. As you can tell we're talking hear but the words seam funny in this great degree of silence we've soared like a box-kite outside.
Anyways I wanna play you this song. Listen to this song. You're gonna love it.
: : : : :
TIME OUT RUNG ROUND CAGES ORBIT TONSURE SHATTER CUNT FOLDS BLOOMING CREST OF CROWN BOWL PASS IN WELCOME WEB SILK FLAME POUR IN THRU NOSTRIL FACING OWL FACED UPWARD CATCHING DIVING HEART BARB UNDONE ORB EXPANDING US TO THIS THIS THIS THIS THIS THIS MOMENT
[_______]
Behind the Scenes
&
Technology
&
Word Spaces
/
2 Comments
May 9th, 2013 / 2:28 am
Reynard Seifert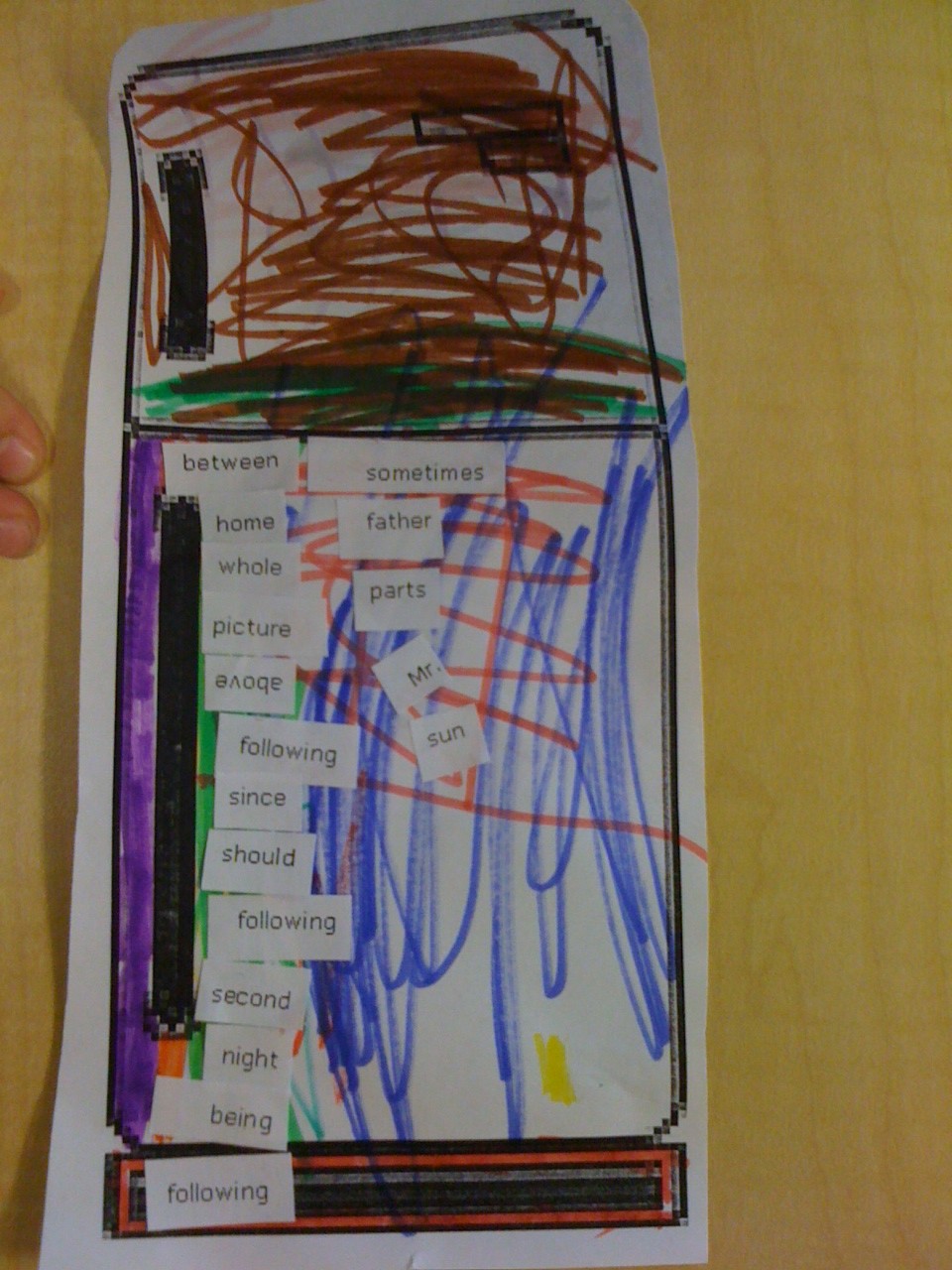 Word Spaces
/
3 Comments
February 6th, 2013 / 12:17 am
Andrew Weatherhead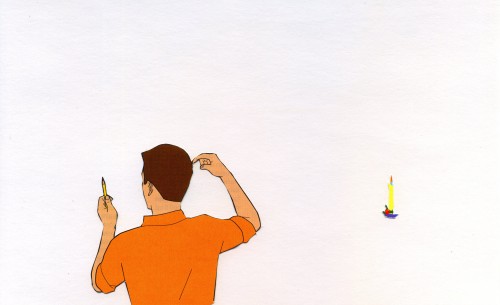 The following post consists of two things:
Collages I've made on 5×8″ index cards over the past year and a half
Paper towels and tissues I've used to stop myself from bleeding, the result of pulling off hangnails while sitting in front of a computer
I view this as an example of literary criticism (feel free to do otherwise).
Word Spaces
/
11 Comments
December 20th, 2012 / 9:20 pm
Erik Stinson
From the soon-to-be-updated website of my current employer (modified):
BRAND COMMITMENT™

How do you maximize it for your brand?

What does every marketer want?  A consumer who chooses their brand, spends more, and stays loyal. HTML Giant understands this consumer and can help shape their commitment as never before.

That's because we see the purchase as a journey. Our role: to deliver communications that address the consumer's needs and influence them every step of the way. LEARN MORE >
Word Spaces
/
3 Comments
November 7th, 2012 / 12:39 pm
A D Jameson
For a while now I've thought that there should be a name for the following phenomenon. You think of something. And then you immediately realize that someone else has to have already thought of that very thing.
For example. A friend asked me what my Halloween costume is going to be. And I jokingly said that I was going to go as the octopus that was deleted from The Goonies. And that alone might be an example of this phenomenon, although it's not the best example. But my next thought was: I said, "No, I'll dress up as a businessperson, but I'll have eight arms, and I'll wear a pin that says, 'OCTOPI WALL STREET.'"
And I knew at once that somebody else has already thought of that (the pun, if not the precise realization). That had to. And…voila!
Word Spaces
/
28 Comments
September 14th, 2012 / 11:04 am