chapbook festival
A couple of days ago Baby Adolf, the first Bambi Muse baby despot, and I met up at a McDonald's near a Germanic bakery located somewhere on the Upper East Side.
My outfit featured, among other things, sunnies. As for Baby Adolf, his deck was brown.
Both Baby Adolf and I ordered vanilla ice cream cones. And after we ordered second vanilla ice cream cones, Baby Adolf screamed (unlike PhD's, &c, no one at Bambi Muse is captivated by "conversation") about how he wanted to be on HTML Giant quite badly. After all, Baby George III has been and so has Baby Marie-Antoinette. Why should the boy who will one day kill six million you-know-whos and five million other oh-who-cares be denied the chance to appear on the site run by the continually cute-looking Blake Butler?
"Maybe," I said to Baby Adolf, at the McDonald's near the Germanic bakery on the Upper East Side, "if you gave me three Baby Ruths, four Jujubes, and a Coca-Cola then I'll publish your summary of the 5th-annual CUNY chapbook festival on 9 May 2013."
Baby Adolf grumbled his assent. What follows is Baby Adolf's summary:
***
On Saturday Baby Adolf, accompanied by his mommy, Klara Hitler, visited the 5th annual chapbook festival at CUNY. For some time, Baby Adolf believed CUNY was just another way to say NYU. After Saturday, though, Baby Adolf realized that they were two separate entities. NYU is a big ugly college that's usurping the West Village, while CUNY is a big ugly building in Midtown.
The festival took place in a plain white hallway, and, according to Baby Adolf's eyes, there wasn't anything particular festive going on. There weren't any military marches or bellicose speeches prophesying global war along with the resurrection of the fatherland. Unfortunately, there were too many boys who looked like they'd just blown in from Bedford as well as a fair amount of girls whose clothes suggested that they had just come here from their weekly Park Slope Lesbian Separatist meeting.
But some commendable creatures were present, like Baby Ji Yoon. She spent most of her time at the festival taking mysterious notes, as if she were spying for a certain country that starts with North and ends in Korea.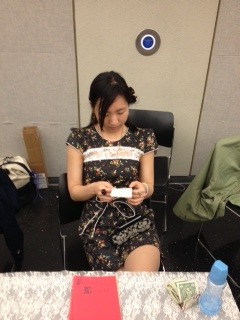 Mean
&
Vicarious MFA
/
Comments Off

on Baby Adolf's Summary of the 5th Annual CUNY Chapbook Festival
May 9th, 2013 / 3:02 pm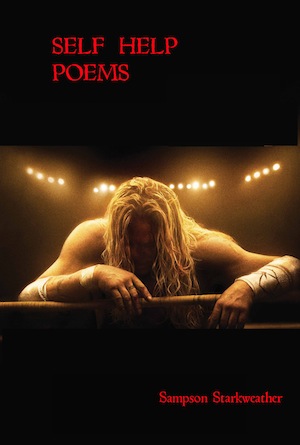 The 2012 Chapbook Festival starts tomorrow. I call it "the good AWP." In preparation, this year I've asked Sampson Starkweather, 1/5th of the Birds, LLC braintrust and chapbook enthusiast, some questions about the form. Go get a blanket–he links up some great stuff that is way worth the read.
Hey Sampson, what's the deal with chapbooks?
Funny, that's how I start all my stand-up comedy gigs. It kills of course. So I wanted to start with a quote from James Haug's Why I Like Chapbooks (Factory Hollow, 2011), who waxes lyrical "Chapbooks are stealth books./ They can slip under a door./ They don't impose. They suggest./ They're not one thing or another. They don't take much time. They're sly and easy to ignore. They imply, insinuate, inquire./ They don't expect an answer./ They have a long history; they have no history." READ MORE >
I went to the Chapbook Festival last year and it was really cool. Justin Taylor wrote about it in 2009. Lots of goodness. This year it looks to be great too. I know there are some "off-site" events going on. People ought to list them in the comments.
From their announcement:
Wed Mar 2–Sat Mar 5
Third Annual Chapbook Festival
The Festival celebrates the chapbook as a work of art and as a medium for alternative and emerging writers and publishers. Now in its third year, the festival features a two-day bookfair with chapbook publishers from around the country, panels, workshops, a reading of prize-winning Chapbook Fellows, and a roundtable and launch of Series II in Lost & Found: The CUNY Poetics Documents Initiative.
The Festival is free and open to the public, though some events require advance registration, as indicated below. READ MORE >
Events
/
Comments Off

on 3rd Annual Chapbook Festival (NYC)
February 17th, 2011 / 1:43 pm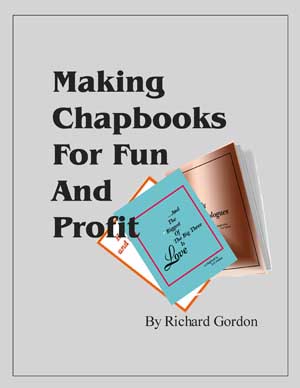 Hey friends. I'm freshly returned to the CITY THAT NEVER GETS CARBOMBED after a sweet Southern swing through Atlanta, GA and Sarasota, FL. In Atlanta I got to hang with Heather Christle, Chris DeWeese, Blake Butler, Amy McDaniel (who put me up and showed me around) and Casey McKinney.  Then Amy and I roadtripped on down to Sarasota for two days of events at New College, where we stayed with Alexis Orgera and rolled deep with Alec Niedenthal. Skol shots with coconut pie chaser! A panel discussion on readings for models! Un-ironic dancing! It was college all right, and I loved it. But I love being back, too, and to prove it I will spend today in a windowless room with nineteen or so other "chapbook" publishers, selling small amounts of paper for small amounts of money. The Chapbook Festival is free and open to the public. It is in the ground floor of CUNY at 365 Fifth Avenue, at the corner of 34th street, right by the Empire State Building. The fair opens at 11:30AM and goes all day. There's also free workshops and a Marathon Reading that will be running all day as a kind of parallel narrative to the rest of the festival. Yesterday I was traveling, but co-Agriculturalist Jeremy Schmall tells me that organizing poet Ana Bozicevic has really outdone herself this year, which must be pretty good since I had so much fun last year that I posted about it twice (2). So I'm pretty pumped that he has to go to work today and I get to go to CUNY and do this. I know Mike Young will be there, and I'm sure that further surprises will abound. If you're around, you should come see us.
ANNUAL CHAPBOOK FESTIVAL
Monday May 3 &Tuesday May 4, 2010
The Festival celebrates the chapbook as a work of art and as a medium for alternative and emerging writers and publishers. Now in its second year, the festival features a two-day bookfair with chapbook publishers from around the country, workshops, marathon poetry readings, and a closing-night reading of prize-winning Chapbook Fellows. At the CUNY Graduate Center, 365 Fifth Avenue and 34th Street, NYC. Full schedule at www.chapbookfestival.org and below.
Co-sponsored by The Office of Academic Affairs, The Center for the Humanities, The Graduate Center and MFA Programs in Creative Writing of the City University of New York, The Center for Book Arts, Poets House, Poetry Society of America, and Poets & Writers READ MORE >
For Immediate Release
We are excited to announce a wonderful event upcoming on April 23-25 in New York: A Celebration of the Chapbook, a three-day festival featuring panels, workshops and a bookfair. For a full schedule of events, visit http://centerforthehumanitiesgc.org/festival . 

This festival celebrates the chapbook and highlights its rich history, as well as its essential place in poetry publishing today, as a vehicle for alternative poetry projects and for emerging authors and editors to gain entry into the literary marketplace. The festival hopes to forge a new platform for the study of the chapbook inside and outside the academy.
We invite you to visit the fair and attend the panels and workshops, all of which are free of charge. Please note that the workshops require registration, and will fill up fast, so reserve your seat now. Visit http://centerforthehumanitiesgc.org/festival for instructions on how to register.