Heather Christle
Today Heather's The Difficult Farm is officially arrived and live from Octopus. If you've preordered, I believe they are forthcoming. If you haven't, you should now.
On the event of this event, Heather has kindly shared some talkings about where she makes her words:
Where I write I have only been writing for three months if we are talking about the room.  If we are talking about the chair then it has been just over four years.  If we are talking about my head we should talk about what we talk about when we talk about my head.  You go first.
Once I drew my chair when it was new (to me) and I had fallen in love with a man who had gone away for a while.  I sent him the drawing and because I married him we still have it.  The problem is that he looked through many files and areas and he can't find it.  He did find this postcard: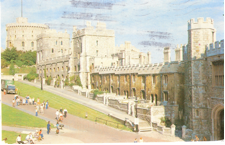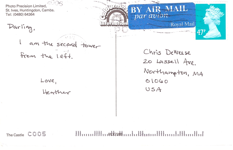 Never mind.  It works like this:
Yes, friends, there's a new issue of NO: A Journal of the Arts out. It's #7 and it's–as mentioned above–awesome. The first poem in it is "Treatment," a poem by Heather Christle, which I was lucky enough to hear HC read at The Lucky Cat in Brooklyn last Friday. There are collages by Keith Waldrop, printed in glorious full-color; excerpts from Richard Foreman's notebooks ("I make things so that I will have to explain–to myself–what I have done."); and new work from folks such as Rae Armantrout, Ann Lauterbach, Kate Colby (with what I think is an erasure of Thomas Hardy), Thalia Field, Lyn Hejinian, Nathaniel Mackey, and many more besides. 
Here's a short poem by C.D. Wright from the issue-
Back Forty Poem

 

a barn held up by a pitchfork

surrounded by field on field

of wildflowers, butterflies,

cow pies, beyond which,

the snake-infested woods

the high-voltage fence

the big-stripe inmates
+
And here's two lines from Ann Lauterbach's "Ants in the Sugar (Blanchot/Mallarme)"
arousal from stupor   lifting its head

        to be silenced and to begin again
+
And now since I can't find any of Waldrop's collages from the issue online, here's an entirely unrelated one that he did with Clark Coolidge-
Uncategorized /
2 Comments
October 15th, 2008 / 5:07 pm