Infinite Jest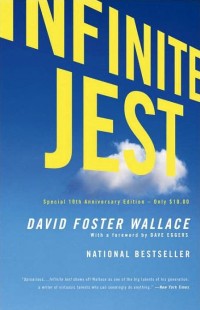 Infinite Jest
by David Foster Wallace
Little, Brown, 1996
1104 pages / $17.99 buy from Powell's
1. David Foster Wallace was born in a small town in western Ohio, best known for its jar factory. This would figure in the book, Infinite Jest.
2. The first three pages of Infinite Jest are like a key to the novel. Without them you'll probably be lost.
3. A palm tree is a recurring motif in the book, which seems to represent an opening and closing of the author's heart.
4. DFW first wrote the manuscript to Infinite Jest when he was 22. He put it in a box that he carried from apartment to apartment as he studied at various schools or followed various women about the country.
5. By the third chapter, with the introduction of the character of the cabbie, you'll probably feel confused and even ready to give up. Most people do right here.
6. Infinite Jest will seem like the driest book you've ever read. DFW needed to wring out the wet in literature.
7. A capable reader will read 22 pages at a time. Don't worry if you aren't capable. Most of us won't be.
8. DFW refound the manuscript of Infinite Jest at age 33, when he was moving out of the house near Tulsa. He didn't think much of it, apparently.
9. In a survey of college students, most readers found themselves skipping an average of 2 pages every 10.
10. At one point, the cabbie finds a note from his wife. This seems to represent a fracturing of the potency of language. READ MORE >
The Wallace archives open today at the Ransom Center at the University of Texas at Austin. Included are more than 100 books he owned, often annotated, and other papers, such as this handwritten draft of the first page of Infinite Jest: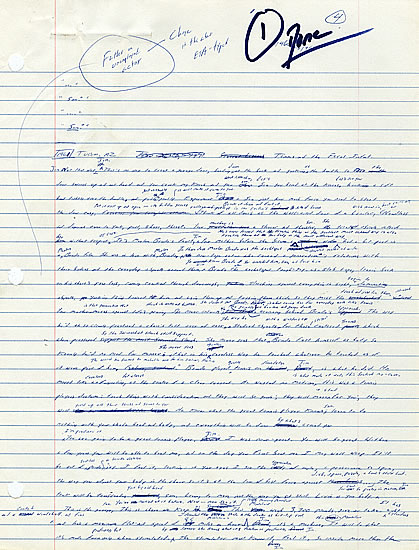 I still feel slightly conflicted over the whole nature of archives, and particularly certain natures of ones, but regardless, there probably haven't been many days in the last eight to ten years that Wallace hasn't somehow crossed my mind. Today should be no exception.
httpv://www.youtube.com/watch?v=6V-4jbto2C8
I found this bit on the Writer Beware blog: supposedly, a company called MegaNova is planning to sell the rights to robot technology that would allow one to embed a message/logo/advertisement into the robots' programs so that the robots could then trace the message/logo/advertisement into the dusty surface of the moon. Call it MoonPublicity. What does everyone think? Hoax?
Really really hope this is real. Really want to live to see the Year of the Depend Adult Undergarment finally happen.