rauan klassnik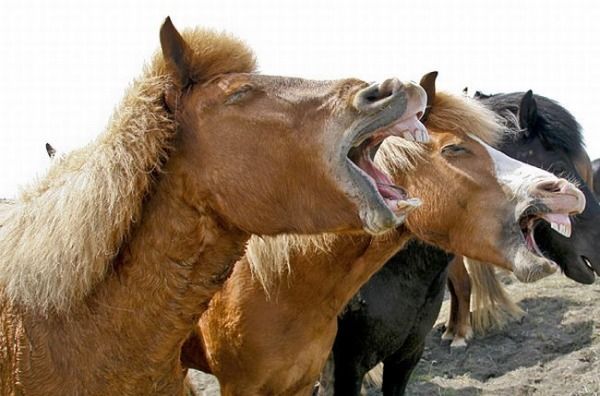 Our people do other things (or "thangs," which is the way I recommend saying that word), and here are some of them. Feel free to support Htmlgiant in new, exciting ways by engaging our contributors outside of this domain. All of their shit is hot, and you should love them as I do.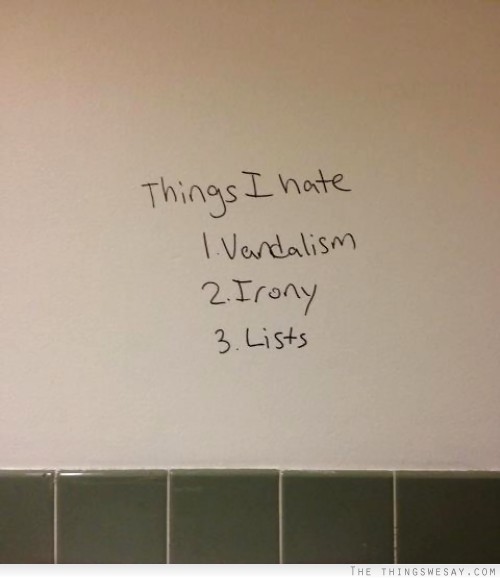 When I first moved to Manhattan in 2008, I roughly knew about three people in the entire city. I lived in a bedbug-infested apartment on 139th Street with a sugar baby, a Bubba Gump Shrimp waiter, and a digital retoucher. At the time, I thought I was going to work as an assistant in photo studios while applying to MFA programs on the side—a plan that ended up completely shifting (no MFA, au revoir photo world)—but that's not what I'm here to write about. I knew nothing of the NYC literary world, especially that of poetry. One day I had wandered into a library near 103rd to check out some familiar books. I saw a flyer for POETRY DISCUSSION GROUP / TONIGHT'S THEME: DEATH and hung around, hoping to meet some poets. And talk about death, of course.
What I ended up was sitting in a circle with about a dozen people, myself the only person under 60. As one cantankerous woman pointed out—most of them were "sitting in god's waiting room" & it was "foolish to romanticize death". This lead to a shouting match between attendees. So there I sat, hands in lap, in a coven of curmudgeons, horribly embarrassed at how much I misgauged what I thought I would be participating in. This is not to say that these old folks couldn't have schooled me. I perhaps have never witnessed a more intensely personal discussion of death with any group of strangers in such a short amount of time in such a public space. But my point is that geography is a strange creature, containing wheels inside wheels. I wanted to meet young poets in their early 20s who would show me who they were reading, where they were reading at, where they hung out. This Upper West Side library, much to my ignorance, was not that place. I didn't find that niche for a long time, even though we all lived inside the same city. It took many misguided open mics and weird basement readings to find the people I wanted to be around.
In some ways, I'd say this year is the first year I've been asked to read at series that I didn't have to creepily solicit (although I still creepily solicit). It wasn't until my first chapbook came out last fall that people gradually stopped introducing me as "that guy who runs Moonshot". Every day is baby steps, is one poem after the other. I think it's important to highlight these gooey 'writer journeys' we hear about over and over again to show how people find their way to meeting writers and literary scenes they care about. It's hard when you're on the outside and suspect others are members of a literary cabal who are only interested in helping each other out. I've been there. I'm still there, in many ways. Not everyone who lives in NYC is geographically self-obsessed or entitled or had everything fall into their lap instantly. Does this even need to be said? It took five years just to reach a point where the lit projects I've started here (or been involved with) have been around long enough where it people come up to me and say they know who I am, what I do. It hasn't gotten less jarring yet—maybe one day it will.
Perhaps this is why it's equally surprising to find myself on a list called 23 People Who Will Make You Care About Poetry in 2013. It's even stranger to watch people—in response to this list—echo criticisms I've made of NYC's poetry scene—white, exclusive, cliquey, centered around itself. Except, in this case, I was included on an exclusionary list. I'm now that person. Numbered lists are incredibly tricky to begin with because they seem so incredibly final, as if there are no others. Here are the 23 chosen ones. There is a glib part of me that wants to say we should take these kinds of lists with a grain of salt, that wants to point out that media sites have to churn out dozens of these insipid listicles per day—but I know that will incise—and I recognize that it's my privilege that would allow me such flippancy.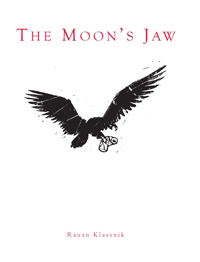 The Moon's Jaw
by Rauan Klassnik
Black Ocean, Feb 2013
76 pages / $14.95  Buy from Black Ocean or Amazon
Rauan Klassnik writes and makes ugly things seem kind of beautiful.
Rauan Klassnik is a writer I follow on Twitter. A while back he sent me a tweet asking if I would like to review his new book, The Moon's Jaw, and of course I said I would. Several days later, a package arrived in the mail containing two books, The Moon's Jaw and Klassnik's previous work, Holy Land (2008), both with autographed and illustrated title pages.
There are recurring images in both collections of prose poetry: shooting guns and shooting cocks, the female body (sometimes bruised, sometimes being ejaculated on), circles, god, duality (simultaneously: man & woman, love & hate), birds, restraints, death.
The images in The Moon's Jaw add up to bizarre dreamscapes of the fearful, beautiful, and grotesque. Lines read like excerpts from an erotic horror film script:
"Under the moon's tightening wrists–Leaning down to pet yr dog, you looked up at me & shot the dog in its face. We fucked. & we fucked again. & when I came to you were sucking me off." (page 15)
"Waves. & Flowers. Revolving. In black lace: Gurgling. You're pushing me back down on the bed now. & you've got my wrists above my head. & you're eating me out– Licking up between my breasts. It's dusk. Lights, Wound, Up, In a Spiral: Hooked–Thru Me, Like Gut, On, Fire. Yr grip's tightening. I'm sinking: Like fish–In cool shade. Birds, like planets–All ripped up." (page 22)
Ken Baumann
—
I read THE MOON'S JAW by Rauan Klassnik and first felt pissed and then I read harder and now I can't get the book out of my head. It's out now.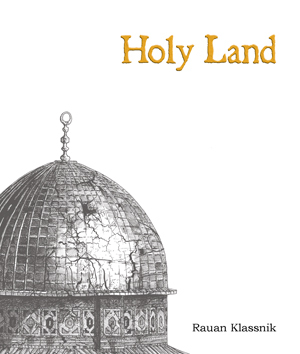 In every corner of this endlessly-cornered room there's blood running down my chin.
Uncategorized /
7 Comments
May 26th, 2010 / 6:15 pm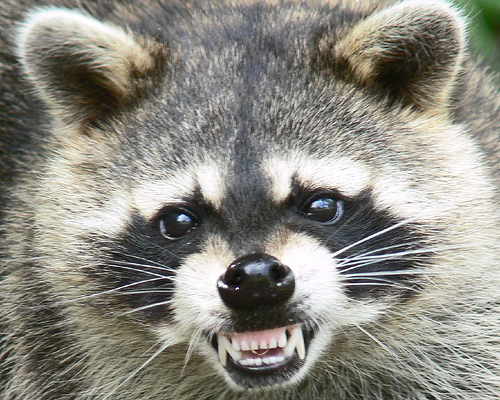 To do it she sits on the floor, and presses a talon against her clitoris, and then rips upward. Tearing up through her navel. Up to her neck. It's the most intense orgasm, brilliant and chic, and she just absorbs it—lying back, arms spread, like a crucifix. Her eyes brighten. Then close. She bleeds out. Hardening. Paled. A carnivorous flower.
The back of his neck's red, and badly wrinkled, and I want to touch it and make him young again. We sit down in the living room. And we talk about nothing. Then about her. His daughter. My wife. And I can see me breathing down on her. To heal her. I breathed all over her. At the funeral I imagine us together. And, in my arms, she's changed into a corpse. And I've entered her. And I'm fucking her harder and harder. And my tears splash down on her cold white neck. The light's dazzling. A garden of statues throbbing.
In the Louis Vuitton storefront windows there are birdcages. And in each one there's a shiny handbag. Or a glinting shoe. And, then, the maimed raccoon in the park—hunched over like it's about to crap. It came towards us. Slumped over. And rolled on its back. This happened over and over. And the whole time it looked like it was smiling. I didn't sleep well. I dreamed I shot you and ground you into powder—and the wind just swept you away. Elephants were chasing me, too, I think, and I woke up frantic, and horny, and you ended up having a tiny climax. The tiniest ever. A diamond stud. In a giant cage.
Rauan Klassnik's book "Holy Land" (http://www.blackocean.org/holy-land/) released from Black Ocean in April 2008. Rauan's currently working on a book of monsters, pacing back and forth in a fever, pitching up higher and higher: "slave ships moor inside me. And daisy rashes."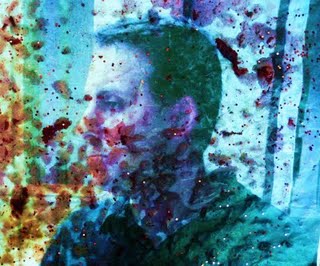 Before Rauan Klassnik joined the team here at HTML Giant, he did a little blogging in the realm of parody with a stream of posts that involved, in a semi-veiled way, the recently hotly discussed character of Seth Abramson.
Rauan provides the adventures of Sex Ableton.
They are pretty graphic, and obscenity laden, and freely riff of Sex's wife and cock and etc, but also delve further, in the way much of Rauan's work does, to larger ideas of identity, fucking, and, yes, love.
Here's an excerpt:
She drops to her knees. Unzips him. There in the moonlight. In the corn.

And two hairless testicles pop out at her.

O, how cute, she exclaims, you wax!

But where's the cock? she ponders.

And then it hits her: a house mouse cock!

O, My God she exclaims so loudly that the breath from the elongated twangy syllable she made of the word "God" swept over Sex's balls and on to his tiny hidden cock. And it all tingles. Tingles like all the stars. All the stars crushed into a dot. A scorched waiting primordial dot.

It was as though the hand of God or some other great power or creature had touched them. He was petrified. Primary. Excited beyond the capacity of anything that measures. Mass or girth. Demons or Colin Firth.
Rauan Klassnik
—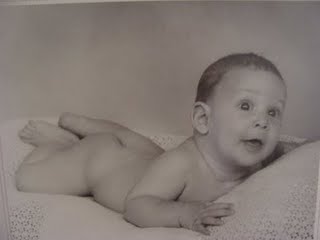 Hello, I'm Rauan Klassnik. My themes are sex, death, violence, God. And love. Yes, I'm also laced, scarred, disfigured and healed by love. Today's my birthday and my first htmlgiant post. Yeah!!