shane jones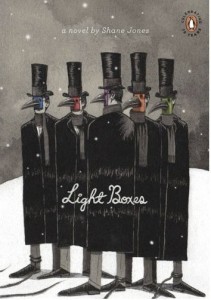 I reviewed Light Boxes back in February, 2009. In honor of the official US release day of the Penguin presentation, here are those words, slightly altered and here again:
I feel it's hard today to find a work of art that is earnest, that is compassionate. (Michael Kimball's Dear Everybody comes to mind). I was startled by Shane Jones's novel because it is so painfully both; it bleeds itself, and bleeds for others.
Light Boxes is a story about a community, about a man's quest to rid his community of February, a bitter and long spell of cold that haunts the the town and its people. I don't want to speak explicitly of the 'narrative' here, only because I think there is magic in discovery; it's a sensual work. Many of the images affected me viscerally, and will stay with me for a long time. Dead bees pour from the sky, a broken father sits in the middle of a snow-covered street, a body surfaces in a river covered in text… I could list all the beautiful and often tragic images contained within for awhile.
To go deeper: The people in Light Boxes breathe true. I felt them living and felt them dying. They seem warm, hot & cold all at once, much like the seasons that surround them. The story also functions on a level outside its own prison, outside the printed page, but, again: I'd like to keep quiet. I'd like you to discover the layers and try to keep warm yourself.
Shane has crafted a fine myth, one I hope lasts for a very long time.
Uncategorized /
5 Comments
May 25th, 2010 / 10:06 pm
To enter to win the original PG version of Light Boxes, together with the new Penguin version, buy a book from an independent press and forward the receipt to lightboxescontest at gmail dot com. If you buy a book from an indie press at a brick and mortar store, scan the receipt or take a good photo of it and email that. Your name will be entered once for every book you buy. Then I will conduct a fair drawing. ENTRIES ARE DUE BY MIDNIGHT MAY 24th. Penguin will officially release their version on May 25, and I'll do the drawing then.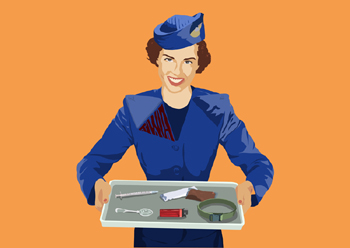 I missed the Brandon Scott Gorrell sale. Two days and the inventory already sunder and yank. Fucking internet. A few hours pass and you might as well be telling people about disco.
Heroin Hostess prints you can buy. But will the customs fees go ouch?
But you can't get all the back issues of Nude Magazine. Unless you live in Europe. They are cheaply priced and look amazing. Black velvet painting, Terry Southern, Jaime Hernandez–that's one issue!
You can buy absinthe online but must pretend it's for the bottle not the juice.
The value of the item is in the collectible container, not its contents.

The container has not been opened and any incidental contents are not intended for consumption.
Right…
You can buy first edition Edgar Allan Poe for $662,500. (But that was months ago–Bee Gees and Banana-seat bikes.)
You can buy first edition Light Boxes by Shane Jones for $199.95 new and $250 used. I am fuddled, I'll admit.
Tao Lin has 40% of the drafts of a short story folded into a "religious tolerance" holding envelope/carrying case. It is for sale, but you knew that already.
Justin Taylor
—
Top of the NYT website right now: a feature story on the troubled production of Where the Wild Things are, the new Spike Jonze movie based on the classic and beloved book of the same name, by Maurice Sendak. Reads the subhead: Spike Jonze is known for making videos and movies his way — fast, cheap and dirty. Sounds like Shanes Jones to me! Anyway,  here's to the future. If WB tries any funny stuff with Light Boxes, Team Giant will be here to lead the ALLCAPS consumer revolt. We're here for you, boys.