Supermachine
The first time I met Ben Mirov he asked me to "pound it" after I said something funny and ever since then I've been sort of unequivocally on-board with Ben Mirov and what he does.  I'm glad what he does is poetry.  His first two books I is to Vorticism (New Michigan Press, 2010) and Ghost Machine (Caketrain, 2010) are books I recommend to people ceaselessly and re-read often for enjoyment, relaxation, and inspiration.  Now he has this bright yellow chapbook called Vortexts to be released by Supermachine this Friday alongside Ben Fama's likewise brightly-colored New Waves from Minutes Books.
Carson Mell has a story in the new Electric Literature, which I bought because he and Lynne Tillman were published in it. I bought a copy of that and all the Supermachines (which are at least as great as everyone says they are because it's true) and so I felt really indie lit and hip and stuff for about a week on the bus with people wondering "oh that must be the contemporary literature I hear so much about never" and then I fucked around and started re-reading a book that was written ninety years ago and which made me feel I could climb a building if I only wanted to.
Anyway I don't much care for Mell's fiction and I thought the publication quality of Electric Literature was quite poor considering how cool their website is, but then they do manage to pay their contributors and obviously care much more about the web with their apps and all, so maybe that makes up for it. I dunno nothing. Lynne Tillman's thing was great of course. All in all though, I was underwhelmed. But I still think Carson Mell is a genius at making these videos, so who gives a shit I guess.
Periodically Speaking hosts SUPERMACHINE and 6X6 (UGLY DUCKLING PRESSE) magazines—

Ben Fama and Matvei Yankelevich in conversation with
(and readings by):
Macgregor Card
Corina Copp
Dorothea Lasky

Founders of influential literary mags 6X6, SUPERMACHINE, and the former GERM, with writers they've published over the years, discuss the past, present and future of literary publishing, after brief readings.
Tuesday, April 12 · 6:00pm – 7:30pm
DeWitt Wallace Periodical Room, The New York Public Library
Stephen A. Schwarzman Building @ 5th Ave & 42nd Street
New York, NY
(FACEBOOK)
THIS FRIDAY @ 8
FACEBOOK INFO HERE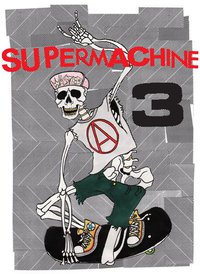 LINE UP:
Sasha Fletcher
Levi Rubeck
Joseph Calavenna
Andrew Gorin
Lily Ladewig
CaConrad
Ben Pease
Ben Mirov
Mark Leidner
Rachel B. Glaser
Kristen Kosmas
(so good!)
Even if you don't attend because you're at Blake's thing, SUPERMACHINE 3 is one of the best single editions of a literary journal I've ever read.  I went cover to cover and skipped nothing and enjoyed everything.  Highly, highly recommended.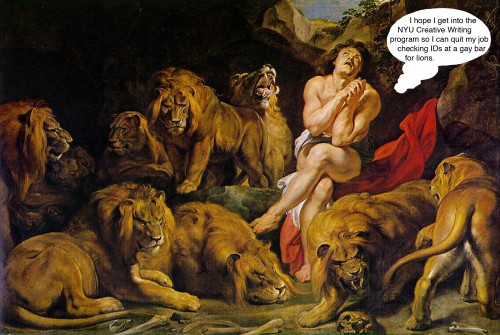 WINNER: Frank Tas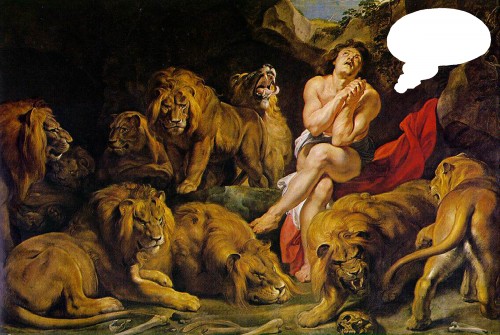 BEST CAPTION GETS INTO NYU NO QUESTIONS ASKED (WE GOT THE HOOK UP…)


For beautiful, high-quality design that's built to last but doesn't overshadow the content, in fact is some of the best, most exciting content being published with beautiful, high quality design that's built to last, check out Supermachine and give them money. READ MORE >
Ben Fama emailed the Pioneer Valley Division of HTMLGIANT to let us know that SUPERMACHINE is having a release party on Friday in New York for its second issue. It looks pretty epic. Here are the specs:
Friday, Sept. 10, 7:30pm
The Schoolhouse

330 Ellery St. #3 (between Broadway and Beaver)

Readings! Music! Your Autumn Crush!

with:
…
Macgregor Card
Chris Cheney
Lonely Christopher
Corina Copp
Jon Cotner
Joanna Penn Cooper
Brandon Downing
Anne Cecelia Holmes
Lauren Ireland
Simone Kearney
Dorothea Lasky
Paul Legault
Emily Pettit
Christie Ann Reynolds
Matvei Yankelevich
Matthew Yeager

With Music by FORMA

Are You Fucking Kidding Me ?!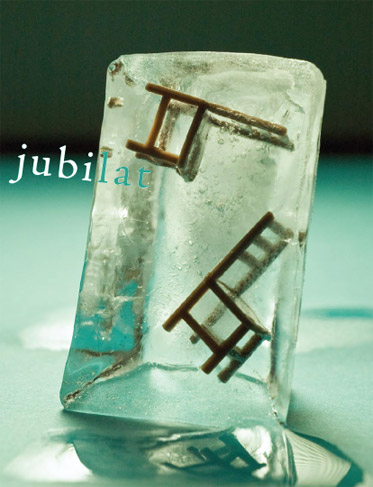 Today was a good day for poetry. [
Today
too:
Heather Christle typed my favorite poem
from
P&HPH
.) I had the pleasure of typing Natalie Lyalin's "All the Missing Children Go to Florida" in the comments section of
last week's NLW:
SUPERMACHINE
post
. A dwarf in a week shouldered by GIANTS (
Amy
,
Blake
), super Seths (
Landman
,
Parker
) and other guests (
Erin McNellis' Noö review
), my post shrank from showing and was tall on telling. Calling
SUPERMACHINE
Issue One "one of the best first issues of a journal I have read in a long time" was not overstatement, however, but its opposite. In fact, I would venture that most of
my
posts here (and elsewhere; indeed, most posts on many blogs anywhere) are marred by such short circuitry. I wish I were better at blogging, that I could rise to criticism and its callings (e.g.
Justin Taylor on this blog
and 
Matthew Zapruder on that one
), but for now I will stick to telling what I like and save showing for another day. Here's something I like: Natalie Lyalin had poems in the last two debut issues of poetry journals that, like
SUPERMACHINE
, left me unable to suppress understatement, 
Model Homes
(June 2007) and
Invisible Ear
(January 2008). Four more things I like about poetry today:
Wolf in a Field is back! "[Back to the basics of what we are saying, here are three poems by Tomaz Salamun. Translated by Michael Thomas Taren]"
jubilat 17 has the best cover yet (a photograph by Matthea Harvey), poems by Salamun, Dawn Lundy Martin from Discipline (a book to look forward to in 2011), Johannes Goransson, Arisa White (author of Disposition for Shininess), Kenneth Patchen, Ben Lerner, Joanna Klink, G.C. Waldrep, and Matthew Zapruder, as well as an excerpt from Tsurayuki's Tosa Diary (and a related interview with Kimiko Hahn) and a score for a Piotr Sommer poem which you can hear on the website ("Overdoing It").
I spent the morning immersed (for the nth time) in the poem that gave the magazine its name, Christopher Smart's Jubilate Agno, pausing at noon to finally finish Elena Fanailova's breathtaking The Russian Version (Ugly Duckling Presse, 2009), which last week won Three Percent's 2010 Best Translated Book Award for Poetry. One of the translators (Stephanie Sandler was the other), Genya Turovskaya also translated another volume (Aleksandr Skidan's Red Shifting) in UDP's unparalleled EEPS Trilogy, which you can now buy for 33% off (the middle volume, Dmitry Golynko's As It Turned Out was also masterfully translated by Eugene Ostashevsky, Rebecca Bella, and Simona Schneider).
And Turovskaya herself, as it turns out, has a terrific poem in SUPERMACHINE Issue One, which I reread this afternoon. More telling, maybe even some showing, after the endpaper: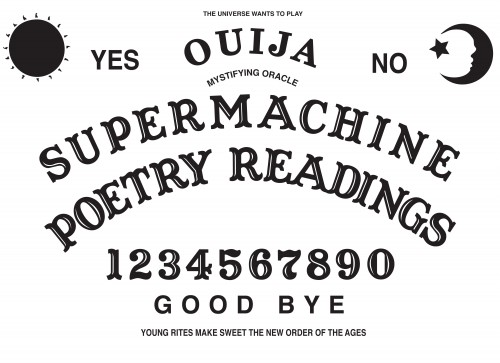 READ MORE >
Uncategorized /
2 Comments
March 18th, 2010 / 8:25 pm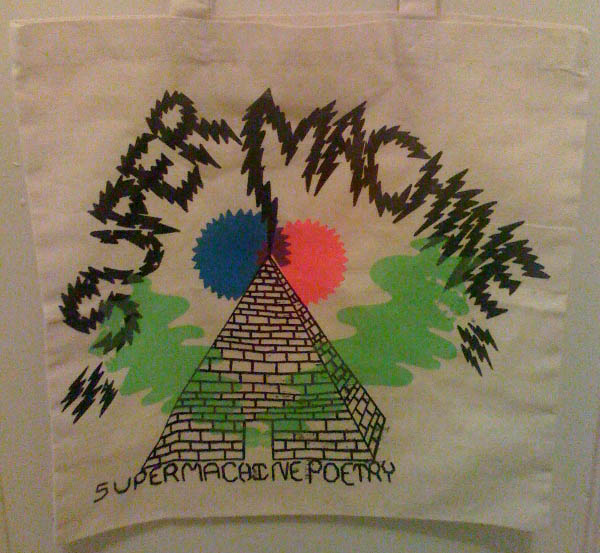 My favorite post-Kenyon Review Blog Heather Christle post, "Poems are machines + evolution = the bliss of redundancy," is still out there, "working some things out," like Williams'
A poem is a small (or large) machine made of words. When I say there's nothing sentimental about a poem I mean that there can be no part, as in any other machine, that is redundant.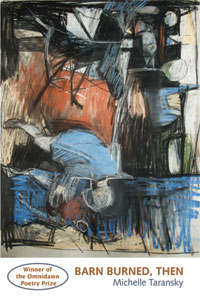 No matter that Williams was echoing Valery. His equation works. Q.e.d. Michelle Taransky's poems, which are massive (or super) machines made of words. Q.v. how even the most winn(ow)ing poem,
It's My Business

I have made the choice
To choose a particular
Way of operating the business
in her Omnidawn Poetry Prize-winning (and now Offending Adam Book of the Month) BARN BURNED, THEN is a window into the workings of the book (=factory of excitement) at large. Easily among the best first books of poetry to come out last year (Taransky read with Marina Temkina, the author of another, last night in New Yorkº), BARN BURNED, THEN will, as with other Omnidawn titles, be available from SPD eventually. In the meantime, you can order direct from Omnidawn (or Powell's) or (of course) another (follow the link in A Compulsive Reader's recent appreciation) and read new Taransky poems in the afore-awesome GlitterPony as well as in my favorite place to go, Wolf in a Field and to stay (tuned): SKEIN Seis.
ºI dropped the ball on an alert for that one (where Sarah Dowling whose first book is just out from Snare Books also read) so know that you can catch Taransky on Friday, 2-26 at Supermachine (this Saturday: Uljana Wolf, Stampson Starkweather, &c) with Holly Melgard, Matthew Yeager, and Emily Pettit. If you go, you can carry home your copy of Supermachine Issue 1 with new poems from Natalie Lyalin (& massive company), whose Pink and Hot Pink Habitat stands on the same short list (with Christle, Taransky, Temkina, Yankelevich, etc.), in a Supermachine tote.
Uncategorized /
12 Comments
February 10th, 2010 / 8:58 pm