The New Yorker
"Brooklyn Rooming House" – May 25, 1935 (pp. 93-96)
"Buffalo" – June 22, 1935 (pp. 66-68)
"Play A March" – June 20, 1936 (pp. 20-21)
"A Picture for the Home" – Nov. 28, 1936 (pp. 80-83)
"In the Beginning" – Nov. 6, 1937 (pp. 77-80)
"Treat" – Jan. 21, 1939 (pp. 50-51)
"The Happiest Days" – Nov. 4, 1939 (pp. 15-16)
"It's Hot in Egypt" – Jan. 6, 1940 (pp. 20-21)
"North of Portland" – Feb. 24, 1940 (pp. 20-21)
"Survivor" – Mar. 9, 1940 (pp. 54-56)
"Washington Boarding House" – Mar. 23, 1940 (pp. 23-24)
"Riding Stable" – Apr. 27, 1940 (pp. 20-21)
"Happy Birthday, Enid" – July 13, 1940 (pp. 15-16)
"Tomorrow Is a Beautiful Day" – Aug. 3, 1940 (pp. 15-16)
"Summer Theatre" – Aug. 24, 1940 (pp. 45-48)
"The New World" – Nov. 9, 1940 (pp. 17-19)
"Forever Hold Your Peace" – Nov. 23, 1940 (pp. 16-18)
"When Grandmother Goes" – Dec. 14, 1940 (pp. 68-75)
"Hello, Dear" – Feb. 15, 1941 (pp. 20-21)
"The Law of the Jungle" – Mar. 22, 1941 (pp. 16-18)
"There They Go" – July 19, 1941 (pp. 17-18)
"Run, Sheep, Run" – Aug. 2, 1941 (pp. 50-52)
"Publick House" – Aug. 16, 1941 (pp. 45-49)
"These Tragic Years" – Sept. 27, 1941 (pp. 15-17)
"In the Eyes of God" – Oct. 11, 1941 (pp. 20-22)
"The Pleasures of Solitude" – Jan. 24, 1942 (pp. 19-21)
"A Place of Great Historical Interest" – Feb. 21, 1942 (pp. 17-19)
"The Shape of a Night" – Apr. 18, 1942 (pp. 14-16)
"Goodbye, Broadway—Hello, Hello" – June 6, 1942 (pp. 19-20)
"Problem No. 4" – Oct. 17, 1942 (pp. 23-24)
"The Man Who Was Very Homesick for New York" – Nov. 21, 1942 (pp. 19-22)
"Sergeant Limeburner" – Mar. 13, 1943 (pp. 19-25)
"They Shall Inherit the Earth" – Apr. 10, 1943 (pp. 17-18)
"A Tale of Old Pennsylvania" – May 29, 1943 (pp. 20-23)
"The Invisible Ship" – Aug. 7, 1943 (pp. 17-21)
"My Friends and Neighbors All, Farewell" – Oct. 2, 1943 (pp. 23-26)
"Dear Lord, We Thank Thee for Thy Bounty" – Nov. 27, 1943 (pp. 30-31)
"Somebody Has to Die" – June 24, 1944 (pp. 27-28)
"The Single Purpose of Leon Burrows" – Oct. 7, 1944 (pp. 18-22)
"The Mouth of the Turtle" – Nov. 11, 1944 (pp. 27-28)
"Town House" – Apr. 21, 1945 (pp. 23-26)
"Manila" – July 28, 1945 (pp. 20-23)
"Town House—II" – Aug. 11, 1945 (pp. 20-25)
"Town House—III" – Nov. 10, 1945 (pp. 27-32)
"Town House—IV" – Jan. 5, 1946 (pp. 23-28)
"Town House—V" – Mar. 16, 1946 (pp. 26-30)
"Town House—VI" – May 4, 1946 (pp. 22-27)
"The Sutton Place Story" – June 29, 1946 (pp. 19-26)
"Love in the Islands" – Dec. 7, 1946 (pp. 42-44)
"The Beautiful Mountains" – Feb. 8, 1947 (pp. 26-30)
"The Enormous Radio" – May 17, 1947 (pp. 28-33)
"The Common Day" – Aug. 2, 1947 (pp. 19-24)
"Roseheath" – Aug. 16, 1947 (pp. 29-31)
"Torch Song" – Oct. 4, 1947 (pp. 31-39)
"O City of Broken Dreams" – Jan. 24, 1948 (pp. 22-31)
"Keep the Ball Rolling" – May 29, 1948 (pp. 21-26)
"The Summer Farmer" – Aug. 7, 1948 (pp. 18-22)
"The Hartleys" – Jan. 22, 1949 (pp. 26-29)
"The Temptations of Emma Boynton" – Nov. 26, 1949 (pp. 29-31)
"Christmas Is a Sad Season for the Poor" – Dec. 24, 1949 (pp. 19-22)
"The Season of Divorce" – Mar. 4, 1950 (pp. 22-27)
"The Pot of Gold" – Oct. 14, 1950 (pp. 30-38)
"The People You Meet" – Dec. 2, 1950 (pp. 44-49)
"Clancy in the Tower of Babel" – Mar. 24, 1951 (pp. 24-28)
"Goodbye, My Brother" – Aug. 25, 1951 (pp. 22-31)
"The Superintendent" – Mar. 29, 1952 (pp. 28-34)
"The Chaste Clarissa" – June 14, 1952 (pp. 29-33)
"The Cure" – July 5, 1952 (pp. 18-22)
"The Children" – Sept. 6, 1952 (pp. 34-45)
"O Youth and Beauty!" – Aug. 22, 1953 (pp. 20-25)
"The National Pastime" – Sept. 26, 1953 (pp. 29-35)
"The Sorrows of Gin" – Dec. 12, 1953 (pp. 42-48)
"The Five-Forty-Eight" – April 10, 1954 (pp. 28-34)
"Independence Day at St. Botolph's" – July 3, 1954 (pp. 18-23)
"The Day the Pig Fell into the Well" – Oct. 23, 1954 (pp. 32-40)
"The Country Husband" – Nov. 20, 1954 (pp. 38-48)
"Just Tell Me Who It Was" – Apr. 16, 1955 (pp. 38-46)
"Just One More Time" – Oct. 8, 1955 (pp. 40-42)
"The Bus to St. James's" – Jan. 14, 1956 (pp. 24-31)
"The Journal of an Old Gent" – Feb. 18, 1956 (pp. 32-59)
"The Housebreaker of Shady Hill" – Apr. 14, 1956 (pp. 42-71)
"Miss Wapshot" – Sept. 22, 1956 (pp. 40-43)
"Clear Haven" – Dec. 1, 1956 (pp. 50-111)
"The Trouble of Marcy Flint" – Nov. 9, 1957 (pp. 40-46)
"The Bella Lingua" – Mar. 1, 1958 (pp. 34-55)
"Paola" – July 26, 1958 (pp. 22-29)
"The Wrysons" – Sept. 13, 1958 (pp. 38-41)
"The Duchess" – Dec. 13, 1958 (pp. 42-48)
"The Scarlet Moving Van" – Mar. 21, 1959 (pp. 44-50)
"The Events of That Easter" – May 16, 1959 (pp. 40-48)
"The Golden Age" – Sept. 26, 1959 (pp. 46-50)
"The Lowboy" – Oct. 10, 1959 (pp. 38-42)
"The Music Teacher" – Nov. 21, 1959 (pp. 50-56)
"A Woman Without a Country" – Dec. 12, 1959 (pp. 48-50)
"Clementina" – May 7, 1960 (pp. 40-48)
"Some People, Places, and Things That Will Not Appear in My Novel" – Nov. 12, 1960 (pp. 54-58)
"The Chimera" – July 1, 1961 (pp. 30-36)
"Seaside Houses" – July 29, 1961 (pp. 19-23)
"The Angel of the Bridge" – Oct. 21, 1961 (pp. 49-52)
"The Brigadier and the Golf Widow" – Nov. 11, 1961 (pp. 53-60)
"The Traveller" – Dec. 9, 1961 (pp. 50-58)
"Christmas Eve in St. Botolph's" – Dec. 23, 1961 (pp. 26-31)
"A Vision of the World" – Sept. 29, 1962 (pp. 42-46)
"Reunion" – Oct. 27, 1962 (p. 45)
"The Embarkment for Cythera" – Nov. 3, 1962 (pp. 59-106)
 "Metamorphoses" – Mar. 2, 1963 (pp. 32-39)
"The International Wilderness" – Apr. 6, 1963 (pp. 43-47)
"Mene, Mene, Tekel, Upharsin" – Apr. 27, 1963 (pp. 38-41)
"An Educated American Woman" – Nov. 2, 1963 (pp. 46-54)
"The Habit" – Mar. 7, 1964 (pp. 45-47)
"Montraldo" – June 6, 1964 (pp. 37-39)
"Marito in Città" – July 4, 1964 (pp. 26-31)
"The Swimmer" – July 18, 1964 (pp. 28-34)
"The Ocean" – Aug. 1, 1964 (pp. 30-40)
"Another Story" – Feb. 25, 1967 (pp. 42-48)
"Bullet Park" – Nov. 25, 1967 (pp. 56-59)
"Percy" – Sept. 21, 1968 (pp. 45-50)
"The Folding-Chair Set" – Oct. 13, 1975 (pp. 36-38)
"The Night Mummy Got the Wrong Mink Coat" – Apr. 21, 1980 (p. 35)
"The Island" – Apr. 27, 1981 (p. 41)
Ornette has been writing a book on harmolodics but it's yet to be published.
Someone should really turn the tables on that one.
(Editor's Note: A while back Roxane Gay reviewed Ben Greenman's really fine short story collection, What He's Poised to Do. Ben has another book coming out in early October, Celebrity Chekhov.)
"As an artist you have to have the confidence that it will be original once it passes through you."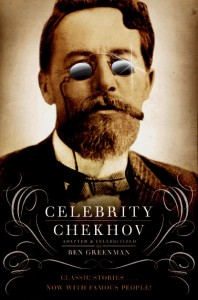 Ben Greenman is an editor at The New Yorker and author of numerous books of fiction, including Superbad, Superworse, A Circle is A Balloon and A Compass Both: Stories about Human Love, Correspondences, and Please Step Back.  He also writes satirical musicals about the likes of Britney Spears and Sarah Palin; pens a political column by an earth ball; and maintains a website called Letters with Character that invites readers to write their favorite (or, in some cases, least favorite) fictional person.
This summer, Greenman's What He's Poised To Do was released by Harper Perennial; the Los Angeles Times called it "astonishing" and publications ranging from the Miami Herald to Bookslut agreed. His new collection, Celebrity Chekhov, publishes later this month. I met Ben in midtown and we wandered over to Bryant Park, where we discussed everything from a story collection's "Albumness" to the potentially one-fingered Seth Rogen, whom Ben is famous for writing a comic letter to after the movie Superbad (same title as his book) was released.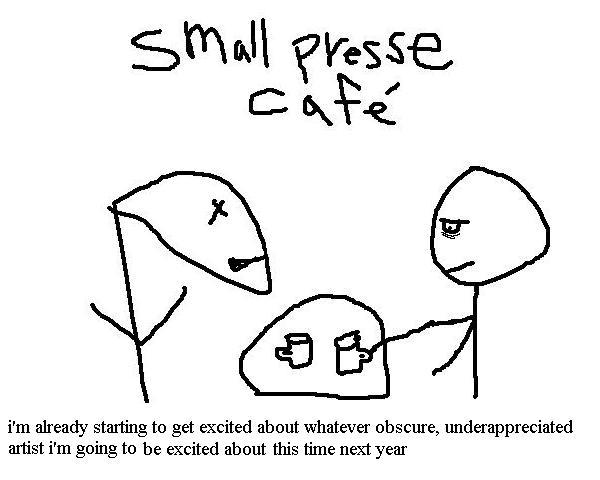 In the New York Times Sunday Book Review Sam Tannenhaus asks How Old Can a Young Writer Be?
Frequent commenter Amber Sparks weighs in.
Alex Balk talks about how for those of us nearing 40, time is running short.
Stephen Elliott has this to say.
I am cleaning my office. This sucks.  Right now, I am taking a break. Yet, I do find all sorts of fun stuff when I "organize" my life. I found this torn out page from a New Yorker. The date is December 25, 2006-January 1, 2007. Otherwise, all I have is the last page of a story that clearly moved me, in particular the ending (good job, mystery author) and I remember these lines filled a carved spot inside me at the time:
Existence in the here and now only made me realize how much attraction the past exerts.