May 2017
When I was 17, I saw a man on cable television chase a green Volkswagen Beetle until he slammed headfirst into a pole. He didn't see the pole because he almost had his hands on the car. He was almost as fast. Also as big, almost. The shot of the man falling after he runs into the pole is full of beautiful slants and heights—leafless branches, latticed tower, streak of cloud, dazed knee—that can only feel as much like winter as they do when propped on top of all that flat. Flatness of a color that might introduce itself as green, and you're like sure, dirt, whatever you say, we already met but don't worry about it, this time you'll get your act together.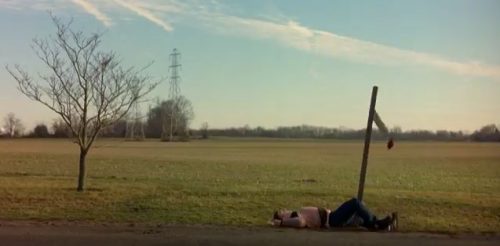 The shot was directed by Alison Maclean, whose cinematographer was Adam Kimmel. How they made that shot was first they read Denis Johnson's book Jesus' Son. I bought the book after I watched the movie to make sure it was Billy Crudup's voice that was annoying and not the words.
In the book, the words were in sentences full of glow and ache and the proud civility of the self-fucked, the calm leak of "Excuse me, there's a knife in my eye." And also of course the weeping and calling bartenders your mother. They were words about clouds that looked like brains, but they were also words like "help" and "stay" and "save." Those little words forever hitchhiking back to church and never making it all the way. Paragraphs would interrupt themselves to turn to you. I was 17 and hadn't read Levinas or Buber, and yet here was the "you" that knew the face on the other end was always dark. Little words like "search" and "name." Paragraphs that interrupted their description of a shriek to tell you they have gone looking everywhere. For the shriek, they mean, but mostly it's the gone, and the looking, and the everywhere.
A voice smart enough to hear its own narcissism but still stuck at the age where it can't believe all the things it gets to feel and hear and see to the point where it doesn't care at all how slurry it sounds to use a word like "glorious," a voice that slackjaws around in a sheepskin coat calling everything terrible and beautiful like Oprah's and-you!-get-a-car-and-you!-get-a-car. Back and forth between wide arms and self-hugging and shivering the whole time and I was 17. Even though I knew the Goo Goo Dolls singing "and you bleed just to know you're alive" was kind of stupid, it didn't feel that way. Here was an unironic hallelujah named after a song by a band I went out and listened to because of this book. Here was a blurb from some guy named Barry Hannah, so I read him too. Hallelujah. READ MORE >