November 2009
All of you know that Electric Literature recently began tweeting what they are calling 'an experiment in participatory ePublishing': they are publishing Rick Moody's story "Some Contemporary Characters" over three days/153 Tweets. They've invited anyone who'd like to RT ((re)publish?) the story along with them to participate. As far as I can tell, here's who is participating: @WritersGarret, @vromans, @shyascanlon, @TheSchooner, @str1cken, @StephenBruckert, @skylightbooks, @skemptastic, @OpiumMagazine, @MWSchmutterer, @litdeathmatch, @FictionAdvocate, @coppernickel, @commongoodbooks, @breathebooks, @brazosbookstore, @blackclockmag, @a_m_kelly, @Andrew_Ervin, @lunaparkreview, @BOMBMagazine, and probably more.
After tweeting the story for today, Electric Literature posted this question on their Facebook page: "Is the Multiple Tweeting of Rick Moody's Story Awesome, Annoying, or a Bit of Both?"
After the jump, I've tried to answer the question as best I could.
READ MORE >
Matthew Simmons
—
"Yar yar yar.": 45 minutes of Fugazi stage banter. If someone crowd surfed at your reading, would you be angry, proud, or confused?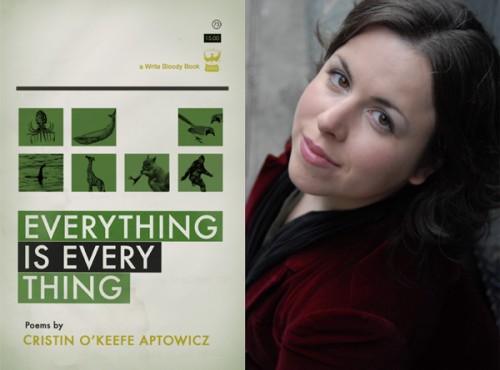 I like Cristin O'Keefe Aptowicz so much that every day this week, I'll be posting excerpts from a really long interview between Cristin and I about writing, New York and her forthcoming book Everything is Everything which will be released in January 2010 by Write Bloody Press.
Blake Butler
—
Amelia Gray makes sense out of the Publishers Weekly and WILLA kerfuffle at the Huffington Post: "To vastly extrapolate, assuming that the number of top-quality male and female writers is equally distributed, most journals would publish more men than women, without even considering bias."
Blake Butler
—
As well, a couple book-related holiday sales ending today: Powell's offers free shipping (their used stacks in particular are worth exploring, plus nice discount on NYRB classics) & Keyhole's discounts on all of their titles & (beyond today, but still) Dzanc offering up to 50% on all of their backlist. Foom.
Ken Baumann
—
24 hours left to submit to No Colony, then close.  You want to be in this issue, I promise.
Hope everybody is fatter now. Crawling back into the void this week, last night rewatched most of Orson Welles's last completed feature film, F for Fake, a documentary about fakes and fakers, which in itself does a little trickery and deceit, making a nice little cakebox of weird. Criterion put it out a couple years ago, but it's also now on YouTube in a few pieces. Here's part one, then follow the links…
Blake Butler
—
There are a handful of presses it would be nice to own every single title they've ever released. Exact Change easily makes that list. Xmas party.
Blake Butler
—
How about next time instead of National Novel Writing Month it's National Single Sentence Writing Month? Or National Staring Month? NaSiSeWriMo? NaEaADiMoAnStoEaAllOuLiMo?