February 2012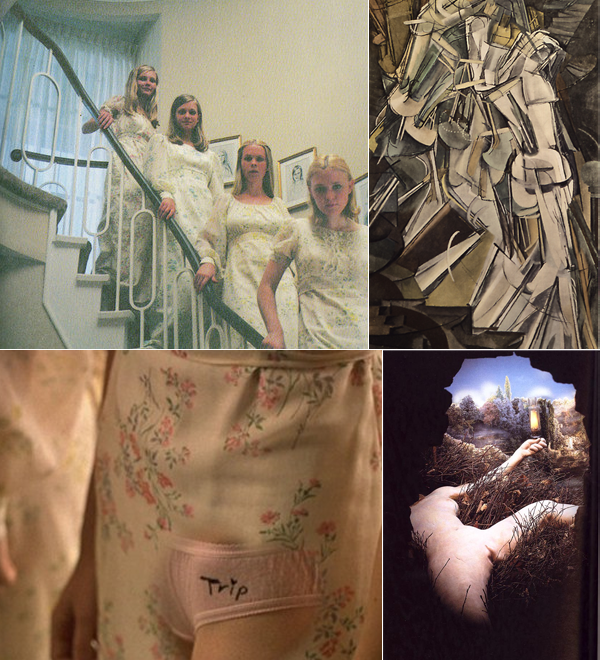 1.
I never went to prom, but imagine myself seeing quadruple, if only met by one pretty girl on the staircase, that suburban altar towards the heaven of bedrooms. The Vogue ad lens of that movie is nap inducing. Tumblr recently banned content depicting self-harm; namely, cutting, suicide, and eating disorders. Many of my 2:00am k-holes led me to these tumblrs, to 90 pound girls who ironically made me feel fat, each with thighs and wrists marked red like a slave's back. Freedom must be hard to bear. "Nude Descending a Staircase, No. 2," M. Duchamp (1912), is a portrayal of one woman seen at different moments in time, less notable for its Cubism than the fact that it is one of the few canvases Duchamp ever painted. Before times they were a-changin' (Dylan, 1964) angles were a-changin' (Picasso/Braque, c. 1910 ). I imagine Sofia Coppola growing up in pajamas and flipping through ponderous MOMA monographs once crushing a mahogany coffee table now her thin lap. Trip's one lucky bro, graffitied on that sacred piece of cotton redolent of fabric softener and teen musk. A girl's secret is oft verbal, a name given to a dream, the letters forming the boy better than the actual boy. Of Étant donnés (1966) we are outside (inside the Philadelphia Museum of Art) looking in as if we were inside, seemingly, looking out. That dirty secrets are seen through holes may explain why thought bubbles are shaped that way, opaque, some explosion next to one's head.
It's disheartening and necessary to see the same VIDA numbers every year, but I'd also like to see three different (and more difficult to obtain) statistics next time.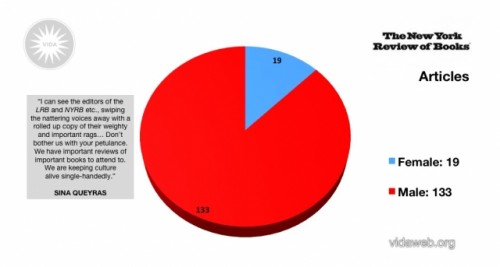 1. A gender breakdown of articles and stories submitted & pitched to magazines. In my experience with slush piles, they can be quite male-heavy and I've heard the same from editors.
2. A gender breakdown of books submitted to agents and publishers. (See above)
3. A breakdown of how many books written by men are marketed as "literary" or serious works versus how many by women are marketed as such. This, I think, is the one of the biggest and harder to tackle problems. Books written by women get a picture of a bare shoulder or a pair of legs on it and then men don't buy it and "serious" reviewers don't want to review it. Pretty simple. Pretty much a bummer.
4. A gender breakdown of how many male writers are solicited by these magazines. Because, you know, your short story probably isn't going to make it out of the The New Yorker slush pile. It just isn't. We know the major magazines (hell, even a lot of the smaller ones) are made almost exclusively out of solicited material. We know that. And because of the same problems that the VIDA numbers point out each year, editors know less women they want to solicit.  So, yeah, it's a vicious cycle, blah blah blah, but one thing you can do about it is be a woman and work hard and submit everywhere until you cannot be ignored.

So I hesitate to use this space to self-promote, but in this case I will make an exception, for a number of reasons, beginning with the fact that the project is online and free.
Exits Are is a series of collaborative stories that are also games. The games borrow their format and many of their conventions from text adventures ("interactive fiction"). From the about page: "A text adventure is a game that takes place in prose. The computer describes a world to you one room at a time, writing in the second person. 'You stand in the center of a cool, dark cave,' says the computer. 'Exits are north, south, east, and west.' The computer waits for you to tell it what you want to do. 'Go east,' you might say. Or if there is a key, you might say 'take key.' The computer parses your commands as best it can and tells you what happens next. . . . love text adventures, but they usually disappoint me. I wanted a way to make them more open-ended, less about puzzle-solving and more about language: its weirdness, its beauty. So I started playing a game with some of the writers I knew. Using gchat, I pretend to be a text adventure. The other writer is the player. We use the form of the text adventure to collaborate on some kind of strange, fun narrative. The only rule is that we take turns typing. We never discuss what we're going to do in advance, so the results are improvisational and surprising/exciting/stressful/upsetting for both participants. Every time, the player does things I never could have seen coming." READ MORE >
Barney Rosset has died. He was 89. Alas, Dimitri Nabokov has also passed away.
At The Rumpus, Kathleen Alcott wrote a beautiful essay about the importance of her name, the writer who is using the name Kate Alcott as a pseudonym, and much more. Also at The Rumpus, an essay by Catherine Chung whose Forgotten Country will be released in March.
Quick Fiction is ceasing operations and they will surely be missed. Don't fret, though. They are having a closeout sale.
Dinty Moore responds to the Lifespan of a Fact situation.
As an aside, the Oscars were tragically bad weren't they? The boringness of the ceremony has left me completely unsettled today. Also, Billy Crystal in blackface. Here's something on what it's like to have your book turned into a movie.
Does Jonathan Franzen have a "female problem"? I'm not sure but he best back up off my girl Edith. We KNOW how I feel about Edith. More on this soon but in the interim, Victoria Patterson at the Los Angeles Review of Books, has written a brief essay, "Not Pretty," in response to Franzen's New Yorker essay. This kind of reminds me of a post I saw on Bulk Culture a couple weeks where Barry Graham (I think) said looks don't really matter in terms of online publishing success.
An illustrated guide to Mad Men Bed Hopping.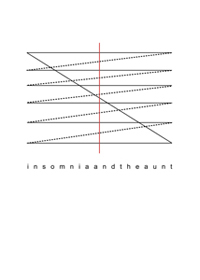 Insomnia and the Aunt
by Tan Lin
Kenning Editions, 2011
44 pages / $10  Buy from SPD / Amazon
It would be a mistake to state outright any kind of thumbs up or down regarding Insomnia and the Aunt because that would mean there's something there to judge, and while I'm not suggesting that the book is empty, I'm arguing that the book lives up to its promise billing itself as an "ambient novel." Both words in that phrase are tricky when dealing with a fifty page novella studded with postcard and TV photos and posed as a very hazy memoir mainly about the unnamed narrator's relationship to his aunt, though.  This titular aunt used to run a motel with her husband in rural Washington for an uncertain span of time across the final third of the 20th century and the first decade of the present one, information delivered to you sometimes in sometimes matter of fact announcement but sometimes in what could be called "ambient" fashion through slowly accruing tossed-off-seeming information. And "ambient" and "novel" normally sit askew from each other, which makes both terms problematic and the reading experience an uncertain one but in the case of the book ambient and novel work together in tandem, both forms present throughout.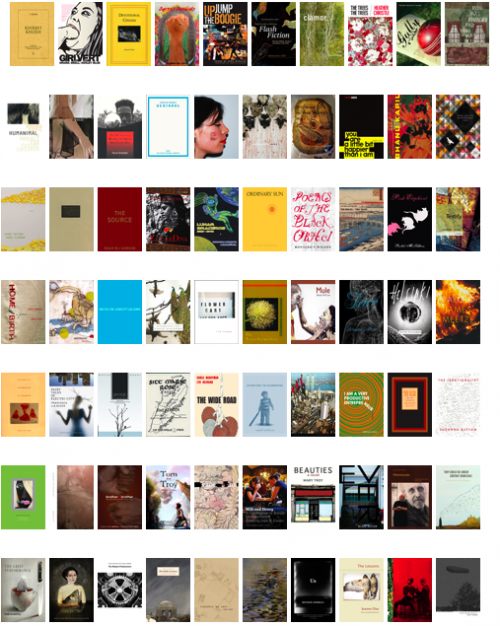 SPD had a sale I learned about the day it was ending so I never got around to buying anything (discounted). The list of their 100 top-selling books of 2011 is worth a look, however. Hovering the cursor over covers to see titles takes too long so I opened 10 tabs, copied and pasted the info, inserted a number, a period, and the word "by" between author and title, repeating this process 10 times. Except I ended up with a list of only 99 books, so I had to go back and find the omitted book and redo the numbering![!!] I was also going to insert links to everything but decided against it. Enjoy.
1. Khirbet Khizeh by S. Yizhar
Publisher: Ibis Editions
2. Girlvert: A Porno Memoir by Oriana Small
Publisher: A Barnacle Book
3. Devotional Cinema by Nathaniel Dorsky
Publisher: Tuumba Press
4. Barrio Bushido by Benjamin Bac Sierra
Publisher: El Leon Literary Arts
5. Up Jump the Boogie by John Murillo
Publisher: Cypher Books
6. The Rose Metal Press Field Guide to Writing Flash Fiction: Tips from Editors, Teachers, and Writers in the Field by Tara L Masih, Editor
Publisher: Rose Metal Press
7. Clamor by Elyse Fenton
Publisher: Cleveland State University Poetry Center
8. The Trees The Trees by Heather Christle
Publisher: Octopus Books
9. Gully by Roger Bonair-Agard
Publisher: Cypher Books
10. Who Was Changed and Who Was Dead by Barbara Comyns
Publisher: Dorothy, a publishing project
11. Humanimal: A Project for Future Children by Bhanu Kapil
Publisher: Kelsey Street Press
12. Divorcer by Gary Lutz
Publisher: Calamari Press
13. The Battlefield Where the Moon Says I Love You by Frank Stanford
Publisher: Lost Roads Publishers
READ MORE >
Adam: Last weekend, playing a stray note on my recorder summoned a cyclone that whirled me away to the swamps of Tallahassee. There I impinged on Christopher Higgs and his wife, who lodged me in their spacious Rococo flat (refurbished from a gator-packing warehouse). Over dinner, Chris and I had numerous opportunities to discuss—and to disagree about—the nature of experimental fiction…
A D JAMESON [leaning back from his seventh helping of tiramisu]: At the risk of spoiling such a fine meal, perhaps you and I can finally figure out why we've butted been butting heads regarding the nature of experimental fiction.
CHRISTOPHER HIGGS: OK.
ADJ: Let's start by each defining what we think experimental fiction is!