November 2008
In the latest issue of The Quarterly Conversation, Scott Esposito is running a contest to give away to his readers
every single one of Roberto Bolaño's works available in English, plus a special preview of his forthcoming novel The Ice Rink (New Directions, 2009). That's eight books, including his mammoth new novel, 2666, and his new poetry collection, The Romantic Dogs, both reviewed in this issue.
The contest is pretty simple – read issue 14 of TQC, answer the questions on the contest page, and send your answers to Scott's email address by December 31, 2008.
*Enjoyment of eating pie = enjoyment of reading TQC?
On this site, in a recent post which garnered 200+ comments, someone quoted Ezra Pound; the source, Pound's instructional text A B C of Reading.
In the book's introduction Pound writes, "For those who might like to learn. The book is not addressed to those who have arrived at full knowledge of the subject without knowing the facts." He goes on to describe A B C as a text-book " 'for pleasure as well as profit' by those no longer in school; by those who have not been to school; or by those who in their college days suffered those things which most of my own generation suffered."
Obviously Pound had HTML's audience in mind.
After the jump is a passage that hasn't aged a day since its 1934 publication.
Two really exciting new handmade chapbooks (I will not call them 'chaps') from the exciting, pastel colored Magic Helicopter Press: Mary Miller's LESS SHINY and Benjamin Buchholz's THIRTEEN STARES.
Here are specs:

Mary Miller's LESS SHINY

5×7.5
Saddlestitched
36 pg
First Printing: November 2008, 75 numbered copies

• DESCRIPTION •

A collection of short short stories from the author of Big World (short flight/long drive books 2009). Mary Miller's stories have appeared in the Oxford American, New Stories from the South 2008, Mississippi Review, Black Clock, Quick Fiction, Barrelhouse, Hobart, and elsewhere.

• EXCERPTS •

from NOÖ Journal: "This Boy I Loved a Rock"

from elimae: "South Dakota"

from SmokeLong Quarterly: "A Blind Dog Named Killer and a Colony of Bees"

Benjamin Buchholz's THIRTEEN STARES.

5×7.5
Saddlestitched
36 pg
First Printing: November 2008, 75 numbered copies

• DESCRIPTION •

A collection of poems and photographs from US Army officer Benjamin Buchholz, who is the author of the non-fiction book Private Soldiers from WHS Press, now nominated for the Book of the Year Award by ForeWord Magazine. Work Buchholz published in 2007 has been nominated for the Pushcart, the Million Writers Award, and included in the anthology Best of the Web from Dzanc Press.

• EXCERPTS •

from NOÖ Journal

from Tryst: "Promotions and Demotions"

from Tarpaulin Sky: "Nowords"
Two killer new things to read and gift and give and enjoy. Cheap! Kick it.
par oft an ongoing series, wherein my friend Danielle watches Jeopardy! and then emails me a diary of her concerns. 
Oh my God, Alex Trebek has totally crossed the line now. First of all, the panel must have the lowest combined age of all time, and they're attractive too. It's like for one magical day someone parted the dark, pendulous storm clouds that hang eternally over the Jeopardy! set, and the light shone down upon these three rare specimens. And this totally sexy-librarian type is answering almost every single question; I mean she's killing it. And as hot as that is, I almost feel bad for the dudes because they seem, of all things, pretty okay. Anyway, the girl just goes on smoking these guys' asses and at the first commercial break I'm  like, You know, there's something magically rad about this episode. Okay, so: commercial break, and then back to the show, and as they zoom in on the set, I'm feeling pretty sweet. And then I realize that Alex has moved from his podium. He is standing next to the cool, nerdy girl, asking himself the question  that–let's face it, I watch a lot of Jeorpardy! and I think we can both agree that I really get it, so just trust me–could–nay, will– change her life forever: Of all the dumb facts on this gay blue card, which can I use to bring the greatest shame and humiliation upon this woman and her family? "She has a Master's degree in something that I think would be very, very useful and important in this day and age"? Really? What? It seems that Alex is actually quite taken with her and not at all his usually you-look-like-someone-who's-got-a-vagina-so-it's-time-to-think-of-a-way-to-make-you-feel-bad-about-yourself self. It turns out that her degree was in Plant,Soil, and Environmental Science, but she was in the sustainable agriculture program doing good for the underdog but helping small farm farmers reduce their reliance on herbicides. "Okay, so what's the best way to do that?" he asks. Really? What? Fill me in on the major findings of your master's thesis and do be aware that I will interrupt you almost immediately? It's like he's an asshole by accident whenever he's not busy being an asshole on purpose. So she handles fine and says "Be careful" which is kind of whatever, but okay at least you said something. And then Alex says, "That's it? Just be careful?" RRRRRRRRRRRRRRR. He ruined the whole show for me.
[the following appeared a few minutes later in a separate email.  -ed.]
The guy next to the environmental scientist just graduated from business school, where he studied marketing, and Alex tells him, Good for you, good for you.
I apologize for the late post.  Friday is indeed over.  I have a good excuse though.  Let me explain.
I went deep undercover into the scorpion's nest.  My phone camera was crotch concealed and undetected.  My life was in jeopardy and the final question was "What is you're fucked?".
Seriously, I am flayed skin if these guys find out I am secretely posting drunken pictures on HTML Giant to increase female/homosexual readership.
Enjoy: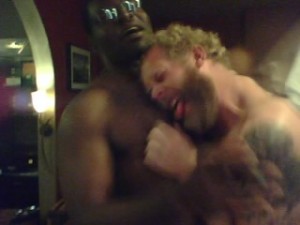 Uncategorized /
22 Comments
November 29th, 2008 / 4:40 pm
Fuck, man. I passed Valley Stream on the way to my cousin Jeff's for Thanksgiving yesterday. His wife asked me if I was planning to go to any of the big special sales. It took me a minute to figure out what she was talking about, then I said "why would anybody do that?"
Catherine, I stand by most of the critiques I made on your blog a while back about Adbusters' aesthetic etc., but seriously–if there was ever an argument for their perpetual relevance, this story is it.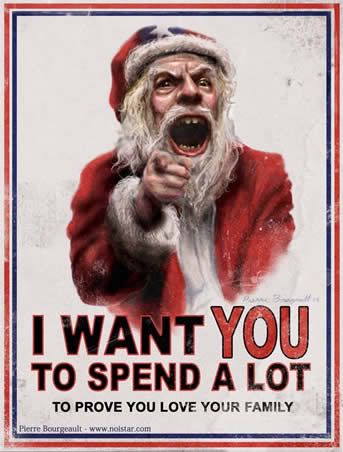 Too bad nobody told those sick motherfuckers on Long Island about Buy Nothing Day. Oh, and just to give the rest of us some perspective: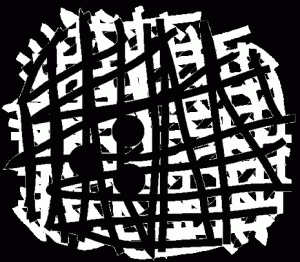 I am too caloric to say much of whole hey anything, but I have found some new words to eat my stomach for me, as issue 14 of Bruce Covey's Coconut has pretty badass prose poems and etc., with a list of contributors from Gog:
There's a brand-spanking-new Coconut 14 live on the web, featuring new poems by David Lehman, Snezana Zabic, Denise Duhamel, Nin Andrews, William Minor, Lee Ann Roripaugh, Chad Sweeney, Brigitte Byrd, W.B. Keckler, Shira Dentz, Jared White, Eileen Tabios, Amber Nelson, Sam Pink, Molly Arden, Graeme Bezanson, John Most, Dana Guthrie Martin, Sarah Bartlett, Matt Turner, Lara Glenum, Susana Gardner, Carmen Gimenez Smith, Jackie Clark, Gale Nelson, Stephanie Berger, Rauaun Klassnik, and Jed Rasula!

Plus, sparkly brilliant new book titles from Jen Tynes and Sueyeun Juliette Lee!!!!!!!! http://www.coconutpoetry.org/books1
Let's have a look see, shall we? Sam Pink gives sonic head.
I don't know where boobs are. I feel large. I am touching my own boobs. You should too.
Uncategorized /
4 Comments
November 28th, 2008 / 5:26 pm