October 2008
Boo!
bs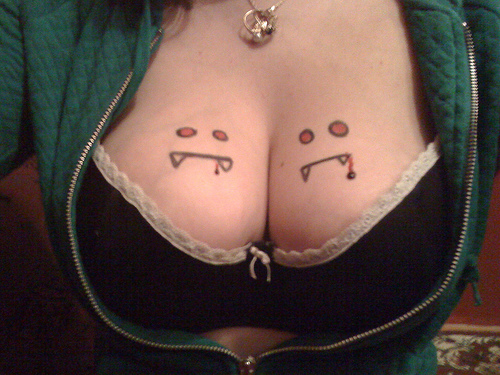 Uncategorized /
7 Comments
October 31st, 2008 / 5:45 pm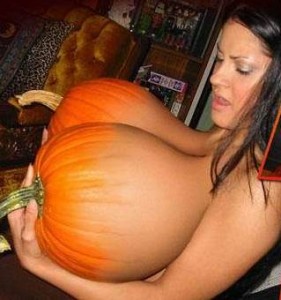 Get published instantly at HTMLGIANT. In the comment section, contribute a haiku. Guidelines: it must involve halloween and boobs, and conform to 5-7-5 syllable count, to deter you asswipes from 'going off.'
For example(s):
i suck, and i wish

i sucked more often–that is

tits painted orange

—

every woman has

two soft moons under her shirt

me: pagan spaceboy
Note, no doing this: ( . ) ( . )
I will judge the comment haikus. Winner will receive 'hidden' url link, specially designed for them, to my website that he/she can link to.
Uncategorized /
81 Comments
October 31st, 2008 / 2:25 pm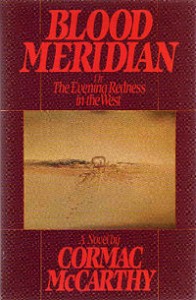 Randomly stumbled on an old list of Recommended Reading from the elimae archives, including lists of recommendation by Deron Bauman, Brian Evenson, Michael Kimball, Norman Lock, Dawn Raffel, B. Renner, M Sarki, and several excellent others. The lists form a pretty wonderful net of texts many of which I have loved, and many others I've never heard of or have meant to read. I added I think 5 things to my Amazon wishlist off of it. Worth exploring.
A preponderance of Cormac McCarthy reemphasizes the fact that if you haven't read BLOOD MERIDIAN and SUTTREE by now, well, fuck, get to work.
Deron Baumann, oddly, refers to BLOOD MERIDIAN though specifically only wants pages 5-165, which is about as far as I got the first time I tried to read it. It's a dense mother. But now that I've read it twice and change, and still not quite having absorbed a lot, I have to say, the images near the end with the child in the desert hiding from the Judge as he passes back and forth into the sand are one of the images that has haunted me most in all my reading ever.
Other names that appear on the lists rather frequently: Gordon Lish, Samuel Beckett, Amos Tutuola, Italo Calvino, Diane Williams. Though there is also a lot of hidden nuggetry and apocrypha.
This is a good puzzle, in a way, I love these kinds of lists. I want more.
So, not sure what to read next? You probably can't go wrong with most of what's on here.
Old elimae is like scrolls: if you've never dug from the early years, jeez. Go.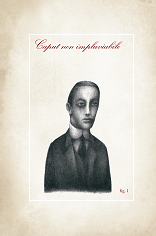 Anytime there's a new issue of Caketrain, I immediately place an order. If you ask me, Caketrain has taken up the space left by the void of 3rd BED, as each issue is packed with new words, weird words, innovation of form and content and etc. They take care to make the words look their best on clean, nice heavy paper with lots of white space and good images. You know when you buy Caketrain you will be able to read it pretty much from cover to cover. That's often a rare find.
CAKETRAIN 6 is now available for preorder, to be shipped in December. It's only $8 including shipping, which, shit, how can you beat that.
There's a full list of the site of who's got what inside but this issue seems to contain a bunch, including Michael Kimball, Norman Lock, Kim Chinquee, Shane Jones, Ryan Call, Brian Foley, Joshua Ware, Sara Levine, Jac Jemc, Forrest Roth, Kate Hill Cantrill, and etc.
Get this. Get the back issues if you don't have them. They are all issues I go back and read over and over again, and that's not a stretch.
Uncategorized /
8 Comments
October 31st, 2008 / 11:15 am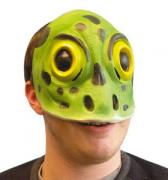 I was going to fold my laundry, but my cat is sitting in the basket on top of it. I think it's warm still, and he seems to like that. Instead, I'll post something about Bottomless Belly Button, a graphic novel from Fantagraphics that I read a few days ago.
It's pretty darn good.
(Hey, why haven't we been writing about graphic novels more? I mean, as we have established, I am the member of the group who's a little longer in the tooth than the rest of you, but aren't people in our "age category" still supposed to read lots of graphic novels?)
Here's the thing I hate about graphic novels. I hate graphic novelists. That's what I hate about graphic novelists.
Uncategorized /
8 Comments
October 31st, 2008 / 1:32 am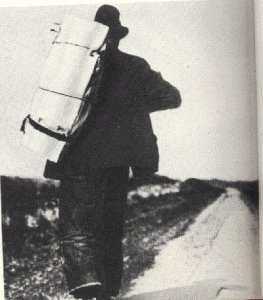 Apparently, Impetus Press, home of Nick Antosca's novel Fires and Dave Housely's Ryan Seacrest is Famous, is going away.
Sad. From their letter:
We are terribly sorry that things worked out this way. As much as it hurts to lose our business, the feeling of letting down our authors is even worse. We have always loved the close relationship we share with our authors and have prided ourselves on having them much more involved throughout the publication process than they would be at many other presses. We are doing our best to make sure that they come out of this as unscathed as possible. For those authors whose books have not yet been published, we are working on placing their titles with other houses.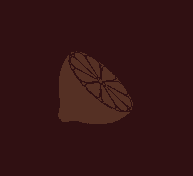 I posted a new Bear Parade book today. It's the thirteenth book for the site, and it has thirteen chapters. My thirteenth birthday was on Friday the thirteenth, so get freaked-out or something. The world is going to end, and it's my fault.
The book is by Noah Cicero, and is about vampires, existence, and how awesome Elvis and lemon-shakes are. I'm excited. Also, I designed it, so I probably should be.
I'm a shitty editor, so if you see any typos or grammatical mistakes, email me so I can fix them. I love you.
Happy Halloween.
Uncategorized /
20 Comments
October 30th, 2008 / 1:48 pm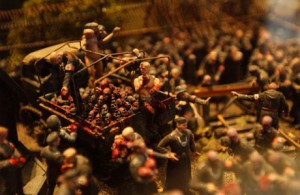 FRiGG is a nice looking magazine. They make pages that look nice. I like to look at the nice magazine. You should look at the new magazine and look.
A lot of new names here, that makes me say Hi to America while I am sleeping.
God, they do a job making look.
My tired is making me sound disingenuous maybe. But FRiGG is really good lookin'.
I particularly like Fortunato Salazar's excellently titled: The 15 Elevator Rides from Hell, Composing the Three Days of June Spent in Hearing the Narrations of Doctor Sikorsky; Interspersed Amongst Which Are the Scandalous Doings at the Sheraton Hotel During That Month; All Being Set Down in the Form of a Journal
Long titles are the shit. Let's go.
Uncategorized /
8 Comments
October 30th, 2008 / 1:17 am