February 2013
You can do that. You can also win a copy of The Minus Times Collected (I've got one, it's amazing) signed by three of its authors: Hunter Kennedy, Sam Lipsyte, and Jeffrey Rotter.
What, what's going on. What's going on is: The Short Form—a site that stylishly celebrates good-ass stories by excerpting them and asking guests to talk about their favorites—is giving away these books in its first ever short story contest. Three finalists will get featured on the site and all will win a copy of Stanford's Conditions Uncertain and Likely to Pass Away, which is pretty much just as good as his poems except it's stories, so—I was about to do that Gawker thing where they just end a sentence with "so" or "because" but then I wondered if Frank Stanford would do that and I decided he would probably beat me to death with all the empty Smartwater bottles littering my carpet if he showed up, like, in my living room, reincarnated, risen, made of carpet dust.
The point is one grand prize ultimate winner will also receive The Minus Times Collected, signed. I like The Short Form, they're good in people ways, this contest seems fun, do it if you like contests. Deadline: March 31st. Details: this is the third time I've linked to the same link in this post which can't be good for SEO. Also above us there is a picture because pictures!
Contests
/
Comments Off

on Do You Want to Win Frank Stanford's Beautiful Short Story Collection Because You Yourself Write Good Stories?
February 28th, 2013 / 5:28 pm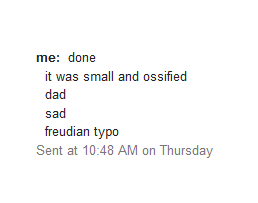 The chat to my left is my response to a friend after I had excused myself to go to the bathroom, which the reader may deduce was a "number two." The first line is an empowered assertion, perhaps stoic celebration. The second line is a critique of its aesthetics, which seems inextricably pointed, upwards, towards myself. Seems like there is a direct correlation between fecal length-girth and perceived and/or anatomical satisfaction of the experience. If this sounds familiar to other physiologies which ought to happen daily, you're welcome. That men are all self-penetrated, however inversely, by their poop may be our best shot in having a vagina. We all know about penis envy, but frankly, I wish I had a place to hide my gummy bears. If any of this seems Freudian, or disgusting, we may have unintelligent design to blame: that our mouths and anuses are but the openings of a long and twisted tube. Notice that the letter D is next to the letter S on a standard keyboard, such that "dad" can easily replace "sad" in the ultimate critique of one's self. Or maybe he's just been on my mind.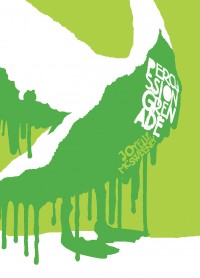 Percussion Grenade
by Joyelle McSweeney
Fence Books, 2012
96 pages / $15.95 buy from Fence
1. "Hold a cheerleader's cadaver up to Nature."
Percussion Grenade is full of these lines that leave me a little breathless, a little confused, satisfied, sad, all sorts of things. I think the dead cheerleader is an accusation: evidence against the concept of nature.
2. "I maketh you lie down in fracked pastures
in central Pennsylvania
o my blood boils, my tapwater burns"
My favorite part of this book is The Contagious Knives: A Necropastoral Farce which made me put down the book and step away, walk around the block a few times, and then finish the book.
3. Since Kyle Minor wrote on this book here I'm going to try to focus on the The Contagious Knives and a few other sections of the book that he didn't focus on.
4. I think some concepts that Tim Morton uses in his books Ecology Without Nature and The Ecological Thought are useful for thinking about the necropastoral. The essays Dark Ecology of the Elegy and Queer Ecology are also interesting to read along side Percussion Grenade. The authors are not strangers, and other people have talked about them together.
5. Object Oriented Ontology and Speculative Realism might also make an interesting groundwork for looking at Percussion Grenade, the rest of McSweeney's work, and the Necropastoral, but I'm not sure what to say about it at this point.
6. "The ecological thought includes negativity and irony, ugliness and horror." This quote from Tim Morton seems like it applies to the Necropastoral of Percussion Grenade.
7. "To appear to be acting masculine, you aren't masculine. Masculine is Natural. Natural is masculine. Rugged, bleak, masculine Nature defines itself through contrasts: outdoorsy and extraverted, heterosexual, able-bodied—disability is nowhere to be seen; physical wholeness and coordination are valued over spontaneity." From Queer Ecology
8. McSweeney has a particular interest in the marginalized, the other, all of the opposites of able-bodied, heterosexual, extraverted. She's interested in how a particular kind of power or ability is derived from instability. The Contagious Knives is full of allusions to Tiresias, the archetypal seer, who happens to be transgender and blind.
9. "My Prius drives to the reservoir for some system downtime 
without me: to blow off steam. There runoff collects
from picturesque slopes and shops. O Jeunesse, Dream
Prius, Brainless, Brained."
Mont Blanc (lines 1-4) – Joyelle McSweeney
"The everlasting universe of things
Flows through the mind, and rolls its rapid waves,
Now dark—now glittering—now reflecting gloom—
Now lending splendour, where from secret springs
The source of human thought its tribute brings
Of waters…"
Mont Blanc (lines 1-6) – Percy Bysshe Shelley
10. The Prius replaces the mountain and Ravine of Arve as object of aesthetic and philosophical contemplation. The Prius becomes a sort of liaison to the non-human, communing with the runoff. READ MORE >
Last weekend, I invited Matthew Salesses to show up and rock out at this reading series in DC. The room was poorly lit, and the readers had to stand on a rickety wooden stage. The venue made the whole thing feel like we were at some sort of half-assed comedy show, but Matt and the other readers (Laura van den Berg, Dan Gutstein, and Sarah Burnett) were utterly incredible—especially considering that there was this obnoxious improv group stomping on the floor above us because they thought they were at basketball practice, or something.
Anyway, there's nothing all that funny about Matthew's new Book, I'm Not Saying, I'm Just Saying. At its surface, Matthew's book is about the predicted failures and slow learning curve of a nameless new father. But deeper down, it explores how our actions and desires are intrinsically linked to our identities and our understanding of ourselves. I'm personally a big fan of Matthew's terse, controlled prose, which almost always looks this beautiful:
Who would have thought white people would eat sushi rolls with no sushi in it? Though I knew better than to call it sushi—it was kimbap—even if the menu said sushi. Being Korean was like that. The boy had probably lived unsushi sushi since his mother died. By which I mean, what do you call that? When the world isn't ready to call something what it is?
I'm Not Saying is a short book with short chapters, but it's worth reading slowly. I'm always inspired by how dutifully Matthew matches tone and subject matter in his writing, and there's more than enough proof out there that I'm not the only one inspired by it.
But I'll stop gushing and get to what's important: Matthew has agreed to give away two signed copies of I'm Not Saying, I'm Just Saying. Quote the weirdest/funniest/strangest thing your father has ever said (and try to avoid being offensive) in the comments by Tuesday, March 5th and Matthew will pick two winners. Get'it'gurl.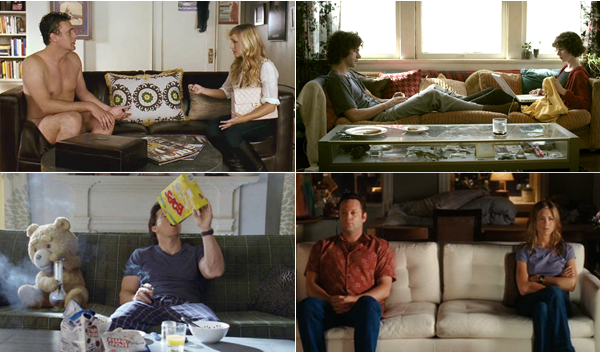 That a couch in an average living room faces a television may be an invitation to become what we are watching, namely, a movie — that is, if our couples would just pay attention. Lateral domesticity begs to fall asleep. A man, reduced to emasculated flab, pleads for his unhealthy and coddled relationship to continue; the tacit repose of a couple engaged at their respective laptops seems precious; some bro fantasy of simultaneous bong and munchies with anthropomorphic hump pillow; the platonic diplomacy of former lovers newly registering the full radius between them. The couch may be an obvious place for contemporary dialogue, or its reticence, but there's something peculiar about the camera choosing the very place of its artifice to peek into these lives, as if these movie directors took for granted — or were even ashamed of — the rectangular boxes in which their creations are manifested. Perhaps we find relief in seeing others situated as us. When a DVD ends, it reverts to the menu page consisting of some thematic snippet which goes onward in an infinite loop. One may lie there out of the remote's grasp, too tired to hit ■. It is easy to lose track of time in the waiting room of habitual inception, the ▶ untouched. Every disc sheathed inside its tray is a silver sun waiting to rise, spinning out of control. Another reason to sit down, and pretend.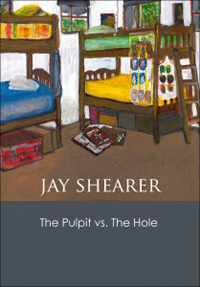 The Pulpit vs. The Hole
by Jay Shearer
Gold Line Press (Winner of 2011 Fiction Chapbook Competition)
54 pages / $10  Buy from Amazon or Gold Line Press
If you like underlining pleasurable and provocative sentences with a pencil, plan on keeping a sharpener at the ready while reading Jay Shearer's chapbook The Pulpit vs. The Hole.  Gold Line Press understandably selected this story as the winner of their 2011 Chapbook Competition. This smallish booklet held me steadfast. The setting of a Brethren/Mennonite summer camp for adolescents is teeming ground for a fairly high order of microcosmic examination. Poetry pervades the prose and makes the prospect of underlining daunting, distracting and mildly disorienting. Also, I'm a sucker for parenthetical phrases set off with em dashes. By page two I became mopey about the brevity of the book. My desire thumming, I wondered, how can this book possibly give me all I need in such an austere package? Should I even get attached to these characters since our time together is destined to be short? What's with these chapbooks anyway? Chapbooks are so concentrated that they make everything else seem like watery Kool-Aid.  You will need to put down the pencil.
Shearer imbued The Pulpit vs. The Hole with a scattering of themes that scoot and zip around the book like pre-adolescents hotfooting it through the woods at Camp Abednego. Pacifism is a hard sell to the youth of this book. Shearer deals with pacifism through the precocious voice of his youthful narrator, Marty. The slow to grow understanding of the pitfalls of non-participation reminded me of what had seemed a deeply significant process.  Marty and Jordan, another camper, struggle to understand the limitations and challenge the boundaries of the adults' proclaimed pacifism. They seem to be pushing into view some form of active pacifism.
In dealing with pacifism, certain questions arise. The question of all questions, the question meant to discredit pacifism, the question that— asked or unasked— remains central to the demoralization and hindrance of complete alignment with the older forms of un-programmed Quakerism, the Brethren-ism, or the Mennonite-ism. We know the discomfort of the camp counselor as he listens to the disquieting question:  " 'what would you do in World War Two?' " (p. 20). Of course the invocation of such a fundamental injustice comes from the endearingly irascible camper Jordan. Young people live in a constant state of hyperbole, and to invoke World War II is to force the adults to realize that this state of hyperbole, has at times, been a reality. So what, would you like " 'just let the Nazis kill all the Jews?' " (p. 20). Counselor Dan, answering for the entire population of pacifists — dare he say it? The answer he has to give? The answer that must, but can't come with conviction, that " 'first, as with anyone, we'd try to talk to them' " (p. 21). Jordan scoffs quintessentially American indignation at this passive response offered up with only lukewarm sentiment on the floor of a camp cabin.
Comments Off

on THE PULPIT vs. THE HOLE by JAY SHEARER
February 27th, 2013 / 12:00 pm
Unified gaze theory? Would that be called Tunnel Vision Theory? Or just tunnel vision? Hegemony about Hegemony? As a man, I'm allowed to talk about everything, while understanding very little.
Theory: what we have developed is a kind of tunnel vision for the sake of re-producing culture and economy. You know of this post-Marxist system; I will not write of the components in a more clear way than has already been written by others.
We remember: The Gaze was a perfect piece of gender-biopower technology, a software that everyone wanted to run, a software that reproduced itself onscreen, without showing how it was made. Tickets sold themselves. Sex-less sex. War-less war. READ MORE >
Technology
&
Vicarious MFA
/
Comments Off

on I SEE U GIRL: The Elegant Blindness of Masculine Mimetic
February 27th, 2013 / 11:14 am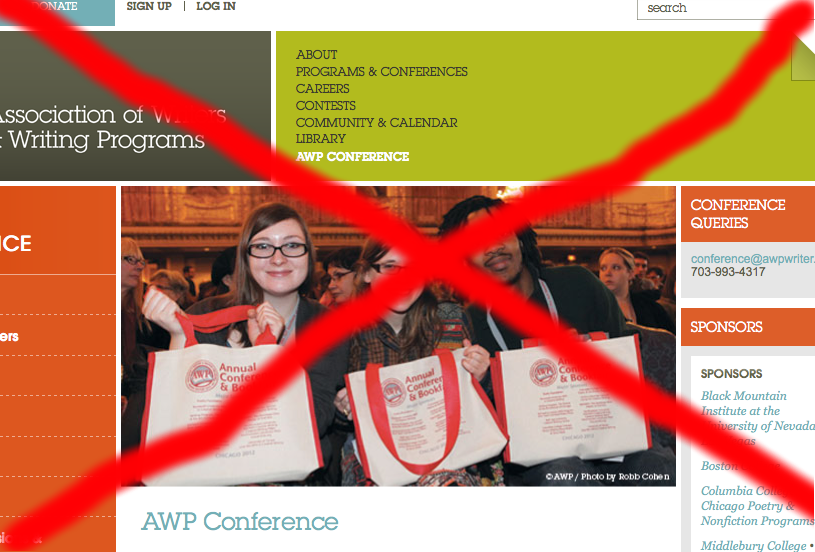 There shouldn't be an AWP. There should only be one if it would result in me meeting Gina Abelkop. She is the publisher of Birds of Lace, a press that publishes books about girl groups, adventurous twins, and girls who justify murder in high school essays. Most Birds of Lace books fulfill one of the primary attributes of literature: They transmute the reader to magical, mysterious worlds of death, babysitters, and big hair. Gina and I could meet for tea (or vanilla cupcakes). We could discuss trenchant topics, like the veils in Meadham Kirchoff's Fall 13 collection or Disney princesses. Why, we could even mosey to a Disney store (if there are Disney stores in Boston) and she could purchase an Ariel doll (because she's a girl) and I could purchase a Buzz Lightyear doll (because I'm a boy). It'd all be rather idyllic. But according to the grapevine Gina won't be attending this year. So I won't either, which is fine, since the AWP is as disgusting as gay people, straight people, bisexual people, and Brooklyn.
On their site, the AWP claims to be "the largest literary conference in North America." But the AWP has little relation to literature. Only around one percent of the attendees make literature. There's just a tiny fraction who formulate texts that are monstrous and divine – that, like those German boys, possess the grit and glamour to wage war on basically everyone on the globe. As for the rest – the 99 percent of AWP people – they are not poets and they are not composing literature. They are not concerned with epic Emily Bronte or moody Frank O'Hara. They are a product of typical middle class capitalism, or, as Karl Marx says, "the bourgeois." According to Karl, the bourgeois live off others' labor. They acquire value through accumulation. As the bourgeois stockpile products their worth increases. This renders them reliable upon the proletariat who must toil night and day with very little rest to keep up with the insatiable, indiscriminate bourgeois.