Adam Robinson
Another Something Happening for You City Folk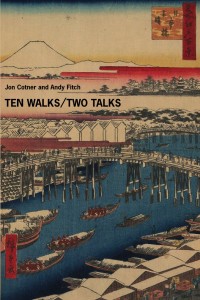 I know there's never anything going on in NYC, but tomorrow night it looks like there's an exception. Certainly it's something I would attend if I wasn't four hours away: the release party for Jon Cotner and Andy Fitch's book, 10 Walks/2 Talks, now published by Ugly Duckling Presse.
At McNally Jackson Booksellers in Soho — 52 Prince St
7pm
Here is the Time Out NY write-up.
This book looks to be fantastic. Definitely a great cover of 2009 (my post on this is forthcoming, late). The concept for the writing is that Jon and Andy walked around Manhattan and talked about stuff. I had the privilege of running one of their talks in Everyday Genius (read it).
They seem like pretty cool guys.
Tags: andy fitch, jon cotner, ugly duckling presse
4 Comments