Drew Toal
Lowbrow Reader post #2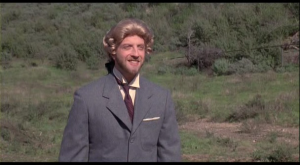 The other day, I posted some junk on the long-lost Gilbert Rogin from the latest installment of the the Lowbrow Reader. Today, I will share a brief email correspondence with the equally reclusive editor of that journal, Jay Ruttenberg.
Good day sir. Would you mind talking a bit about the genesis of the Lowbrow Reader? Did you always know that it would become the phenomenon it has?
We started the Lowbrow Reader in the fall of 2000 and published the first issue the following year. At the time, the smart people of the world were all conceiving online things, so what did I do? Started a print publication. The original concept was to mix comedy and commentary about comedy—specifically the kind of "lowbrow" fare that so often gets condemned by traditional media. I'm a big Adam Sandler fan, and could never understand how "Billy Madison"—which I consider to be a masterpiece—would be reviled by critics. In some weird way, it seemed akin to elements of the mainstream '60s press treating the Beatles or Bob Dylan as some kind of passing teen fad.
Did I always know it would become the phenomenon it has? Our publication is blessed with eight readers. When we launched, never in my wildest dreams did I think we would surpass five. I guess some people just have a special gift.
Read the rest of this offensive tete-a-tete after these messages.
So where did you find this Gilbert Rogin chap?
Jay Jennings stumbled upon Rogin's work and wrote an essay about his fiction. Following Jay's lead, I found Rogin's novels and was floored—I couldn't believe that such great works had fallen out of print. Googling around, I realized that Rogin lived a few blocks away from me, so I wrote him a letter asking if he had any unpublished stories. (He had only one: The awesome "My Masterpieces," which is in our new issue along with Jennings's essay.) I started hanging out with Gil. He's one of the most fascinating people I have ever met. In the '60s and '70s, his short stories ran regularly in The New Yorker—I think William Shawn dug his stuff, and he was praised by Updike, Larry McMurtry and Joyce Carol Oates. At the same time, he had this hugely successful journalism career. He covered Cassius Clay early on and for many years was the managing editor of Sports Illustrated. I think he stopped writing fiction when he ascended to the upper regions of the masthead. Later, Gil helped Quincy Jones found Vibe and, from my understanding, was instrumental to that magazine's establishment. He's definitely the only old Jewish guy I've met who has hung out with Jay-Z and Muhammad Ali. It is as if he has lived several lives at once.
There is also a piece, written by you, about Don Rickles in the new issue. Why did you not credit me for this Don Rickles piece? I gave you those tickets to his show, bro.
I wish to answer this question with a question: What on earth were you doing that was more important than seeing Don Rickles perform? Being honored with a Nobel Peace Prize, I presume?
Something like that. So did you send Gil copies of the Reader? How did he respond?
Gil lives in both Manhattan and Connecticut and happened to be leaving the city the day I got the issue back from the printer. I convinced him to stop by my office on the way out of town so that I could give him copies. He called me from the road and said, "Get down here, I'm moving!" I went downstairs and his town car was parked outside. The driver opened the door for me. Rogin was sitting in the back seat, behind tinted windows, like a mafia don. I gave him some copies and, per his usual request, some hip-hop CDs for the road. He said, "Let's roll!" and shooed me out of the town car. He has a journalist's instincts, so had not read Jennings's essay until it was in print. He called me from the road and was very excited about Jay's article. I think he's happy to see his fiction back in print, too. His Lowbrow story is a really special piece—I find it mildly insane that it sat in a drawer for so many years.
Please briefly touch on what goes in to putting the LR out. I'm interested in the process of putting out a reader with a circulation smaller than a baker's dozen.
I get it printed in Chinatown—it's a very good deal, though I cannot say that customer service relations are the printer's forté. From the start, the great Matt Berube has been the Lowbrow's designer, both in print and online. We have some distributors, and nice people order it from our website, but I do a lot of the distribution myself. I find that in each big city, there are one or two stores that are suited for this kind of thing. A few of them even pay you money after they sell your merchandise!
So what is next?
A rare Lowbrow Reader event, July 22 at Housing Works Bookstore Café, in Soho. A Lowbrow Reader Variety Hour, all for charity. Please come.
Is that true?
Absolutely true.
Purchase copies of the Lowbrow Reader for $3 U.S. here.
Tags: Gilbert Rogin, Lowbrow Reader
3 Comments
June 26th, 2009 / 3:23 pm Lord Toal out « Suffer the Gringo—

[…] Interviewed a coworker. […]

October 20th, 2009 / 2:46 pm tupIrotrefrat—
October 20th, 2009 / 10:46 am tupIrotrefrat—