Blake Butler
Nick Antosca's MIDNIGHT PICNIC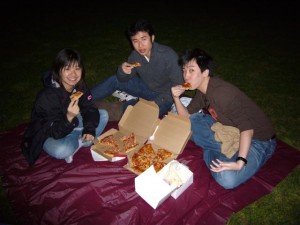 With the shitty demise of Impetus Press, Nick Antosca has already gotten his forthcoming MIDNIGHT PICNIC lined up with a new press, Word Riot Books. Very glad to see this getting saved so quickly, and with hardly any delay. Here's a press release:
Middletown, NJ — Punk rock-spirited independent publisher Word Riot
Press will release Nick Antosca's second novel Midnight Picnic on Dec.
15.

Midnight Picnic was slated to be released by Impetus Press on Oct. 31.
The book's publication was put on hold when Impetus Press publishers
Willy Blackmore and Jennifer Banash announced the dissolution of the
company due to financial pressures. Shortly afterward, Impetus Press,
Word Riot Press and Antosca began discussions about the novel's
future.

"Willy Blackmore and Jennifer Banash's dedication to Impetus authors
is remarkable," Word Riot Press publisher Jackie Corley said. "When
Willy and Jennifer learned of Word Riot Press' interest in Midnight
Picnic, they worked tirelessly to make a deal happen.

"I'm pleased and impressed by how fast Word Riot stepped up," Antosca
said. "Jackie didn't hesitate, and I think it's a wonderful thing for
independent literature that she runs her press so fearlessly. It's
terrific that she's going to publish Midnight Picnic."

An eerie story about the nature of death, Midnight Picnic is a
non-traditional ghost story in which a vengeful child searches for his
murderer on the deserted roads of the American countryside, drifting
in and out of the afterlife.

"If there's a real Hell out there in the American heartland, and real
ghosts, I suspect Nick Antosca has seen them. Midnight Picnic
reinvents the ghost story for our unsettled times—it's a riveting and
terrifying 21st Century Book of the Dead that's one of the most
frightening novels I've read in years," said Elizabeth Hand, author of
Generation Loss, Mortal Love, and Winterlong.

Jami Attenberg, author of The Kept Man, has called Midnight Picnic "a
thrilling follow-up to his contemplative debut, Fires. His
imagination makes an astonishing show in this macabre, bizarre and
witty story of ghosts and revenge. Impossible to put down until the
extremely satisfying end, Midnight Picnic conjures up the mounting
tension of the finest Bradbury story."

John Haskell, author of American Purgatorio and I Am Not Jackson
Pollock, concurred with Hand and Attenberg's assessment of Antosca's uncanny ability to unearth the darker elements of human nature:
"Beneath the skin of emotion there are muscles and nerves, and that's
where Antosca takes us."

Called a "page-turner" and "a demented little novel" by Publishers
Weekly, Midnight Picnic will be at home in Word Riot Press' diverse
stable of literary and experimental works of fiction.

"Nick's forceful authorial voice has made him a young writer to watch.
I'm elated to have Nick as part of the Word Riot Press family," Corley
said.
Tags: nick antosca, word riot
12 Comments