Ryan Call
Tao Lin Rates a 9.4-9.8 on the Push-Down Worthiness Scale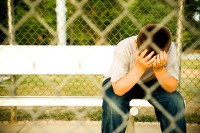 In a suprising announcement today, casual blog commenter and fan of Tao Lin 'when.parents.flee.the.country' awarded Tao Lin a 9.4-9.8 on the Push-Down Worthiness Scale at 5:44am this morning after two hours of steady deliberation in front of a blank computer screen. In his/her comment, which can be read attached to Tao Lin's post 'victory in japan,' he/she congratulates Tao on eee's recently being published in Japan, calls Tao Lin's second novel Richard Yates, which has not yet been released, a "masterpiece," and then types the word "really" a lot. I mean, really, probably more than necessary. When.parents.flee.the.country then announces Tao Lin's Push-Down Worthiness rating, saying:
"and for the mother of all coincidences, i saw you on the l-train monday night. you're very short, probably 5'6″ or so; i would describe your gait as existentially slackerish; and, given how you carry yourself, on a scale of 1-10 i would rate your push-down worthiness a 9.4-9.8."
No word yet as to how useful such a scale will be, nor has when.parents.flee.the.country revealed what factors affect his/her calculations when he/she manipulates the scale (this blogger, however, believes height to have some importance).
Oh, also, uh, congrats to Tao on his book thing, I guess. That's cool and stuff.
Tags: Push-Down Worthiness Scale, Tao Lin
11 Comments