Catherine Lacey
10 Sentences: John Jodzio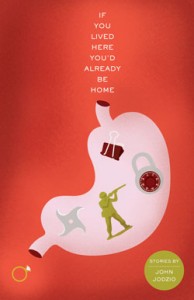 Bored of the same old interviews, I've decided to start something new. It's pretty self-explanatory.
1. A sentence using three or more words you consider 'personal favorites.' She was a college girl, waylaid by a bad fan belt — he had tried using the word "morass" in his pickup line, but she'd slapped him just like the townie girls always did.
2. One sentence about your grandmother: Nana rubbed my gums with ice cold gin, unless she'd already drunk it all.
3. A sentence using a really bad metaphor and too much punctuation: I realized, suddenly, that Misty and me, we were like that tetherball there on that school playground — spinning violently around that cold steel pole and that the cold steel pole was like OUR DEAD FATHER!!!!!!!!!!!!!!!!!!!!!!!!!!!!!!!!!!!!!!!!!!!!!!!!!!!!!!!!!!
4. A sentence spoken by the thirteen-year-old you once were: "Hey fuckstick — watch this!"
5. A command using the word 'tidy.' There were a few half-digested Jolly Ranchers in the frat boy's puke, something that Gary knew there was no way to just "tidy" up.
6. A one-sentence description of a person who would use the word 'tidy' as a verb. Gary had once beat a man into a coma with a push broom: that man had been talking about his smart sister, not the pretty one.
7. One sentence with eight commas in it that mentions one or more animals. He bought most of the zoo animals for their meat — the zebra, the hippo, the tapir, that bird that looked like a peacock but was not a peacock, the regular lemur, the reticulated wood nymph lemur, the goat from the petting zoo, but the giraffe was not for eating, the giraffe was for riding into battle!
8. The worst possible sentence you can think of right now.  The Grants Management Specialist is responsible for the negotiation, award and administration of this project and the interpretation of Grants Administration policies and provisions. (Sadly, I just got done typing this sentence at my day job).
9. A sentence about the last book that forced you to react in an audible way, preferably if you were in public while reading it. I was on the ferry, reading "Await Your Reply" by Dan Chaon — "No Way!" I yelled.
10. A sentence that is lie and uses a semi-colon. I told Jacob his sleeping wife's face smelled salty; that was why I'd licked her forehead, that there was no other reason.
Expect more of these in the not so distant future.
Tags: 10 sentences
41 Comments