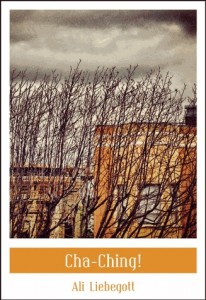 Cha-Ching!
by Ali Liebegott
City Lights / Sister Spit, 2013
252 pages / $15.95  Buy from City Lights or Amazon
I was furious with Ali Liebegott for writing a novel. We'd lost another poet to the tyranny of fiction. But really, we gained Ali's careful witness to luck, desperation, and desire, now turned to the queer project of making a world.
Gaines and losses are perhaps apt metaphors for Cha-Ching!, Liebegott's latest work, in which gambling figures as a central theme. But for Theo, its main character, gambling is about more than fortunes. Gambling is a currency of hope.
Fuck reviewers citing "universal" concerns that appeal to "general" audiences. This character is a self-made, self-secure "sirma'amsir," and an appealing one. Always on the brink. Of going broke, of drinking again, of saying the wrong thing to the right lover.
Cha-Ching! is an addiction story without recourse to self-help and redemption. It's a romance built not from exchanging vows, but traumas, drugs, and fluids. You had me at the puke on my sheets. The characters are always making something out of nothing—a dime into a jackpot, a shitty apartment into a home, a blank sky into a declaration of love. It's gruesome. It's hilarious. It'd make a puppet out of the hardest of hearts.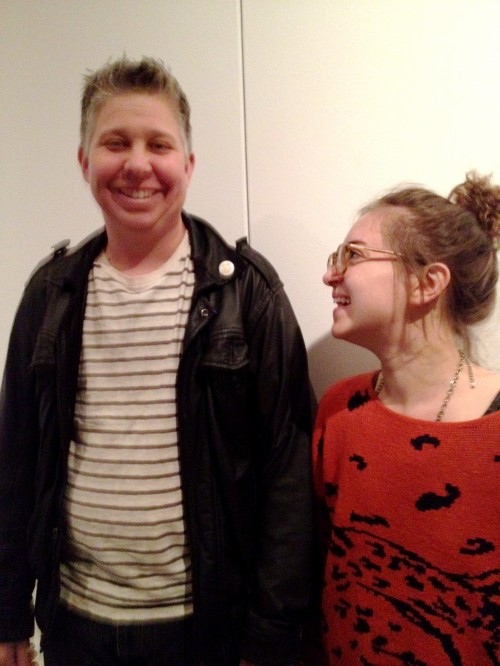 I caught Liebegott in the middle of her Sister Spit tour to ask her about her many obsessions. When her tourmates weren't asking her for keys to the van she was driving, this is what happened:
TJR: If you had the choice to make out with Dostoyevsky or Van Gogh, who would you pick?
AL: I think Van Gogh, but that might be ageist, because I think I've only ever seen portraits of Dostoyevsky as a balding man. Van Gogh had really bed teeth, right? I think Van Gogh, although they both seem like terrible problematic relationships, so either would do. It's tough. But probably Van Gogh.
TJR: I know you are planning to edit an anthology of writing and art about Van Gogh. What is about him that drives your obsession?
AL: I think as someone who wasn't exposed to a lot of visual art, his paintings stood out to me because there was so much raw energy in them, it was easy for me to identity some sort of emotional connection with them. Then I read a biography, I read another biography, and I was in Paris last February, in the Musee d'Orsay, and I saw one of the paintings he did of his bedroom, and I remember seeing this little brushstroke on the mirror, and it just made me teary in front of the painting. And I've never had that experience before. I was just very fascinated with his composition. I just like them so much. I love his color palette so much. His perspective. I just love them. And I love reading about his life. I don't know that much about Dostoyevsky. But he was a gambler. I do know that. Enough said, right? We could probably put the rest of it together.
TJR: What do you like more, ducks or pennies?
AL: Ducks, by far. Ducks are humble. Or they appear that way; I don't know if they really are. They just have this humble, curmudgeonly way. I appreciate that about them very much. I appreciate that they can go to bed and use their own self as a pillow, like how they twirl their neck around, and go "I'm exhausted" and lay on their necks like it's a pillow. My next book [The Crumb People] is about ducks. I became very obsessed with feeding them when I lived in Rhode Island. That's when I started learning about kinds of ducks, more duck facts. I took a wildlife class where you learn how to bandage a wing, put a feeding tube down a pigeon's throat, things like that.
TJR: You also paint ducks.
AL: Yeah, I did a whole series where I painted dead authors as ducks, my literary duck series. I think I'll resume it. I usually paint during baseball season, because you can listen to a game and paint at the same time. It's luxurious.
TJR: What ducks have you done?
AL: Walt Whitman, Emily Duckinson, Theodor Duckstoevsy, Jean Genet, a couple Jean Genets, I did James Baldwin, Audrey Lord, Octavia Butler. Michelle Tea has David Wojnarowicz, Gertrude Stien, and an Emily Duckison too. I've only ever done one living duck. During the rage of Lady Gaga, I did a Gaga duck. It's the weirdest painting ever. I like doing portraits. I want to do Rilke, but it's really hard to do mustaches with a bill.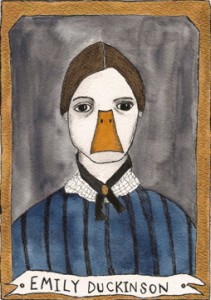 TJR: What about the poor pennies?
AL: At my book party I wanted to give everyone a present… You need so much support to write a book, so many things have to happen. I've been really lucky. A job with flexible hours. My girlfriend is great, and helps me with the dog. All this, not just writer-among-writer support, but all of these other kinds of support. And when I had my reading, my book party at City Lights, I just got, like, real teary. I moved to San Francisco over twenty years ago to be a writer, and to be inside City Lights, with my book at City Lights, it was just all of these people, there were so many people in the room who helped me be in that moment. There was a woman who gave me sliding scale Pilates instruction to help me with my bad back, a woman who lets me park my motorcycle in her garage, all these different people. So I wanted to give a present, and so I oxidized all these pennies, because I love that color that pennies turn when they're oxidized. I went to the bank and asked for five dollars in pennies, the woman was like what the fuck. She actually had to go to the back room. No one needs pennies anymore. I watched a YouTube video made by a two-year-old on how to do this. Got some salt, some vinegar. I just wanted to have a token in the world somewhere. Give a little present. Something people could hold onto. Positive energy vibe penny.
TJR: What is it about the road that you find so inspiring? How is your road different than, say, Kerouac's?
AL: You know, there's all this talk about women's road stories right now, as if they don't exist. Of course they exist. Just no one publishes them. The whole conversation just wants to make me put a gun in my mouth. This [Sister Spit] trip is just you can't be alone. It's mostly very lonely on the road. But there's something about getting unplugged and accessing that part of you that I've associated with preparation to write. Especially writing poetry.
TJR: You seem to also want to give voice to places that no longer exist. San Francisco and New York when artists could afford to live there.
AL: Yes, I've lived in New York, I've lived in San Francisco. Those are cities that have seen so much gentrification. I just come back to the same thing. I'm 41. I don't have any children. I have multiple jobs at all times. Why is it so hard for some one to make ends meet, why do we constantly have to worry? What could it be like if you didn't have to worry about all of those things? Like, is it irresponsible if I don't have health insurance and then I get cancer and have to do a Kickstarter? It's that constant pressure of surviving. Needlessly surviving. The division between the Have and the Have-Nots in San Francisco is so great. It's especially heightened to me because of the tech industry wealth. Living somewhere where there isn't a recession for people, in some ways. A lot of the work in my books have been about my experience. It's not something that gets reflected a lot.
TJR: Is this class critique connected to queerness?
AL: There's this chapter in Sarah Shulman's The Gentrification of the Mind called "Gentrification of Literature," which is so depressing. It's what happens to queer people in publishing. Especially lesbians. And especially lesbians who write authentic queer characters. It's like the kiss of death, basically. The effect of that is then you're the queer kid in the library looking for a book that reflects your experience and you can't find one, you know? What if the only thing you had was "The L Word." That would be sad. I know that kid in the library. As a writer, I always try to put a little lifeline in my book for that reader.
TJR: Last obsession: Emily Dickinson.
AL: She was so committed to writing. So committed. That was it for her. That diligence. That passion. That is so appealing to me. Her poems to me are just unlike anything before or since. I'm sure I don't understand one one-hundredth of what they mean. I just never cease to be astounded opening up to one of her poems. I'm just so influenced by her life, and whatever combination of mania and agoraphobia that made her the poet she was. In that day. To be a woman in that day. Just shoving all those poems in drawers. That focus. I admire that a lot.
TJR: In your introduction to your interview project, you talk about someone mistaking your Dickinson tattoo for Frida Kahlo. In Cha-Ching!, Theo gets a dagger tattoo that everyone mistakes for a dick. Is this just one example of the intersection of this character and you?
AL: I think all of my work starts from some kernel of autobiography. For sure. There's a lot of lived experience in the book. As far as characters go, Cha-Ching! is definitely the most fictional. That outlook, that vision, is very similar to my own.
TJR: What could you say in a novel that you couldn't say in poetry? Did you have the project before you had the form?
AL: It's the scenes. The dialogue exchanges. It is a plot unfolding. When I set off to write the novel, I thought it was going to be a different book than it ultimately ended up being, like every book. I was writing for a while and I realized, I guess I'm writing a novel. Oh, maybe it's a love story. I remember writing the ending. I just had to pick. I remember the day I realized it was going to end. It's always a good day when you have some idea that you're committing to the form.
TJR: Do you have a new audience in mind?
AL: I feel a little dejected in that area. I hope it reaches a new audience. I hope it's not always relegated to some fucking gay ghetto. It's out of my hands.
TJR: Do you think the book could be picked up by—
AL: Oprah?
TJR: Sure. Why not? But you could be Jonathan Franzen and turn it down. Would you turn it down?
AL: No. No. No way. I'd take all that money. Are you kidding? You have to be in some extreme place of privilege to turn it down. That's ridiculous. I've never read any of his books, thank god. We have a joke about all the Jonathans. We call them the Jonathans. So many of them. The Jonathans. I'm taking the money. I'm buying some land and running a Dalmatian and duck rescue farm. Three-legged Dalmatian rescue farm.
TJR: Is there something about Cha-Ching! you want on the record?
AL: Like a treasure?
TJR: Could be a fuck up. Or, something readers are missing that you want to set right.
AL: There's a lot of fuck ups in the book. But you have no control when someone has your book. That's the terrifying thing about putting a book into the world. Here it is. Have their thoughts. Or whatever it is we do in America now, review it at midnight in your underwear on the computer. It's not getting any easier which is awful. Such a cruel joke. It just gets different.
TJR: Is there one person who it would make you truly happy if they read the book?
AL: It's been so nice for fellow writers to tell me they liked reading the book. To have respect from people that do the same thing is all I could really hope for. I'm sort of too afraid to think of things in that way, you know. What if Anne Carson read Cha-Ching! and loved it? Although I don't think she would. Though she does have an Emily Duckinson in her office at NYU. I sent her one, and she put it in her office. That was one of those moments. I want people to read it and like it, of course, 'cause I'm a Leo. I just want to keep writing books. I just get so teary at events where people show up. And want to read. It's like some one handing you a glass of water at the end of a marathon.
***
Tracy Jeanne Rosenthal is a writer, scholar, curator, performance artist, and NYC traitor to LA. She is one half of the arts writing collaborative Hi Gemini and co-directs Concord, a collective art project and project space. Her first chapbook, Close, was just released from Sibling Rivalry Press.
Ali Liebegott is the author of a brand new novel Cha-Ching! (City Lights/Sister Spit) and  the award-winning books The Beautifully Worthless and The IHOP Papers. In 2010 she took a train trip across America interviewing female poets for a project titled, The Heart Has Many Doors; excerpts from these interviews are posted monthly on The Believer Logger.  In addition, she is the founding editor at Writers Among Artists whose first publication, Faggot Dinosaur, was released in 2012 and Vincent Van Go-Gogh is forthcoming.
Tags: ali liebegott, Cha Ching!, city lights, sister spit, Tracy Jeanne Rosenthal