Adam Robinson
Book Giveaway: Applies to Thorson
Here's a chance to win a copy of Maureen Thorson's Applies to Oranges, which is one of the top five most beautiful books of 2011. No doy, it comes from Ugly Duckling Presse so that means it's impeccably designed and intentionally detailed: good paper, letterpress cover, set in a typeface I hadn't heard of (Bembo). But I don't let that overshadow the poetry, which I first read and thought, "Damn, these are consistent." They are the melt-in-your-mouth variety. You read one in a comfy chair after work and let it mellow. There's an orange in every poem, and every poem is about 15 lines long and just one stanza. Earlier I thought the poems were quiet, but reading the book again now I realize no not quiet, tense. For instance, this sartorial sorrow:
If we had lived a hundred years, I'd say
give me washed leather, milliners' pins,
Battenburg lace looped in orange silk.
Let me learn the politics of exclusion–
six hundred threads to the inch. In place
of island chic, a native's pretend servility,
I'd dress to show that sorrow can harden
into a surface more starched than any collar,
more formal than the pleats of a skirt
as its hem dusts a dim corridor. It sets.
It makes creases I'll never press out.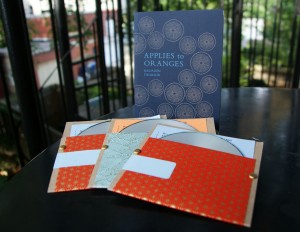 The good Maureen Thorson offered to give away three copies of the book, as well as three mix-CDs that she made. That makes three winners. To enter, write something in the comments around the theme of "Trouble in Paradise." Here's how Maureen casts the contest:
It's summer, and that means vacations, and vacations mean sunny islands and such. A perfect match for Applies to Oranges, with its tourists and cruise ships and general tropical vibe. So I would like to give away three copies of Applies to Oranges, along with accompanying mix CDs, and perhaps some other goodies from the Big Game Books vault.

I propose that anyone who wants to get in on the action write a flash fiction, poem, or other short piece on the general theme of "Trouble in Paradise." After all, being on an island doesn't save the speaker of Applies to Oranges any grief at all, and sometimes you need a vacation from your vacation.
Maureen is vacationing in the mountains till July 1, so that's your deadline. By the way, Maureen's Big Game Books are the real deal, too. They were of the first little books I ever ordered back when and that pile still delights my shelf. Those tinysides don't work like other books.
Tags: big game books, maureen thorson, Ugly Ducking Presse
30 Comments