Ryan Call
Literary Doppelgangers: Douglas Coupland/Norm MacDonald
Levi Asher, over at Literary Kicks, linked to Jimmy Chen's post on literary doppelgangers, but seemed disappointed by Jimmy's not having mentioned Douglas Coupland/Norm MacDonald.
Well, Levi, it took me a long time to find a suitable Douglas Coupland picture, so here you go.
I have never read any Douglas Coupland, though I have seen some Norm MacDonald. Men At Work is one of my favorites. Man, when they shoot that guy in the butt with an air rifle. And then they think they killed him. And so they stuff him in a trash can. Hilarious.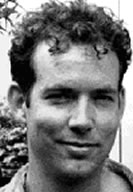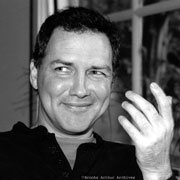 Both Doug (can I call him Doug?) and Norm are from Canada. Wikipedia tells me that Norm's father, Percy, served in the Canadian Army during WWII and helped liberate the Netherlands. Maybe that's where Norm gets his sense of humor?
Doug seems to have changed his hairstyle since having the above picture taken. Now he's bald and serious:
Oh, it was Dirty Work? Goddamn it.
Tags: Douglas Coupland
25 Comments