Mike Young
NLW (6): Dimension x7y Giga Heart Maggot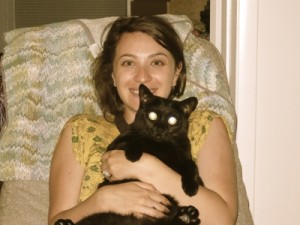 Today's Natalie Lyalin Week bon bon is a guest post from Erin McNellis, who wrote this terrific review of Natalie Lyalin's Pink and Hot Pink Habitat for NOÖ Journal [11]. Animals abound!

You studied ecology in seventh grade, memorizing the biomes for your science test: the chaparral, the rainforest, the tundra. You learned about the delicate balance of life, you imagined yourself into each exotic environment from your cold, smooth desk under the fluorescent lights—but you never imagined any place quite like Natalie Lyalin's Pink and Hot Pink Habitat.
Lyalin's is a world you will want to inhabit. As the title suggests, the book is a bizarre ecosystem—one in which "beaver humans," "boy birds," a "super dolphin" and a "mathematic horse" coexist harmoniously. Lyalin's vigorous, sparkling language is the life force pulsing through these poems, bringing into balance the wildly disparate creatures that inhabit them. Many of her poems do contain animal imagery, but there are syntactical beasts stalking these pages as well: phrases and clauses as unexpected and marvelous as the blue-tongued skink. "In the nebulous of pushpins you stand sideways." "The leaf of you, the bend, the fire flicker for the Kazak." "The electric gems show their horseness, / their speed ability." In lines like these, we can start to understand what Lyalin means when she says, "language comes in prisms and I cradle it as an animal mother." Crystalline vision is nursed by organic energy, and the result is something otherworldly yet still somehow familiar.
That flock of sheep is puzzle hearts. I wait after school for safety.

I put cotton in my ears and float to dimension x7y giga heart maggot.

The sweetness factory. Everyone is a flower and human rafts come to shore.

The sleep language is what the eyelids did to each other.
In the above excerpt from "Misarubka," we are unsure whether to feel unsettled or comforted. The image of "wait[ing] after school for safety" evokes both an idyllic suburban childhood and the threat of violence that necessitates such precautions. There is something tender about seeing sheep as "puzzle hearts," but "dimension x7y giga heart maggot" is about the creepiest name for a fantasy-world ever imagined. Are the "human rafts" a delightful image suggesting that we can save one another, or are they bloated, drowned corpses? Lyalin suggests that we should "break [our] arms off" and "row to shore," which is perhaps exactly what navigating this book requires—that we repurpose ourselves, imagining new possibilities for parts of us that we thought we understood. The shore on which we find ourselves will not be listed in any ecology textbook, but it will be worth exploring.
Tags: natalie lyalin
3 Comments
March 14th, 2010 / 2:54 am EKHO WM-118 Heart Rate Monitor | Heart Rate Monitor Watches Reviews—

[…] HTMLGIANT / NLW (6): Dimension x7y Giga Heart Maggot […]

March 14th, 2010 / 6:05 am Polar FS1 Heart Rate Monitor Watch | Heart Rate Monitor Watches Reviews—

[…] HTMLGIANT / NLW (6): Dimension x7y Giga Heart Maggot […]

March 18th, 2010 / 8:34 pm HTMLGIANT / "Time goes/Left and right and crushes things": a belated coda to Natalie Lyalin Week—

[…] dwarf in a week shouldered by GIANTS (Amy, Blake), super Seths (Landman, Parker) and other guests (Erin McNellis' Noö review), my post shrank from showing and was tall on telling. Calling SUPERMACHINE Issue One "one of […]