Blake Butler
The Believer interviews Doseone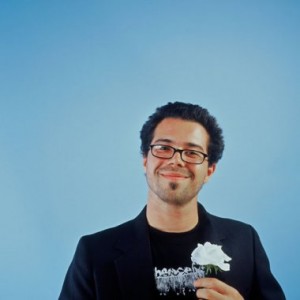 Doseone is a true original among the rap shits. Pretty much any record he touches (from cLOUDDEAD to his solo discography to 6-piece band Subtle), dude is going to be doing new things not only with the music he is rapping (or singing) over, but with the words he puts on top of it. Where a lot of rap is made of repetitions and nonsense, Doseone invents science and languageisms that are often just as new as the words coming out on Diagram or Fence or wherever you wanna talk about.
I tried to do this interview for the Believer but couldn't get a hold of my man. Anyway, you can read the interview now fully online, and it is a fun weird one, as would be expected of a man who wears suits made out of plastic spoons and writes huge poetry manuals to accompany his most recent project's trilogy of albums (all of which are really good and worth checking out, if you like experimental but still catchy music):
Here's a brief excerpt from the interview:
I went in to talk to them about doing music and being a rapper. They want to know about battle rapping. That's the thing they're most interested in. They think 8 Mile is real. I was like: "Y'all don't know shit about battles." …

I try to teach these kids that there's a difference between freestyling and battling. You want to have a line between them: when you are battling someone you should be able to serve them into the ground; when you're freestyling try to keep it creative, steer it away from a fight. With freestyling it's not about "Say something funny!" That has nothing to do with it. It's about becoming quicker on your feet and knowing that your entire day can go into your rap if you're on it.
Here is a video from '97 of Doseone battling (there used to be a vid on YouTube where he hands a not-yet-famous Eminem his ass, but I can't find it):
Here is a fan video for a cLOUDDEAD track:
10 Comments