Justin Taylor
The History of a Lake Never Drowns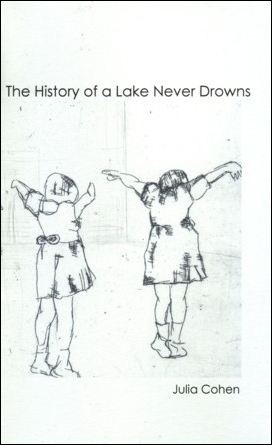 Julia Cohen is a frequent target of admiration on this here blog, and now we've got her in our sights again. She has a new chapbook out from Dancing Girl Press, which, as you'll see when you click through, for a measly $7 includes shipping, so it's an extra good deal. If you don't know JC's work, you can start at her blog and then go from there, but I also cajoled her into giving me a few sample poems from the chappie, which you can find just below the fold.
Sleep Disemboweled in This Forest
Halogen lights zigzagged the canopy like leaking stars. Did not dot what lived below, for nothing was dark enough. Lightening bugs lined the twig floor, the origami-leaf ants. Even my owl-nest glowed, caught in the experiment.
They installed new lighting like they took back the birthright they think is theirs. I stayed awake for 47 hours and now my pinky is someone else's pity. I couldn't recover the history of a single fawn.
Even without shadow it fed in the corner like a novel or hospital gown. A sandbox overturned with a kick. A handful of poppies and their headless row. So my eyes flitted to their hub, 100 prongs at the tip of a giant extension cord. And then the bucket of water you keep at your feet. What is worse than a half-gesture.
I misunderstood that there was an external. Those who cause damage mistake the external for an object, or two lungs surrounded by a human they do not breathe for. My tidalpool, my blanket cooling on the floor, the flat ring of a wintry planet I rest on my collar. My inner blink, your outer knee.
You must complete your gestures. I'm the width of the holes in your stocking. And then a boom that brings that half-light back. Some breathing slows with relief or sleep or a better tactic. To blot out an unflinchable face, sadder than pity.
Organs of speech, a stranger potential. Between animal grace and the color photograph. Thank you, stomach-heart.
I Might Have Lasted & the Grass Curled under My Eyes
If I had two cell walls it could be easy
I so snuggly fit in your back
Hiking away from the saintly glass vacuum
Clothespins clipping your silhouette to the lawn
A double helix staircase, your spine & its turning away
Allegiance & then inconsistent light
Once I shelled my heart, could not recover
Flies, breadcrumbs, apricot pulp
If I was found in the excrement of an owl
Worms in my palm
Defrock, is turning towards
If your bones were spindly plants that bloomed
& then the water that watered the light
I think I was a body-shaped hole in the clouds
Tags: Dancing Girl Press, julia cohen, The History of a Lake Never Drowns
One Comment
April 17th, 2009 / 9:47 am <HTMLGIANT> » Blog Archive » The Life-Affirmier side of Rant—

[…] last week, when I liked Cohen's chapbook, The History of a Lake Never […]