Blake Butler
THE SICK CITY "CHANGING SEATS ON THE TITANIC" TOUR 2010
Tony O'Neill's new novel Sick City drops today, and in the wake of it he's hitting the road. If you are in the trajectory, have a mark! Annotated dates after the break, including NYC, TX & CA…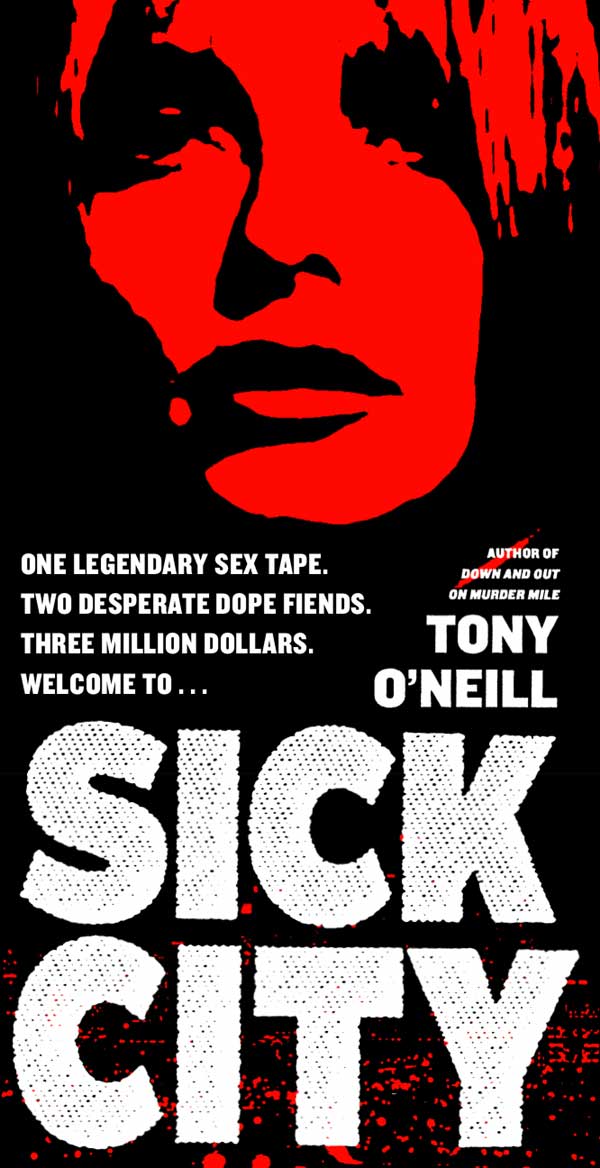 NEW YORK:
Date:         Thursday, July 22, 2010
Time:         7:30pm
Location:     Greenlight Bookstore
Address:     686 Fulton Street, Brooklyn, NY
DETAILS: http://www.facebook.com/event.php?eid=130316030322692&index=1
This is the launch party – free booze, give aways, and lots of interesting craziness.  Plus, Greenlight is a really cool new indie bookstore, and if you live in NY and haven't visited it yet, then it's definitely about time you did…
AUSTIN, TX
"NOIR AT THE BAR" (Organized by Book People) http://www.bookpeople.com/
Date:        Tuesday, July 27, 2010
Time:         7pm
Location:     The Gallery @ The Continental Club
Address:    1315 South Congress Ave Austin, TX
DETAILS: http://jessesublett.wordpress.com/2010/06/30/noir-at-the-bar-sick-city-cool-grooves/
This should be a really fun event, made possible by the fine folks at Book People, the legendary Austin bookstore. I'm reading alongside author and musician Jesse Sublett (who was a founding member of the infamous Austin punk outfit The Skunks, and more recently the author of several books – his most recent being the utterly brilliant "Never The Same Again: A Rock'n'Roll Gothic" which I wholeheartedly recommend checking out).  Noir at the Bar will also feature the hardboiled stylings of Harry Hunsicker ("Crosshairs" / "The Next Time You Die").  It's going to be a potent cocktail of music and readings, with a healthy dose of booze and who-knows-what thrown into the mix.
LOS ANGELES, CA
Date:          Wednesday, July 28, 2010
Time:         7:30pm
Location:     Skylight Books
Address:    1818 N. Vermont AVE Los Angeles, CA 90027
DETAILS: http://www.skylightbooks.com/event/tony-oneill-reads-and-signs-his-novel-sick-city
I'm always excited to return to Skylight Books, and they throw a damn good party, so if you're in LA come down and say hello. SICK CITY is knee deep in the slime of LA's underbelly, so this would certainly be an appropriate place to check out a reading from it.  Hell, maybe some of the people I based characters on will be sitting next to you.  (If you're REALLY unlucky, that is…)
PORTLAND, OR
Date:         Friday, July 30, 2010
Time:         7:30pm
Location:     Powell's Bookstore
Address:    1005 West Burnside Portland, OR 97210
DETAILS:     http://www.powells.com/events/
It's my first time reading in Powell's – the king-sized Portland Mecca for book lovers – and it would be really cool to see some friendly faces there.  So please come down, bring a friend if you have one, drag a stranger in off the street if you don't. And if you don't have a friend you can bring maybe you should get off the computer; you obviously need to get out more.
SAN FRANCISCO, CA
Date:         Saturday, July 31, 2010
Time:        7:30pm
Location:    Booksmith
Address:    1644 Haight Street San Francisco, California 94117
DETAILS:    http://www.booksmith.com/event/tony-oneill-sick-city
The last time I was in San Francisco – around ten years ago – I ended up in the closet of a speedfreak tattoo artist getting a target inked between my shoulder blades.  I can't quite remember why:  I hadn't slept in many days, and neither had the guy giving me the tattoo, which might explain something.  Help make my long awaited return to the Bay Area even more memorable than THAT evening by telling your friends, enemies and casual acquaintances about this event and showing up for drinks, readings, give aways, etc.
Tags: sick city, tony o'neill
28 Comments