Drew Toal
What's in your moat?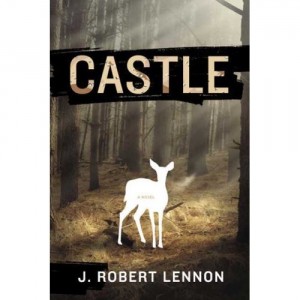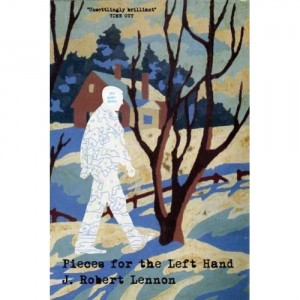 The worst one can usually expect from heading back home is an awkward encounter with an ex-girlfriend ("You look…great! No, you look great!) or reverting back to your 15-year-old self in the presence of your still-overbearing mother ("I can't believe you put mayo on my sandwich, ma. Do you even know me? I'll be in my room."). The protagonist in J. Robert Lennon's forthcoming novel Castle, though, has a far bigger, weirder and more sinister homecoming that involves bear traps, suspiciously altered documents and a fight to the death. I emailed a little with Lennon about his novel, as well as the book of short stories (Pieces for the Left Hand) that is being released the same day (March 31) and his one-man band, The Inverse Room.
Two books coming out the same day, eh?
I wrote the stories a long time ago–they were originally published in book form in the UK in 2005.  They'd originally served as something productive to do while my older son, then a toddler, was taking naps.  But once I'd accumulated a couple dozen, I realized I was writing an actual book.  At the time, my then-British-publisher, Granta, accepted the book, but not my American one.  The novel, on the other hand, is newly written, and was inspired by an article my wife read about a guy who found a ruined castle in a state forest in New Jersey…the possibilities of this got me really excited, and I started the book within days of hearing about the article.  In retrospect, both books are about men a little older than I am who spend a lot of, perhaps too much, time alone.
In your intro to Pieces, I think, you mention that you do a great deal of walking. On the train this morning, a novel I was reading mentioned how Americans never walk anywhere. They either drive or just sit on their porch. What's the appeal of distance walking, and how is it superior to other forms of transport (biking, Segwaying, etc). Also, what do you think about while wandering? Do you use a cane or a walking stick?
Well, some Americans walk a lot.  New Yorkers, for instance.  Personally, I don't feel right if I don't take a long (2 hours plus) walk every few weeks.  I'm indifferent to the notion of walking as practical transportation (though most of us could certainly use the exercise), but I think of walking as the quintessential human activity.  Good ideas are shaken loose on walks.  The mind likes the rhythm of it.  Jogging's all wrong–for me, thoughts repeat themselves, little bits of songs, irritating phrases.  With walking, thoughts unscroll and develop.  Wallace Stevens, for example, wrote poems in his head on lunch-hour walks from his insurance job.  I don't use a cane or walking stick yet–at 38, I'm still able-bodied.  But my knee tells me that there is probably a cane in my future. I should also add that the man referred to in the introduction is not me.  It's a character, the character who is writing the stories.  I've occasionally said that this book is a novel about a man who writes 100 stories, with the only text of the novel being the stories themselves.  When I say this, I am only half kidding!
Dr. Stiles begins his training of Eric because he thinks that modern society has left mankind unequipped to survive without technology. I find myself thinking along the same lines occasionally, wondering what I would do were society to totally break down and my neighborhood transform into something out of Escape from New York. Even though his methods were odious, was he on to something? Have you yourself set out to learn more survival skills? Or at least learn some to prepare for writing the book?
Nah, I'm too indoorsy.  When armageddon comes, I'll be enslaved by the libertarians.  But I do think about this a lot.  We live out on the edge of town, and coyotes circle our house at night, howling.  I mean, this is only a mile and a half from the supermarket, it's not the wilderness!  But even slightly isolated from town, we feel the nearness of death and the ease with which nature would take over in our absence.  Stiles is unusually obsessed with this notion, and it has gotten mixed up with his authoritarian preoccupations.  His training I just made up, after reading some books about operant conditioning.  I don't even think he's very good at it–he just found his ideal pupil in Loesch.
Is there anything scarier than the idea of a hostile intruder who can breach your defenses at will?
Not much, especially if you're a guy.  Even wimps like me, I think, have this evolutionary delusion that we can defend the walls.  But of course we can't, not really.
Loesch's spirit animal appears to be a white deer. Do you believe in spirit animals? I think mine is a sparrow. If affirmative, what is yours and why?
Oh geez, I don't think so.  I'm not very spiritual.  I am very calmed by watching chickens, though, so maybe my spirit animal is a chicken.
Subquestion: If you had a moat around your house, what kind of animal would you have in it (besides gators)?
Mermaids!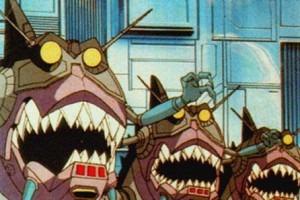 Did you build forts and stuff in the woods as a child? Do you ever get bummed out that America is way behind the rest of the world in castles per square mile?
Yeah, I loved forts.  Couch cushions, cardboard boxes, you name it.  I built my kids a treehouse last year and I REALLY got into it–I think I like it more than they do.  America needs more castles, for sure.  My wife's family is from Wales, and we've gone over there and checked out some castles…they're just sitting right in the middle of town, like the public library or bank.  I was very envious.
Both your books seem to deal with many small-town issues. Can you ever go home again?
I go home all the time.  I actually went to my twentieth high school reunion last fall, and had a good time.  Of course my home town isn't the same, but that's fine–I couldn't wait to leave, back when I lived there.
So who is the musical inspiration for The Inverse Room? Your namesake?
A lot of people tell me Inverse Room sounds like They Might Be Giants.  I'm always happy to hear that; I like them a lot.  My musical influences are all over the map, though.  On this new album I hope to put out later this year, there's even something that sounds kind of like Philip Glass.  And sure, I love the Beatles!  Though Lennon isn't my namesake–that would be my grandfather, John E. Lennon, of Phillipsburg, NJ, who died in 1978, when I was a child.  "Inverse Room," for what it's worth, is a kind of reverb from an old rackmount effects unit.
Tags: castle, J. Robert Lennon
9 Comments