Blake Butler
Marie Calloway's google docs pieces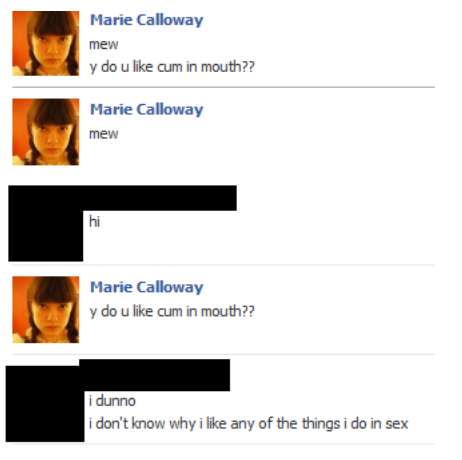 I think I really like the pieces Marie Calloway has been publishing via Google docs & sharing as links on Facebook & Tumblr post-"Adrien Brody" & "Jeremy Lin." They are surprising and create a feeling that seems like a secret private virus or a window. There are people in the world.
Insufferable by Marie Calloway
Cybersex by Marie Calloway
Criticism by Marie Calloway
Men by Marie Calloway
Seems significantly more "sincere" in an actually vibrant way than a lot of the other things people have been pointing at as "sincere" lately. Not that I think sincerity is important, but I'm confused as to how people can point to repurposed internet-speak tumblr-timez poise as not of an extremely orchestrated intent. It's not very interesting to watch the same buttons being pressed over and over. I like mutation. I wish there was less obvious fear.
If nothing else, these new works by Marie Calloway seem singularly her, and rapidly feedbacking at themselves in a way that wakes something else up, which is refreshing.
Tags: Marie Calloway
144 Comments