Roxane Gay
A Hint Fiction Contest + A Flatmancrooked Launch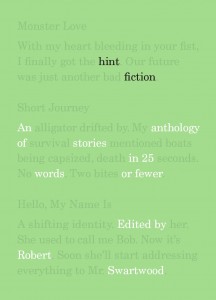 Last year the term "hint fiction" was introduced in the essay "Hint Fiction: When Flash Fiction Becomes Just Too Flashy" by Robert Swartwood, published at Flash Fiction Chronicles. To commemorate the occasion, a retrospective essay by the same author , "Hint Fiction: One Year Later" appears at FFC today. To celebrate Hint Fiction's birthday, Robert is having another contest.
What is Hint Fiction? Inspired by Ernest Hemingway's infamous six-word story — "For sale: Baby shoes, never worn" — Hint Fiction is a story of 25 words or fewer that suggests a larger, more complex story. These are complete stories that hint at a larger story, not a first sentence or random sentence plucked from a larger work thinly disguised as a story. To see examples, look at last year's winners and finalists.
This year's judge:
Last year Stewart O'Nan was kind enough to act as the final judge, and this year the final judge will be the one and only James Frey. Author ofMy Friend Leonard, A Million Little Pieces, and Bright Shiny Morning, James's story "The End or the Beginning" will appear in Hint Fiction: An Anthology of Stories in 25 Words or Fewer, being released this November (and which, hint hint, is now up for pre-order at Amazon and Barnes & Noble at a very affordable price).
Prizes:
The first place winner will receive $100; the second place winner will receive $50; the third place winner will receive $25. The first place winner will also receive a slew of  journals and anthologies donated by a handful of publishers:
Norton has also been kind enough to donate ten copies of Sudden Fiction Latino, edited by Robert Shapard, James Thomas, and Ray Gonzalez. A copy will be awarded to each of the winners and finalists, as well as to some random contestants.
Rules:
The contest starts now and will take entries until midnight April 30th eastern time. You are allowed to submit up to two stories in the comments section of this post. NOTE: The post is on Robert's blog, not here on HTMLGIANT. Any writer who submits more than two stories will be disqualified. If submitting two stories, submit them at the same time. At the end of this contest, all submitted stories will be deleted from the comments section. No reprints. Winners will be contacted by e-mail and announced on Robert's blog at http://www.robertswartwood.com.
James Kaelan writes:
After four years of work, my first novel, We're Getting On, has been officially released! The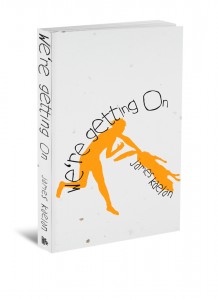 Flatmancrooked Publishing crew and I have been laboring viciously for the last eight months to make the book — and it's tour — as viable as possible. For those of you who don't know, the book is what we're calling a composite novel; there are four, thematically linked pieces (two stories and two novellas). We're getting some really good feedback about the book already, and in July Poets & Writers is spotlighting We're Getting On in its "First Fiction Annual," which is sort of like getting a good review in the NY Times.
Today, Monday the 19th, Flatmancrooked is Launching the Zero Emission Book Project. Patrons (you guys, hopefully) will have the opportunity to buy "shares" in my book. There are two kinds of shares. For $15 you get the title novella, "We're Getting On," which grows into a tree when planted in the ground; it has spruce seeds in the cover. You can also "Super-Launch" me starting at $60. Super-Launchers get the limited-edition seed paper novella, the full, second-edition novel, an album recorded specially for the project, a postcard sent by me from my tour, and some other great goodies from Flatmancrooked. Here's the Launch link:
http://www.flatmancrooked.com/launch-kaelan (if you're a social networker and would like to share this link, you'd be my hero.)
*Note: Flatmancrooked shares a full 50% of profits with its authors, so by Super-Launching me, you're helping me eat this year. You also get your name in the second edition.
To promote We're Getting On, I'm doing a very ambitious book tour. The physical book is "carbon neutral," and, in keeping with the novel's theme of retreating from technology, I'm touring the book by bicycle from Los Angeles to Vancouver. Then, if everything goes well, I'll be heading east to New York to appear on the Colbert Report (you can help make that crazy dream a reality by joining the Facebook group If 10,000 People Join, Stephen Colbert Will Book James Kaelan on the Report!)
In May, Flatmancrooked is also teaming up with the Pablove Foundation, a charity that raises money to fight pediatric cancer. Y'all will be able to sponsor a mile (or miles) of my tour. All those donations will be tax-deductible, and a portion of the proceeds will go to help sick children.
If you have any trouble using the site, want to ask any questions, or even just say hello, I'd love to hear from you.
Cheers,
James "Kaelan Smith" Kaelan
P.S. Miles Kittredge is also riding the tour with me so he can shoot a documentary of it. Lot's more to tell, there, but all in good time.
Tags: contest, flatmanCrooked, hint fiction, W.W. Norton
13 Comments