Blake Butler
Artifice Magazine #1
New magazine Artifice, out of Chicago, has just published their first issue, with new work by many radicals, including myself and our own Roxane Gay:
Carol Berg – Jessica Bozek – Blake Butler – Neil de la Flor – Andrew Farkas – Ori Fienberg – Elisa Gabbert – Kelly Haramis – Roxane Gay – Kyle Hemmings – Tim Jones-Yelvington – Gregory Lawless – Jefferson Navicky – Lance Olsen – Joel Patton – Christopher Phelps – Derek Philips – Cynthia Reeser – Kathleen Rooney – Davis Schneiderman – Maureen Seaton – David Silverstein – Susan Slaverio – Kristine Snodgrass – William Walsh

Featuring:

Koalas, terror, that one time you watched your father boil lobsters, infidelity, faithful robots, faithless robot dogs, compromising situations, and at least one missing body.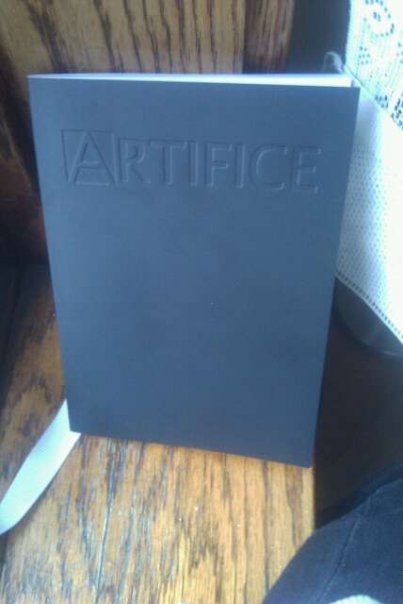 In the spirit, they have offered to give away three free issues to HTMLGiant readers.
All you have to do is looking at their submission wishlist, which lists the kind of stuff they are looking to publish, and make a suggestion of something to add to that list. Examples are: # 1 piece you'd tell a child not to put in their mouth, # 3 halves of a story, # 1 game code that unlocks a secret level. Comment with your suggestion and 3 winners will be picked tomorrow afternoon.
In the meantime, consider picking up an issue, and/or sending your work!
[P.S. This is the 3000th post at HTMLGiant. Weird.]
Tags: Artifice Magazine
133 Comments