Adam Robinson
Book Giveaway: Ric Royer's She Saw Ghosts He Saw Bodies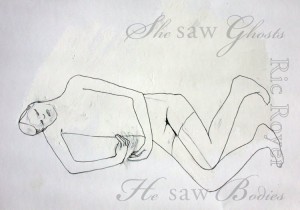 We were sitting around a campfire, trying with our hearts to tell ghost stories. Someone kept rambling on and on. I did the one about the guy with the bloody finger. The best one was when someone said, "Once there BOO" which, awesome, was short.
No one can tell ghost stories anymore. Can you?
My labelmate, Ric Royer, can. Dude's a trip. His new book She Saw Ghosts He Saw Bodies, just out from Narrow House, is an eerie thing, a creepy, eerie thing. And each copy has a hand-drawn cover by Jackie Milad.
So here's their giveaway part: whoever comments HERE with the shortest and scariest story will win a copy of not just creepy, eerie, hand-drawn She Saw Ghosts He Saw Bodies, but also Ric's other book things, including Time Machine and There Were One and It Was Two and the weather not the weather. Also, apparently, some other stuff. Freaky. Go here to enter.
I want to see some scary. I thought the movie The Ring was scary.
Tags: narrow house, ric royer
22 Comments