Justin Taylor
FIRST EVER HTMLGIANT LITERARY CONTEST (NO ENTRY FEE)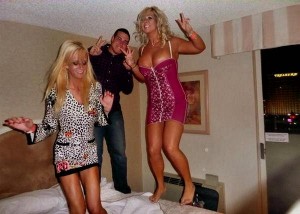 Friends, this picture was provided to us by an anonymous friend of mine, who is an excellent and well-known publisher. S/he forwarded it to me yesterday, with the following message appended: >>this girl made fun of me in high school (pink dress)<<. 
For the first ever HTMLGiant literary contest, you are invited to write an original piece of literature inspired by this photograph. Poetry, prose & indeterminate forms are all acceptable. Feel free to simply provide a caption, or to produce a short-short up to, say, 300 words. Leave your entries in the comments section of this post. 
My anonymous friend will judge, and it will be up to him/her what–if anything–the winner receives.
Tags: contest, girls with d-bags, pink dress
31 Comments