Sean Lovelace
Nickname Contest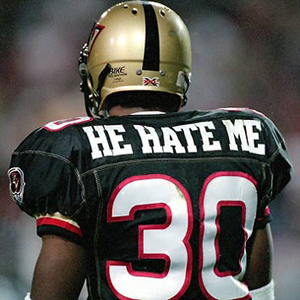 Nicknames are for athletes and the occasional movie star. I would argue the finest as "The Hammer," aka Charlie Sheen, only because it was bestowed by teenage Las Vegas call girls. In athletics, I'll go Owen "What the Heck" Beck (a not so zealous Jamaican boxer), Nicolai "Old One Leg" Andrianov (Russian gymnast), and "He Hate Me," startling, odd, possibly existential, always fucking awesome, and worn proudly by XFL running back, Rod Smart.
And for writers? (We are not talking pseudonyms, another thing entirely.)
Hemingway, always a bit Large in his Doings, had three: Bumby and Wemedge and Papa. Are there others? At times, writers carry about them a similar mystique and flair for the moment as athletes. Then again, we rarely watch writers (unless in their cups at AWP, or up there pinned like a butterfly by the fidgety light of public readings), we only read them; and the popular reverence value (or Q Score) of authors in our culture will never compete with the zaftig of, say, J Lo's ass.
I say time for writer nicknames, and so have developed a parlor game. Here are three nicknames, can you name the writers? The rules are simple, and basically universal to nom de guerres: 1.) No rookie can rightly earn a nickname. 2.) These aren't going to be simply derogatory (though any nickname might lace its endearment with hyperbole). 3.) Truncated proper names OK, but best rhymed, word-played, or somehow morphed with clever.
Anyone gets all three nicknames and I will send the greatest novel about running of all time, Krupp's Lulu by Gordon Lish. Here you go. Name the three writers:
First Person Cat
The Jersey Tree Assassin
"Old One Leg" Ralph
(You could always ignore this contest, and simply throw down an author nickname.)
Tags: Author Nicknames, He Hate Me, Hemingway
40 Comments