J Wang
If you date a writer, they're going to write about you: brutal honesty as performative writing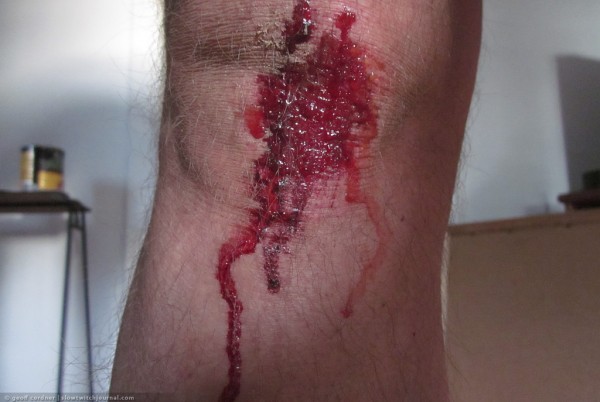 Not my knee, but might as well be

Jackie Wang here. New around these parts. I write the blog Serbian Ballerinas Dance with Machine Guns. There you can find my writings on literature, film, art, theory, politics, music, and culture. My blog is named after a phrase written by Refbatch, a schizophrenic Russian woman who has posted around 12,000 YouTube videos online. She is perhaps my biggest inspiration. You can see a website I made for her here. I also do Eggs I Would like to Fuck. You can listen to my music here.
I am a Chinese-Italian (spaghetti-rice) hybrid and my writing is hybrid; I like to combine memoir, criticism and theory. I am against aestheticized indifference and for over-investment and brutal honesty. Jack Halberstam's theories of negative feminism and antisocial queer theory describes two types of negativity: one characterized by "fatigue, ennui, boredom, indifference, ironic distancing, indirectness, arch dismissal, insincerity" and another characterized by "rage, rudeness, anger, spite, impatience, intensity, mania, sincerity, earnestness, over-investment, incivility…." I am of the the second camp. I would say that New Narrative writers like Dodie Bellamy, Eileen Myles, and Chris Kraus (honorary member) are of this camp as well. (Speaking of brutal honesty, have you read the new Eileen Myles book? She talks a lot of shit on Kathy Acker. Even though I love Kathy, it's kind of great.) I suppose this is a good segue into the issue I came here to discuss, namely the topic of brutal honesty as a specifically performative kind of writing and a way to undermine literary boundaries.

*
Recently, I wrote a memoir-style essay on adolescence and the good ole college years (which ended 3 months ago) titled, "On Being Yoko Ono and Loving Samuel Beckett's Ghost." Naturally, these years were thick with drama of the familial and relationship sort. But that's not so bad for a writer—such emotional confrontations can make for good material if you are lucky to have a mean enough father, or crazy enough partner, or weird enough friend. And so on. It's never a glorious or fun thing to live through, but as writers we are blessed with the potent and powerful tool of language—that thing that makes representation possible.
I've always had a philosophical commitment to getting personal—not in a contrived sentimental way, but in a way that expresses utter disrespect for boundaries—the lines between what could be considered appropriate disclosure. In regards to memoir and literary nonfiction, I've always approached it with a tell-all mentality, but I often avoided writing about people who might read my writings. I practice disclosure with reluctance and hesitation for fear of being reproached by the people I know and write about. But I had always felt this compulsion to vomit up the dirty, personal shit onto paper in pursuit of some sort of quality—let's call it total honesty—but an honesty that does not claim to be the truth and admits its distortedness, the limitations of its vision, its inability to be anything other than this situated view of the world.
I sometimes call the practice of putting the everyday on display an example of the life-temporality. People often write with the goal of rendering their literary object totally unrecognizable from the movement of their lives, perhaps out of fear of delegitimization, of being considered trivial or worse, a dumb diarist. But life-modality is informed by living; it's not a dogmatic adherence to naturalism, nor is it concerned with the imitation of an assumed shared "reality." The life-temporality can be as cut-up, experimental, and non-linear as an avant-garde text. It is against this idea of seamlessness, contrived and dispassionate artifice, the "artful" denial of the everyday, the erasure of processes, and the elimination of all the moments that surround a text or an idea. Not realistic but more like the ability to see actors in TV shows walk off the set to take a shit: it's a disdain for self-censorship and a love of making the reader privy to the process, letting them behind the scenes, showing them that there is life behind the words.
Such writing can get you in trouble. If you reject artifice and refuse to disguise the situations, relationships, confrontations, and other subjective experiences that give birth to your writings, the text can bleed into your life, and have real-world implications. Funny that I just plucked the blood metaphor from my head, as today I fell while walking to a bookstore and got a cut that has not stopped bleeding for the last 12 hours. Here I am, bleeding. Life-writing bleeds. Blood writing is always performative.
*
Case study: I write a memoir-style essay and post it on my blog. My ex and her new girlfriend send me hostile messages about including my ex in the piece. I follow up indirectly by writing this blog post. Don't date writers unless you want to be written about. Here I was, thinking I was a good girl for following proper memoir etiquette by changing people's names and identifying information when really—I just wanted to pull a Chris Kraus as leave the names and nasty details untouched (see my post on Chris and the feminist implications of her approach). I wonder, if I received such a strong response regarding a representation that I regarded—perhaps wrongfully—as relatively innocuous, what will my mom think if she read the same piece, which loudly speaks of her wild delusions? Since my blog is one of the first things that comes up when you google my name, the horrifying prospect of such a discovery is not far off on the horizon.
The other day I told my partner, "If you date a writer, they're going to write about you." She replied, "Well, not if they're a textbook writer."
*
My ex's new girlfriend wrote something to me about keeping my stupid writings to myself. Such a message seemed unworthy of even a dismissive reply. But later, it got me thinking about the ethical implications of writing memoir and literary nonfiction. Is it unethical to write about other people? Since our relationships are the meat of our lives, it seems impossible to write while avoiding people altogether. But if we write about people, we create representations, some of which may be disliked by the represented. I wonder, is the decried demand "don't write about me!" a form of fascistic, censorial behavior, or is revealing the details of a relationship a violation of consent, even if the names are changed? Do I have as much ownership of my history as the people whose history overlaps with mine? Such ethical problems are nebulous and impossible to answer. I suppose it all boils down to the care and consideration you show toward your representation and the represented subjects. Maybe I acted hastily. Maybe next time I will include a disclaimer—not claiming to be objective—or try to be more responsible even though I think it is detrimental to the kind of unrestrained, unapologetic writing writing I am committed to. Life writing bleeds.
Tags: brutal honesty, introduction, performative writing
108 Comments