Sorry, the Bible's a really rad book. It's really funny. I wish I'd written it. I feel like if like Action Books or Dalkey Archive had published the Bible instead of whoever it would be a really respected work: I mean, respected by atheists who think the Bible is dumb and only like like poetry by James Tate or something. I read a whole bunch of the Bible the other week in the swimming pool. It was my sister's copy from when she got baptized I think. She hadn't touched it since then. I think I have one from that day too but I think it's buried in a closet somewhere. I got a bunch of poolwater on the book and later my mom told me not to do that because my sister would probably want it. I can't imagine my sister wanting the Bible. Somebody should make the Bible into a cool movie or like a reality show.
Today I found a website that has a bunch of Sacred Texts, which features holy books of everything from the bible to wicca to Nostradamus to Tolkien to the Book of Shadows to deleted scenes from the Bible, all kinds of stuff. It's Sacred-Texts.com: how's that for marketing. One could spend probably years here, on this one site. It's a popular hit for a lot of searches on google. I found it googling 'ham begat'.
I wonder how much these guys had to pay for that URL. Looking up different URLs to see if they are available for the $11.44 base price Godaddy charges to register a URL for a year is addictive, or at least I've gotten really addicted to it. One week I think I bought 30 different URLs, it's like a puzzle, or like collecting baseball cards where the trough of potential cards is approaching infinity. Currently whoever lords over the internet has set the limit at the # of characters you are allowed to have in a name to 63 letters or numbers per label between dots, with a total of 253 characters being the supposed cap. So, you can have a 63 letter URL before your .net, and then you can have a 63 character subfolder name after each /, and so on. There are lots of places that claim to have the longest domain name ever, like competing gods, but really they are all tied at 63. There are shitloads of long URLs that are all gibberish or weird long riffing strings.
http://llanfairpwllgwyngyllgogerychwyrndrobwllllantysiliogogogoch.co.uk/ is the longest URL named after an actual place, as in: something that definitely truly palpably exists w/o the need of faith, (unless you are one of those people who like to say like is that thing in front of us like really there, or is like language man like something also we've constructed man is it anything at all). Most sites with long ass names by default must be nonlogical or run ons, or constructed in the image of icon repetition, such as http://www.111111111111111111111111111111111111111111111111111111111111.com, and yet people find and visit these arbitrary-titled sites and in google they are cached.
With periods in a URL name you can go even longer like: http://www.public-organization-capital-of-the-world.which-establishes-world-records-welcomes-all-inhabitants.of-the-planet-and-invites-them-to-visit-our-ancient-city.yours-faithfully-chairman-of-government-anatolij-kosjanchuk.epak.infocom.lviv.ua/
Seems suddenly kind of insane that like Jim Jones and David Koresh were able to assemble such fervent masses without owning newfaith.com or prophetbook.com. And like Jesus or like Mohammed did it without even I guess handbills or radio or TV or really mail.
When you do a search with a registrar like GoDaddy, if your name is taken they will give you a price you can pay the the owner if it is for sale, or they will suggest a list of similar names of sites that are free, all available for currently for the $11.44. If I wanted to open a competitor to sacred-texts.com, GoDaddy suggests:
There are whole troves of name suggestions all based on typical bullcrap that people who build sites like to use. They will get more creative sometimes, depending on what they have to work with.
Here are their suggestions when I searched for godisanal.com (which is available):
I just accidentally spent a couple hundred dollars. I am a sucker for temptation, but more so only when it is something benign and retarded like a nasty URL. I've never smoked weed. A lot of people it seemed like in high school would do shit like listen to Slayer simply because they want to appear set apart from how hokey the Bible is in its projection, mostly probably by people who use it not as a text object but as a tool to instill fear both in themselves and those they know.
But really, the book is mad fucked, and feels more innovative with language than so much that comes after it, and with poise.
Here's 7:23 from the Book of Jasher, a deleted book:
And Cush the son of Ham, the son of Noah, took a wife in those days in his old age, and she bare a son, and they called his name Nimrod, saying, At that time the sons of men again began to rebel and transgress against God, and the child grew up, and his father loved him exceedingly, for he was the son of his old age.
Here's 1:7-8 of the Testament of Gad:
7 For he saw that I had delivered a lamb out of the mouth of a bear, and put the bear to death; but had slain the lamb, being grieved concerning it that it could not live, and that we had eaten it.

8 And regarding this matter I was wroth with Joseph until the day that he was sold.
Suck on that, Tate.
I don't know why it would matter that the book is full of judgment, bullshit, and used by assholes to make other things. Often we privilege the context of an author by making the profane or horrid acts of them something interesting, a little hotcake, unless that person is still alive. Sometimes people just seem like these walking passages of the horrible things they've done that if somehow exposed in the way of cameras or testimony they would be banished, lambasted, thrown off, or by others: made more holy, the way there are those who worship anyone who cut his flesh or say the unholy word.
The result of all these limitless URLs and hidden books cataloged inside them is an unfathomable terrain. The internet grows at such rate that it is the longest book ever created, and full from end to end of such abomination and benign at once, with a whole lot of corridor between. The one thing missing from electronic books so far in their awakening is that mystery area, the nothing space, where language leaves and passages or opening of expectation open. When there is an electronic book that exits itself and lets me look at pictures of naked people or freaks inside it and laugh maybe I will buy a Kindle. Otherwise, paper is much more of a god.
What else has been deleted. What else from any book. Why did you remove that symbol or that sentence. Why did you not remove the rest.
I want a book that is neither word or image but something I can hold and walk around in and forget or be manipulated by and owned. This happens to such extent with real books maybe 3-9 times in a life, in my experience. Perhaps more often it is supposed to happen with people that you love. The novel of your mother. The novel of your spouse.
The making of books has made me, more than anything, closed to the human, somehow. I feel more removed from accessibility as a body than I have ever. I wonder if I had stayed coding C at Tech instead of moving on to write my other code in English I would be happier, maybe married. Maybe I would have made the book of a child. Blake begat. I would like to name the boy Ham now if I have one, though I doubt I ever will. My Ham might have had another child, too, who would have made something. "Ham begat." Instead most days I go to rooms and speak to no one except by typing into Gmail chat, which is itself another leg of that massive shitty book that at night makes me not able to sleep."Begat" begat.
Last night I got on Facebook around 5 am still wide awake and hungry and only saw this: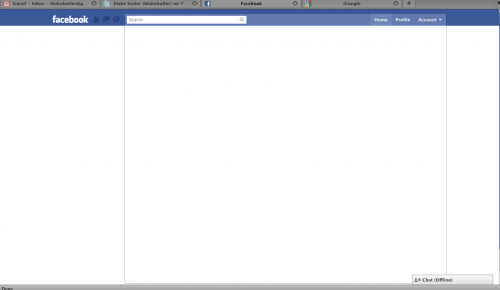 and then truly I was alone. Locked out of all connection (you know, excluding everywhere else outside and online, as suddenly, in its absence, urgent, Facebook was the only thing at all, at least for like 10-15 minutes until the browser caught up and the site came back to fully load). And then once again there was nothing to do on Facebook like always but fuck around and look and blink and reload and wait and see and wait.
Why does one do what one does in the face of the reams of suggestions of the registrar. Why does one obliterate the idea of a large thing in the face of the smallest. Why am I typing into a blogpost browser instead of working on the other text in my MS word, which claims inside my mouth to want to be a book and probably never will, because of my lack these days of control. What makes me think I want to beget another sentence in the morning when I rise, my impulse pushing me to avoid anything else but going to sit again in front of this machine and type and type. What is there to this begetting, this me babbling again. What of a child: what would that be maybe but another begetter. All these begetters in the face of what is already here. Why do I not listen closer to my mother about preserving the relic of my sister's life, holy to me or not. Why do I constantly think of food and so often not let me eat. Why aren't I right now down the street hanging out with my dementia-struck father who always insisted there was no god at all and does not remember me anymore but probably has only years or a year or months or weeks or minutes left to live. Everyone does. Why am I not with everyone.
Tags: bible apocrypha, godaddy, sacred texts