Roxane Gay
Revisiting The Brutal Language of Love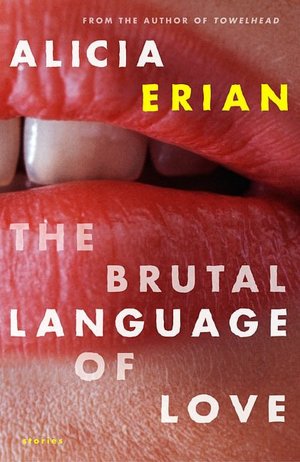 The theme for my graduate workshop this semester is writing love and sex into fiction. With each story or book we read, I ask students to think about what those texts say about love and sex because there are so many different ways to approach these topics. By the end of the semester, I want them to answer the question, "What is a love story?" I also want them to find new ways to write love stories. So far, it has been an exceptional class and our classes have been so invigorating because the students are really getting into what we're reading and having killer discussions. More importantly, their writing, both critical and creative, has been fantastic. We just finished workshopping their first stories and every student surprised me with how they interpreted this idea of a love story.
One of the books we're reading is Alicia Erian's The Brutal Language of Love, and as we discuss the book, I am reminded of the brilliance of this collection. I assigned this book for lots of reasons, but mostly because Erian's writing here responds to many dominant cultural narratives about love, sex, and gender, in complex, original ways. Oftentimes she writes these strange women who openly display their damage without apology but we never learn why the way they are. So often in our fiction we explain a character's motivations or explore the underlying pathology. In most of these stories, there's none of that. We have to simply accept the characters as they are. Many of the stories also approach love and sex through narrators who possess a sense of wry detachment and intimate self awareness. I don't know of any writer who conveys the observations of a young woman with the skill of Erian.
These stories are love stories but they are also sex stories and many of Erian's protagonists treat love and sex synonymously, either implicitly or explicitly. The way these women give of their bodies and hearts so completely, so openly, is intriguing. This openness feels a little dangerous and somehow each story ends on an almost hopeful note. One of the things we talked about this week was the narrative arcs of these stories which  don't quite follow the traditional narrative arc of conflict, complications, crisis, and resolution. The stories finish a few steps before resolution, in quiet, almost unsatisfying ways. We don't really know how the stories end and the narrative structure complements the character arcs so wonderfully. I really appreciate that kind of layering, whether it was intentional or not.
The stories in The Brutal Language of Love introduce deeply uncomfortable situations but the writing is so seductive you surrender to the discomfort. Erian carefully pulls you into those stories and makes it such that you can't look away. Take the first story, "Standing Up to the Super Powers." In the first two lines we learn that a young woman, Beatrice, passes out drunk and the young man she's with, Shipley, has gone ahead and had sex with her anyway. He's so racked with guilt he turns himself into the police but Beatrice won't press charges and the entire story is about their extraordinarily awkward courtship as he begs her forgiveness and falls in love with her and seeks redemption in the most uncomfortable ways. Throughout the story, we're plagued by the difficult matter of the first two lines and the specter of rape that lingers throughout the story only because the rapist keeps alluding to it while the "victim" is breezily uninterested in being a victim. There's also a subplot involving Fetko, a Russian literature professor who in many ways orchestrated the entire situation and whom Beatrice is engaged in an odd, vaguely sexual relationship so that she might improve her grade. Fetko and Shipley serve as two ends of a spectrum of uncomfortable, male sexual behavior and the way Erian pulls us through the story is so refreshing as to make me always want to point to this story and tell students, "This is how you do it."
"Alcatraz" also negotiates the uncomfortable really well with a very young teenage girl (thirteen at the beginning) in a sexual relationship with the boy across the street, Jennings, who pretends to torment her in school and is her boyfriend in their neighborhood. One of Jennings's friends, Garrett, also torments the narrator in school, and she articulates how unsafe she feels more than once, while also making it seem that throughout a series of somewhat disturbing situations, that she is in complete control. At one point, the three teenagers are in Jennings's room and he suggests she sleep with Garrett. She politely declines and changes to conversation to nuclear weapons and germ warfare while the boys respond and sit there with their erections The narrator things about not showing her fear. The way the scene is set up, again, the threat of rape lingers but Erian avoids that easier, expected choice, makes the scene into something mundane and quite civilized, and then the story continues.
My favorite story is probably "Lass," because there's so much subtle subtext and the ending is stunning. One of my students remarked that in many of these stories, Erian shows us that these characters have to have someone with whom to understand love. At the end of "Lass," Shayna, the protagonist, is with her father-in-law, with whom she's been engaged in an intense flirtation, on a remote island. They are sitting, together, approaching lines but not entirely crossing them. When her father-in-law gently refused her sexual advances, "she felt unsure of who she was if she wasn't there to relieve him." It's a poignant, perhaps sad observation, and it really speaks to most of the stories in the collection populated by characters who aren't quite sure who they are or what they want if they aren't satisfying someone else or loving someone else.
In the title story, the protagonist, Penny is thinking about love. She observes:
Love was never easy, she knew. And if it was, it wasn't love—friendship maybe, but not love. What she felt for Leonard was something limp and slack. It had no charge, no current running through it to hurt her if she wasn't careful. The reality was, you only knew you were loved if you were left and returned to, if you were ignored and then craved. Occasionally you would be seen for slightly less than the sum of your parts, and that was love, too. Love announced itself with a sting, not a pat. If love was love, it was urgent and ripe and carried with it the faint odor of humiliation, so that there was always something to be made up for later, some apology in the works. Love was never clean, never quiet, never polite. Love rarely did what you asked it to, let alone what you dreamed it might do, and it most certainly did not know that your favorite color was blue.
We talked about this definition of love and more than one student said this observation, this understanding of love was sad but that it was also beautifully written. These stories are all part of a beautiful melancholy. We're trying to write love stories. The Brutal Language of Love, has been the best possible teacher.
12 Comments